Happy Independence Day, everyone! It's the day we celebrate the founding of our country, but let's face it: July 4th is also the unofficial kickoff of real summer. (Despite the fact that the nation's average temperature the last week of June was already about a thousand degrees.) Summer makes some people think about barbecues, baseball and swimsuits. We think about those things, too, but most of all we think about summer reading.
Reading at the beach is one of the best treats I give myself. If I have plenty of time––which happens on those occasions when I am lucky enough to be staying by the ocean––what I enjoy most is a longer story that can really take me away. The moronic part of this is that I already
am
where I want to be; go figure. But a book like
Amagansett
, by Mark Mills, takes me away in time and place, but still keeps me by an ocean.
Eastern Long Island in 1947 is that distant location. It begins one fine day in July. Conrad Labarde, a Basque fisherman, and his partner, Rollo, are hauling in their net along the beach, but the familiar twitch of the line is absent. And where are the pulls and tugs against the twine, or a flicker of a surface break? They both know that they have an inert load beneath the pewter skin of the sea, and there is nothing else to do but bring it in. It is what they hoped it wasn't: a corpse; a dead woman, still beautiful, but sea-washed and deceptively peaceful looking.
The setting for this mystery is the south fork of Long Island at Amagansett, near East Hampton and not far from the easternmost part of New York, Montauk Point.
The power of this story comes from the depths of the characters and their backgrounds. Conrad Labarde, who served in an elite unit during World War II, impressed me but, like most veterans of that conflict, he never spoke of his wartime experiences––except for one time. He said war showed that you aren't one thing or another, but all things at the same time;
i.e.
, brave, cowardly, and selfless, but also cruel, compassionate and heartless. The only question is, which bit of you would show up next?
Right Whale
This book brought back memories of my own of a visit to Montauk Point with friends in the early '60s, and watching the breakers of the Atlantic crash on the shore as we looked out from what seemed like land's end. Mills also uses the language of the sea beautifully, and it was like a foreign, but lyrical, language to me as he spoke of longshore sets turning and right whales bound east'rd inside the bar. I loved it.
Most of the time I am not alone at the beach, and I have to pull my nose out of my reading to be social. On these occasions, the best read is my trusty
Ellery Queen's Mystery Magazine
or
Alfred Hitchcock's Mystery Magazine
. I received the new issue of the latter a few days ago in the mail. It includes short stories by Martin Limón and Georgette Heyer, two of my favorite authors. Heyer's story is a classic called "Night at the Inn." I can't wait to read these.
This year, for the first time ever, I don't plan to take a suitcase full of books to the beach or on trips. Instead, I will plastic-bag my e-reader and take an entire library! My favorite beach reads are usually light. Sun, surf, and beachcombing don't mix well with 800-page tomes that require much concentration. I fall asleep! A recent email from a favorite mid-list publisher listing summer price reductions and first-in-series freebies introduced me to several interesting, new-to-me detectives who seem like ideal company for long, lazy afternoons dabbling my feet in the surf.
Phryne Fisher
awhile ago, but I hadn't had a chance to follow up on the acquaintance until now. I have downloaded several books in that series, as well as three of another of Greenwood's series featuring Corinna Chapman, a contemporary accountant-turned-baker in Melbourne, Australia. That should keep me in cozies––and in Australia for awhile. It's the only way I'll get there, at least this year!
In the line of things I'd rather read about than do, a starred review in
Publishers Weekly
compared John R. Corrigan's
Bad Lie
to
"Robert B. Parker and Dick Francis at their best."
When the father of the protegé of PGA pro and sleuth, Jack Austin, is brutally murdered, Austin jeopardizes his career to find the killer in this fair-play noir mystery. Hmm, if it's half as good as Francis, I'll enjoy it.
Chris Cleave's
Gold
was released July 3, and features cyclists in this summer's Olympics in London. Very timely. Then I'll need one good long meaty book to dip in and out of for continuity. Revolutionary history is an interest, so I may try David A. Clary's
Adopted Son: Washington, Lafayette, and the Friendship the Saved the Revolution
. The story is told largely in letters between the two, and reading other peoples' mail sounds just right for a bit of summer snooping.
It's still up in the air, though. Any recommendations?
Not too many classic British mysteries would be considered beach reads, but I just read one: Michael Gilbert's
Anything For a Quiet Life
. Successful, middle-aged solicitor, Jonas Pickett, decides he's saved enough money from his north London practice to support him for the rest of his life, and that qualifies him for semi-retirement somewhere more relaxing. He takes himself off to Shackleford, a quiet beach town not far from Brighton, and sets up a practice that he hopes will only be successful enough to keep him from getting bored.
Reamde
. Russian gangsters, Chinese hackers, Islamic terrorists and bears (oh my!) are just a few of the perils facing Zula Forthrast in this hyper-modern version of
The Wizard of Oz
. Well, that is, it's a version of
The Wizard of Oz
if you go along for the ride with a Dorothy (Zula) who is an Eritrean orphan refugee adopted and raised by an Iowa farm family, a Wicked Witch who is a black, Welsh, university-educated Islamic terrorist named Abdullah Jones, and a set of Dorothy sidekicks that includes a couple of Chinese 20-somethings, a huge and hairy Hungarian computer whiz and a retired Russian soldier-turned-"security expert."
Throw in a massive multiplayer online game called T'Rain, various methods of computer and internet wizardry, agents from MI-6, survivalists, a lot of extremely violent action sequences, and locations ranging from Xiamen (China), Iowa, Seattle, British Columbia, the Philippines, and London, and you've got a ride like a beachfront roller coaster.
Cryptonomicon
or the
Baroque Cycle
, or has the kind of grand themes they have.
Yet, amidst all the shoot-'em-up action, there is a deeper meaning. It's in the way so many people care enough about others to risk their lives to help a young woman whom many of them had never previously met, and to defeat the murderous plans of nihilistically brutal terrorists. But even if you take it as just a nonstop action/adventure with a large cast of eccentric, but engaging, characters, and go along for the ride, it's a whole lot of fun.
Note
: Versions of my reviews appear on the Amazon product page under my Amazon user name.
Pismo Beach, California
Reading at the beach is routine for me, because I live on California's Central Coast, minutes away from several beaches. Even so, any time I can read with the crash of waves in my ears and the grit of sand between my toes is a pleasure.
Parallel Stories
, written by Péter Nádas and translated into English from the Hungarian by Imre Goldstein, is my suggestion to people who relax with Proust or Thomas Mann, but who also love crime fiction. At 1150 pages, it's definitely literary fiction you can sink your teeth into. It opens in Berlin when the Wall is cracking. A body, half-buried in the snow, is found. The protagonists are three men who served as Communist spies in the West; their stories parallel and link to each other from the spring of 1939 to 1989. I'm reading it now and enjoying it very much.
If you liked Hilary Mantel's Booker Prize winner,
Wolf Hall
, you should take the 2012 sequel,
Bring Up the Bodies
, and stuff it in with your beach blanket and sunscreen. It's Cromwell's take (fictionalized, of course) on Anne Boleyn, the second wife of Henry VIII. Not a happy ending for poor Anne, but a great read.
Peregrine falcons nest on Morro Rock so no climbing is allowed
Like rollicking tales of adventure while you're basking in the sun? Michael Chabon's
Gentlemen of the Road
features the Frankish apothecary Zelikman, a "fair-haired scarecrow from some fogbound land," and Amram, an Abyssinian ex-soldier, whose air of stillness "trumpeted his murderous nature to all but the greenest travelers on this minor spur of the Silk Road." In A.D. 950, Zelikman and Amram escort a prince of the Khazar Empire over the Silk Route to Atil to reclaim his throne. These characters are straight outta central casting for the Arabian Nights, and their tale is sheer entertainment. Perfect for reading aloud.
Elephant seals in Morro Bay
I've found that summer books can be particularly relaxing if I read in unexpected directions; say, a sure-fire air conditioner such as
Ice Run
, by Steve Hamilton. It's set in frigid mid-winter in Paradise, Michigan, but ex-cop Alex McKnight's heart isn't feeling the chill. He has fallen in love with Canadian cop Natalie Reynaud, and this will cause him a world of trouble. Or, whisk from the beach to barmy horror like Jeffrey E. Barlough's
Dark Sleeper
, a Dickensian tale set during the Second Ice Age in the port city of Salthead, which is very much like Victorian London if you include mastodons and saber-toothed cats. It is the home of metaphysician Titus Vespasianus Tiggs and his associate, Dr. Daniel Dampe, who operate like Sherlock Holmes and Dr. Watson. They're needed on a case of spectral images haunting Salthead's residents––a headless drowned sailor, a ghost ship, and a rabid mastiff. Or, from the sanity of your blanket on the sand, question your ideas about identity and paranoia with David Czuchlewski's
The Muse Asylum
. Andrew Wallace and
The Manhattan Ledger
's Jake Burnett are former Princeton classmates once tied by their interest in the same woman. Now Jake tries to track down the reclusive author Horace Jacob Little, while his old classmate Andrew, confined to a psychiatric facility, writes confessions about his own interactions with Little.
I should reserve a spot in my beach bag for Mark Mills's
Amagansett
. I bet my husband and I would both like it. Space limitations mean we often share books while on summer vacation. Our last shared saga was 950+ pages: John Sayles's
A Moment in the Sun
. (Yes, the indie filmmaker also writes good books. His first,
Pride of the Bimbos
, is about a traveling circus baseball team that plays in drag and stars a midget. Believe it.)
A Moment in the Sun
is set shortly before the end of the 1800s and reminded me of E. L. Doctorow's
Ragtime
in the mix of real and fictional characters, the scope of its story, themes and connections between seemingly disparate characters.
Reamde
sounds like another big feast we'd enjoy.
In August, we're going to the lake. I want to take a genre bender,
Quantum Thief
by Finnish author Hannu Rajaniemi.
Publishers Weekly
says that "Rajaniemi melds a caper novel, New Wave aesthetics, and theoretical physics into a stellar debut. Broken out of a quantum prison in which he'd been forced to play endless games of prisoner's dilemma, often against himself, master thief Jean le Flambeur is forced to take a job working for the mysterious and beautiful Mieli. They travel to Oubliette, a moving city on Mars where time and memory are quantifiable and transferrable goods, and privacy is paramount." Whew. I like traveling to other places from my beach towel and Mars would be a trip.
My husband's choice for our August vacation? Adam Brent Houghtaling's
This Will End in Tears: The Miserabilist Guide to Music
. It's due to be published on August 7. It's a comprehensive tour through sad music of all kinds. Doesn't that sound like fun? As an antidote I'm going to pack our most cheerful CDs.
I'm copying a page from Sister Mary's playbook and taking some classic English mysteries. If they're set at the seashore or the characters are on vacation, that's a plus. One example I've already read is P. M. Hubbard's
High Tide
. It features a man, Curtis, just released from prison where he was serving a sentence for manslaughter. Curtis is taking a trip when he's waylaid and asked about his victim's last words. He doesn't remember then, but later he does. They were: "High tide at ___." Curtis wonders if this means something that may be to his advantage, so he investigates––and so, unfortunately, do some villains. Beautiful coastal cliffs of Devon setting. Hubbard writes books that stick in the mind like sand in your wet swimming suit.
Another classic English mystery for vacation reading is
Suicide Excepted
, by Cyril Hare. Every year, an elderly Englishman makes the same trek that ends in the same room in the same hotel. One year, his vacation ends with his death in the same hotel bed. The police and coroner rule it a suicide. His children initiate their own amateur investigation when the insurance company refuses to pay on his policy. A drunken private eye and Inspector Mallett are also on hand. Like all of Hare's books, it's a little dry but very wonderful––like a martini.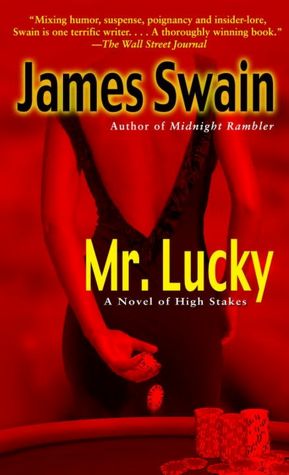 I've taken P. G. Wodehouse to the lake in the past, and enjoyed the company of Jeeves and Bertie Wooster by the water. Robert Barnard and Carl Hiaasen are good, too. I like reading James Swain books about gambling during the day. His
Mr. Lucky
is Ricky Smith, who wins half a million at a casino in Las Vegas, scratches a winning lottery card, successfully bets long shots in a horse race at Belmont Park, and wins a vacation when ping pong balls are drawn out of a hat at a local celebration. The Las Vegas casino finds it impossible to believe in luck of this magnitude and hires Tony Valentine, an expert at detecting gambling fraud, to investigate. It's unfortunate that Valentine can't improve my poker when we play with friends in the cabin at night. You could call me Ms. Unlucky with a deck of cards.
Have you ever struck it lucky with some books you've taken to the beach? If so, we're all eyes and ears.