Summertime, All the Cats Are Bored
by Philippe Georget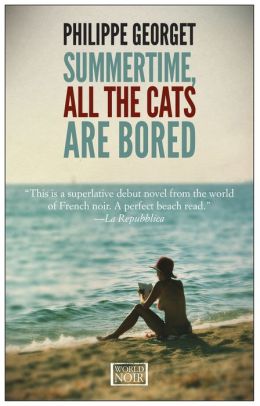 As summer nears its end, I wanted to read one last warm-weather mystery. And what's more summery than a story set in the South of France? In this case, we're in an unusual location for crime fiction: Perpignan, way down in France's Mediterranean South, almost to Spain.
It's another warm July in Perpignan, and Inspector Gilles Sebag is adjusting to changes at home. His teenage daughter and son are both away for the month, and he and his beautiful wife, Clare, are getting a taste of what it will soon be like to be full-time empty nesters. Gilles is looking forward to spending more time alone with Clare, whom he adores even more than when they fell in love at university, but he wonders if she feels the same. Is she lying to him about where she goes when he's busy at work in the evenings? Could she even be having an affair?
At work, Gilles seems to be such an astute and well-respected detective that we wonder why he's not higher-ranked. That's quickly explained. When his second child was born, Gilles took advantage of France's then-new parental-leave law and spent three years working part-time. Nothing was ever said to his face, but it was clear that this didn't go over well in the macho police world. Gilles never received any further advancement. That was alright with him, though. He just wanted to be left alone and allowed to do his job.
Now, two new cases land in Gilles's lap. A Catalan taxi driver, José Lopez, has been reported missing by his wife, and the force also receives a report of a missing young woman—a Dutch tourist named Ingrid. Are the two disappearances connected? And what of the enterprising journalist who livens up the summer torpor with a sensational story that the missing Ingrid is part of a series of attacks on beautiful young Dutch female tourists?
Author Philippe Georget is former TV news anchorman who now lives with his family in Perpignan. This is his debut novel and is a welcome introduction to an appealing new protagonist. Gilles is a thoughtful, intelligent, sensitive guy. Someone you'd like to get to know. His character and devotion to his family make a refreshing change from the usual angst-ridden misfit model (though I enjoy a few of those as well). But that's not to say that Gilles is some conventional Father Knows Best type. We know right away that he's different when we read that he bucked the cultural norm by being a half-time stay-at-home dad. Also, his musings on marriage and his children are very different from what you might expect, and made me hope to learn more about Gilles and Clare in future books.
The Perpignan setting was a bonus. I am somewhat familiar with the city from reading World War II history, because it was so often a meeting place from which refugees and downed Allied pilots escaped France with the aid of guides, who took them off by boat or over the Pyrenees to Spain. Perpignan's World War II history plays no part in this book, though. But we do get a real feel for the summer heat, the beauty of the Rousillon region and the Catalan flavor that mixes with the French. The owner of Gilles's favorite coffee shop is Catalan and Gilles works on his Catalan by conversing with him. I enjoyed learning a little about the dialect this way.
Although this book is part of the publisher's World Noir collection, and the cover blurb calls it French noir, I wouldn't call it noir at all. There are at least a dozen definitions of noir, it's true, but the general consensus is that noir is cynical, fatalistic, positing a bleak world in which people are the victims of fate or an indifferent or even malicious God.
In noir, the atmosphere of moral ambiguity is often thick as a London fog. This book does have a cynical tone at times, and there's a slight mist of moral ambiguity about marriage, but otherwise the story doesn't tick any of the rest of the noir boxes. Gilles is a good guy with a clear agenda to rescue the girl and get the bad guy. I'll confess that I'm not much of a fan of noir, so the fact that this isn't actually noir was a plus for me. But I think even noir fans can still enjoy this book, as long as they don't have expectations that it will fall into that genre.
Summertime, All the Cats Are Bored
was first published in French in 2012. It was translated into English by Steven Rendall and published in the US on July 2, 2013, by Europa Editions. Oh, finally, about that title. If you read the book, maybe you can tell me what it has to do with the story!
Note
: Versions of this review may appear on Amazon, Goodreads and other reviewing sites under my user names there.