I should start by saying that Philip Kerr's
The Other Side of Silence
(Marian Wood Books/Putnam, March 29, 2016) is the 11th book in the standout Bernie Gunther series and, if you're not familiar with the series, you should start with
March Violets
, the book that introduces us to Bernie as a private investigator in 1936 Berlin. Philip Kerr hasn't written the series in chronological order––in fact, some of the later books in the series are set several years before that first one––but your reading experience will be so much richer if you start with the first books. For the rest of this review, I'll assume the reader is familiar with the series.
This is another one of Kerr's dual-narrative novels, which he's done a few times with Bernie. It starts in 1956, with Bernie working as a hotel concierge on the French Riviera. Because of his World War II misadventures as a reluctant aide to some big-time Nazi war criminals, he's living under the false name Walter Wolf. The other narrative, which takes up only a couple of chapters, flashes back to 1945 Königsberg, East Prussia, when Bernie was in the German army, falling in love with a young radio operator while the Russian army encircled the city.
In 1956, Bernie's life is uneventful, taken up with his job, playing bridge, and drinking away the time. That is, until he is invited to play bridge with the famous author Somerset Maugham, who lives in an opulent villa on the coast. Maugham, who had been a longtime agent for the British secret service (I didn't know that, did you?), asks Bernie to help him deal with a blackmailer named Heinz Hebel. Bernie recognizes Hebel as Henning, a particularly despicable character whom Bernie had the displeasure of dealing with more than once, including in 1945 Königsberg.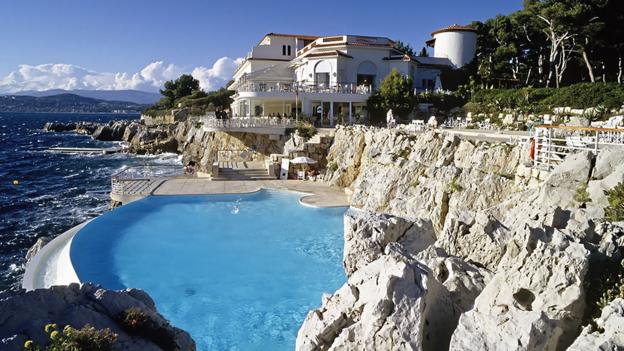 Maugham called the French Riviera
"A sunny place for shady people"
Once this blackmail plot gets going, and you don't have long to wait, it becomes a dizzyingly complex but thrilling game of Cold War espionage, betrayal, vengeance and revenge. And, as Bernie explains, there is a critical difference between vengeance and revenge.
The last Bernie book,
The Lady From Zagreb
, also has a plot that has one storyline about Bernie's war experiences and another that is more espionage oriented. I liked that book, but I thought the espionage element was the much stronger storyline in that book. In this new book, the espionage plot is a far bigger part of the story. The flashback story is excellent, but it informs the bigger plot and blends well, which was not so much the case with
The Lady From Zagreb
. For me, this was a more successfully coordinated story, and it's a particularly entertaining one if you know your Cold War espionage history.
Hey, Mr. Kerr, quit gazing soulfully
at the camera andvwrite faster!
My one criticism of this book concerns the romance element. As usual, Bernie has a romantic entanglement. This time around, it didn't feel emotionally convincing. In fact, at the start, Kerr doesn't make it seem like Bernie even finds this woman attractive. But that's a relatively minor problem, not enough to be of real concern. And that minor failing is more than made up for by the intricate plot and its clever denouement. I'm already impatient for Kerr's promised 12th Bernie Gunther novel,
Prussian Blue
, coming in 2017.
Note
: I received a free advance reviewing copy of the book from the publisher, via Amazon's Vine program. Versions of this review may appear on Amazon, Goodreads, BookLikes and other reviewing sites under my usernames there.
Image sources
: Amazon.com, bbc.co.uk, hollywoodreporter.com.