'Twas the weekend before Christmas, and all through the land, it was easy to face, with a good book at hand. Whether for you or a gift, check out the titles below:
Celebrate finding the perfect gift for Great-Aunt Harriet by armchair travel to another country or time. You can look back at the Prague Spring of 1968 with Czech writer Josef Škvorecký's
The Miracle Game
, a detective story/satire/history lesson, in which the jazz-loving Danny Smiricky investigates the facts behind a 20-year-old miracle in a provincial church. Go farther back with Jack Finney's time-travel classic set in Manhattan,
Time and Again
. Or, visit the near future in 2015, when Russia is reeling after a civil war, in Donald James's vivid
Monstrum
. Police inspector and narrator Constantin Vadim investigates a series of killings of young women. Watch the world ending in Karen Thompson Walker's dystopian
The Age of Miracles
, in which 11-year-old Julia deals with the earth's gradual slowing to a close. Or stay in always-intriguing modern Russia. The author of 2012's
The Silent Oligarch
is Chris Morgan Jones, who used his experience working for Kroll, the world's largest corporate intelligence firm, to craft an intricate thriller about the mysterious Konstantin Malin, a bureaucrat in the Russian Ministry of Natural Resources.
Fed up with fruitless shopping or stubborn gift-wrapping paper? Ease your frustrations with noir or a tale about vengeance. Erin Hart's
False Mermaid
is about forensic archaeologist Nora Gavin's attempt to prove her brother-in-law killed her sister. James Ellroy's
L.A. Quartet
and
Underworld USA
trilogy are mesmerizing noir. Or how about reading classic noir and then watching a film of the same name? Holiday preparations are a breeze compared to the Depression-era dance marathons of Horace McCoy's 1935 novel,
They Shoot Horses, Don't They?
. The 1969 movie stars Jane Fonda, Michael Sarrazin, and Gig Young. Dorothy B. Hughes's
In a Lonely Place
(1947), set in post-WWII Los Angeles and narrated by misogynistic killer Dixon Steele, inspired the movie with Humphrey Bogart and Gloria Grahame. Both are entertaining.
A friend glued to the bed by the plague (or maybe it's just a bad cold)? Cheer him or her up with a hospital bed, the long-dead, and a few skeletons; even nonmystery-reading folks would like these books. In Josephine Tey's
The Daughter of Time
, hospitalized Inspector Grant investigates Richard III's guilt in the disappearance of two little princes from the Tower of London. Recently, a skeleton believed to be Richard III was discovered, and we should hear results of DNA testing and radiocarbon dating in 2013. Colin Cotterill begins each chapter of
Killed at the Whim of a Hat
, first book in his new Thailand series, with an apt quotation from former U.S. President George W. Bush. (The title is from this one: "Free societies are hopeful societies. And free societies will be allies against these hateful few who have no conscience, who kill at the whim of a hat.") Cynical Jimm Juree, who lost her journalism job in Chiang Mai when her mother purchased the decrepit Gulf Bay Lovely Resort and Restaurant and moved the family to Chumphon, is thrilled when a digging man unearths a Volkswagen van with a couple of skeletons inside.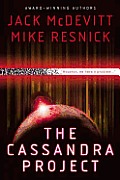 Surely there are a few impossible-to-please names on your gift list. For your Uncle Fred, who sees a government conspiracy or coverup lurking behind every tree,
The Cassandra Project
, by Jack McDevitt and Mike Resnick. It's a thriller set in 2019 that involves NASA's moon-landing program in the late 1960s. Maybe Neil Armstrong wasn't the first man to set foot on the moon. For your picky sister Susie, who combines a love of history with an appreciation of black comedy, David Benioff's
City of Thieves
is sure to please. It follows a pair of young Russians on their quest for a dozen eggs during the siege of Leningrad. Need a gift for your sardonic brother Bill, who counts Kurt Vonnegut's
Slaughterhouse Five
and Joseph Heller's
Catch-22
among his favorite books?
Billy Lynn's Long Halftime Walk
, by Ben Fountain, features eight heroes from Bravo Company, who are treated to a Dallas Cowboys football game while on a two-week leave from the war in Iraq.
You or someone close to you in need of a laugh? Good choices are the first few Stephanie Plum books by Janet Evanovich; Thorne Smith's 1926 charmer
Topper
, about a banker whose stodgy life changes when he's haunted by a fun-loving couple killed in a car smash; John Mortimer's Rumpole of the Old Bailey books; or P. G. Wodehouse novels. Irish writer Paul Murray begins his wonderful dark comedy/coming-of-age novel,
Skippy Dies
, with the death of 14-year-old Skippy on the floor of a donut shop and then explains how this came to be. Or, turn to Florida, which often functions as the United States' least predictable state during presidential elections. Comedy writers get plenty of fertilizer there and include crime-fiction writers Carl Hiaasen, Tim Dorsey, Elmore Leonard, Paul Levine, and Laurence Shames. Pulitzer Award-winning Miami humorist Dave Barry's first satiric mystery,
Big Trouble
, involves a crazy ricocheting between a couple of high school kids playing the game Killer, their folks, enterprising Russians running an illegal-arms business out of a seedy bar, a homeless man living in a tree, a food-obsessed dog, a poisonous toad, and the poor cops chasing the action.
The holidays are based on traditions, and what is more traditional than the Golden Age of Mystery Fiction? Some great writers are Dorothy L. Sayers, Agatha Christie, Margery Allingham, Michael Innes, and Edmund Crispin. A fun book connected with gift giving is Anthony Berkeley's
The Poisoned Chocolates Case
. For terrific books specifically set at Christmas, there's Ngaio Marsh's
Tied Up in Tinsel
, Georgette Heyer's
Envious Casca
, Dorothy L. Sayers's
The Nine Tailors
, and Cyril Hare's
An English Murder
. Charming traditional mystery series include Delano Ames's Dagobert and Jane Brown (
Corpse Diplomatique
involves a murder on the French Riviera), Ngaio Marsh's Roderick Alleyn of London's CID (
Overture to Death
sets a murder at the performance of a play), and Patricia Moyes's Henry Tibbett (
Murder Fantastical
introduces the eccentric Manciple family). For the serious lover of old crime fiction, who would be interested in seeing comments about these books as they were published, a good gift is
The Anthony Boucher Chronicles
, by Francis M. Nevins. Boucher, whose name is honored by the yearly Bouchercon meetings of mystery writers and fans, wrote a column for the
San Francisco Chronicle
from 1942-1947.
Is your name Sister Mary Murderous, or are you shopping for a WWII/espionage nut like her? Here are a couple of good ones. I'm currently riveted by Laurent Binet's 2012 novel
HHhH
(translated from the French by Sam Taylor). Binet tells the story of how two brave men recruited by the British secret service—Gabčik the Slovak and Kubiš the Czech—assassinated Nazi Reinhard Heydrich on a Prague street in 1942. John Banville's beautifully written, thoughtful, and funny
The Untouchable
features Victor Maskell, modeled after Sir Anthony Blunt, who is exposed as a traitor and reminisces about the Cambridge men who became double agents, working for both the British and Soviet intelligence agencies.
I need to stop now so I can bake Maida Heatter's pumpkin gingerbread. I wish you the best this holiday season.