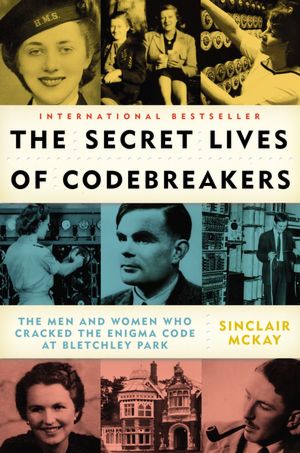 The Secret Life of Codebreakers: The Men and Women Who Cracked the Enigma Code at Bletchley Park
by Sinclair McKay
Imagine being a member of a team whose work was said to have shortened World War II by at least two years––and not being able to tell anybody about it for decades. Your friends, neighbors and family may even have thought you were a coward who failed to join up and fight for your country. That's exactly the position of the 10,000-plus men and women who worked at England's Bletchley Park to crack the codes used by the Axis powers during the war. They were summoned to Buckinghamshire with no disclosure of the reason for the summons and were required to sign the Official Secrets Act almost as they arrived.
It wasn't until over 30 years later that the requirement of silence was lifted. During all those years, unlike other wartime groups, Bletchley Park's personnel had no reunions and were deprived of the chance to sit and reminisce with old colleagues. By the time they could share their stories with their families, most of their parents had died.
before
the reset was typed––unencrypted––in the first message sent for the day, this greatly narrowed down the possibilities for the current day's key and allowed the analyst to run through them all first.
I got a particular kick out of reading about how Operation Double Cross helped in decryption. I recently read Ben Macintyre's excellent
Double Cross: The True Story of the D-Day Spies
, which describes the double agents used by British intelligence. Because British intelligence knew what these agents' reports to their German contacts said, when the reports reappeared in German encrypts, they were readily decrypted, thus revealing that day's cipher key.
Times
cryptic crossword puzzle) and told them to get on with it. Despite the many privations, most recall it as the time of their lives, and nothing afterward ever quite touched the level of the experience. McKay isn't quite as good at bringing to life the BP personnel in their off hours, but reading about the human context of the work at BP makes this book a valuable reading experience for anyone who enjoys World War II social history.
The Secret Life of Codebreakers
will be published by Plume (a division of Penguin Group USA) on September 25, 2012. It was published in the UK last year under the title
The Secret Life of Bletchley Park: The WWII Codebreaking Centre and the Men and Women Who Worked There
.
Note
: I received a free advance reading copy of this book for review. Versions of this review appear (or may appear in the future) on Amazon and Lunch.com under my usernames there.