Cop to Corpse: A Peter Diamond Investigation
by Peter Lovesey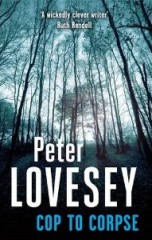 When Constable Harry Tasker is shot in the head and killed in the early morning hours, that makes the third uniformed police officer picked off by a mystery sniper in England in three months. This is the first one in Bath, though, and Chief Superintendent Peter Diamond is on the scene quickly. He's told, in no uncertain terms, that the investigation will be led by Chief Superintendent Jack Gull of the Serial Crimes Unit.
By not giving in to his natural inclination to tell Gull to get stuffed, Diamond ensures that he stays close to Gull's team's pursuit of the sniper and, separately, can pursue his own investigation of the murder victims, trying to discover whether there might be a personal connection between them. This idea goes against the grain of Gull's notion that the sniper is just a psycho who hates cops, so Diamond doesn't immediately share his thoughts with Gull. He has to bring in his own team to help explore his theory, though, and this causes considerable awkwardness. The team figures that any connection among the cases would mean that there is something fishy in the victims' lives, and they take it as an insult to cops that the boss would think for a moment to cast suspicion on the victims.
Diamond is determined to find answers, no matter what the consequences. He's not afraid to tweak the foul-mouthed macho man, Gull, to ask difficult questions of the widows of the slain policemen––including the late Harry Tasker's abrasive-as-sandpaper wife––or to risk his normally good relationship with his closest team members, stalwart Keith Halliwell, plodding John Leaman and the cheeky former crime journalist, Ingeborg Smith.
Diamond
is
afraid of some things though. He has a white-knuckled horror of high-speed drivers––like Gull––and he hates guns. When Gull outfits his team for a stakeout with Diamond along, Diamond refuses the offered firepower, saying that for him to pack heat would only jeopardize everyone in his vicinity. Being a man of a certain age and avoirdupois, he's also none too fond of foot chases, climbing, or nighttime forest stakeouts (with or without guns). He much prefers to use his brain and to reason things out with his team and his longtime girlfriend, Paloma. (Not to digress too much, but I always thought police officers were supposed to keep their cases confidential. Diamond blabs just about every detail to Paloma. Not that I object; I just wondered about the propriety of it.)
The Peter Diamond series is a classic, straight-ahead British police procedural. Lovesey takes his crime stories seriously, but always includes a leavening of humor and spares us the blood, gore and sickening descriptions of violence. In
Cop to Corpse
, he leads us on a complex, multi-layered investigation with plenty of twists and turns, and a few cleverly-laid red herrings. Even though I had strong suspicions about whodunnit, Diamond's efforts and the full story were so entertaining that it made no difference at all to my enjoyment.
I highly recommend this twelfth entry in the Peter Diamond series, which was published in 2012 by Soho Crime. Unlike some series, it's not necessary to read the books in order––though they're all well worth reading.
Note
: Versions of this review may appear on Amazon and other reviewing sites under my usernames there.