Johann and Wilhelm Grimm
November 20, 2012 marked the 200th anniversary of publication of the Grimm brothers'
Children's and Household Tales
, a grisly and scholarly little collection of folk tales culled from German and European folk history. I had the fortune––or misfortune––to read fairly early versions of these stories as a child. They scared me silly and some made me cry; hardly suitable bedtime reading for children. Over the years, the original collection has been gentled down and the violence edited out, first by the brothers in subsequent editions, and then by many other writers. Disney finally tolled the death knell for several of these fascinating, but unsettling, ancient folk tales by turning them into sweet confections suitable for the very youngest reader, if possibly dangerous for diabetics.
The original Cinderella
In the Grimms' Cinderella, for example, the stepmother cuts off her daughter's toes in order to make the glass slipper fit. Not until Cinderella's bird friends point out that the slipper is full of blood does the dense prince realize that something is amiss. And at the wedding of Cinderella and the prince, the birds peck out the eyes of the wicked stepmother and sisters, striking them blind. A far cry from the bibbity-bobbity-boo, wish-upon-a-star tale of today.
Gretel shoving the witch into the oven
The best I can say of Hansel and Gretel's parents is that they weren't cannibals, like many characters in the Grimm stories, but being abandoned by your parents in the forest to starve or be eaten by animals is not a happy thing for any child to contemplate. This folk tale is believed to date back to the Great Famine in the early 14th century, and may be truer than we like to think. Who was crueler: the father who abandoned his children to certain death or the witch who fattened Hansel up for her dinner and enslaved his sister? I've never answered that question to my own satisfaction.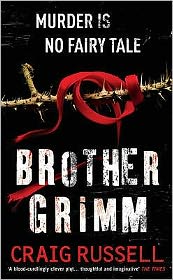 In Craig Russell's
Brother Grimm
, someone is committing a series of murders based on a modern novel in which the writer casts Johann Grimm as a madman and serial killer who acted out the stories he published in
Children's and Household Tales
. I don't usually read violent serial killer stories––they disturb me more than scare me––but this story line was different and the tie-back to the fairy tales creepily irresistible.
The shabbily dressed girl was found carefully posed on a beach, blue eyes open to the sky. A note folded into her hand read
"Now I am found. My name is Paula Ehlers. I live at Buschwager Weg, Harkesheide, Norderstedt. I have been underground and now it is time for me to return home."
She had been strangled, but not otherwise molested. Paula Ehlers had been missing from her ordinary, loving, middle-class family for over three years. When her parents did not recognize the body as that of their daughter, Kriminalhauptcommissar Jan Fabel of the crack Hamburg Murder Squad feared that he was up against another cruel psychotic killer, like the one who had butchered a member of his team the previous year. He was right.
Infinity Mirror Room by Yayoi Kusama at the Tate Gallery
This is a remarkably convoluted tale that mirrors a contemporary fictional book that expands on a volume of ancient folk tales. Each murder offers some clue to the next if the police are quick enough to spot it, and each mirrors one of the Grimm brothers' folk tales. The point of view shifts from the police to the murderer to the victims, adding to the bedazzlement and confusion. While hindsight shows that the author has strewn clues throughout, so much is going on in the story that I overlooked most of them. The conclusion offers a grisly "Aha" moment that ties the whole thing together perfectly. A creepy and disturbing procedural very worthy of the name Grimm, it definitely is
not
bedtime reading.
Lenny Henry as Chef
The use of German titles and words throughout the book was somewhat distracting, and at first led me to think
Brother Grimm
was originally published in German, but no translator is listed. I could have done with fewer Kriminaloberkommissars and Spurensicherungsteams; those long compound words make my eyes cross. The most amusing cross cultural quirk is that Fabel's staff all call him "
Chef"––
German, presumably, for "Chief." As a result, actor Lenny Henry as the irascible star of the Britcom series
Chef
kept popping into my mind while reading the book. A different mood entirely than the author intended, I am sure!
Craig Russell's work is apparently better known in Europe than in the US, and has been translated into 27 languages. He has written two series: the Lennox noir books, set in 1950s underworld Glasgow, and the contemporary Jan Fabel series, set in Hamburg.
Brother Grimm
is the second in this series. He speaks fluent German, and has made a study of post-WWII Germany which is apparent in his knowledge of the city of Hamburg. He lives in Perthshire, Scotland.
His books have won several international awards, and he is the only non-German to have won an honorary Police Star from the Hamburg Police for his books.
Brother Grimm
was nominated for a Crime Writers Association Gold Dagger Award in 2007.