Doing the Time Warp in The Rocky Horror Picture Show
To do a mind flip and a time slip, you don't need to be a left-and-right jumping, pelvic-thrusting Transylvanian in
The Rocky Horror Picture Show
. You can stay in your comfy chair and pick up one of the unusual books below. None of them are for everybody. They zig-zag between past and present in an examination of identity and perception or betrayal and redemption.
For someone who wonders if a house can haunt people as well as be haunted by them
:
The Hundred-Year House
by Rebecca Makkai (Viking, July 2014). Marxist academician Zee Devohr, of the wealthy "Devohrcing Devohrs," moves into the carriage house of her mother's family estate, Laurelfield, with her husband Doug, a struggling grad student who needs peace and quiet while writing his dissertation on poet Edwin Parfitt. He can't seem to get his ideas onto paper and then is further distracted when another couple also moves into the carriage house. Doug's thoughts turn larcenous when he discovers Laurelfield was once an artists' colony and that files pertaining to his dissertation may be in Laurelfield's locked attic.
This is one of those books you read as if you're opening a Russian nesting doll. It's full of twists and surprises, some of them so small or unexpected that an inattentive reader won't catch them all. When you register one, it feels as if you're in on a little joke between you and the writer that excludes some of the characters. How often do you have a chance to experience this when you read? The many characters are introduced and wander through chapters titled 1999, 1955, 1929 and 1900. After reading this clever book, you'll change the way you think about interpreting history, look at unidentifiable people in old photos and view objects that have been in your family for generations.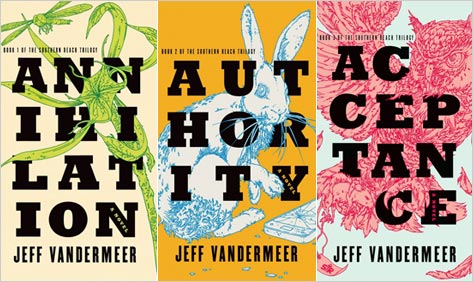 If you like putting together those gazillion-piece jigsaw puzzles of a herd of zebras or enjoy the process of not knowing what the hell is going on and getting clued in, bit by frustrating bit
: Jeff VanderMeer's
Southern Reach trilogy
(FSG Originals, 2014). The Southern Reach is a secretive governmental agency that sends expeditions into the mysterious Area X, a pristine wilderness in Florida, maybe, created by something strange and contained by unusual borders.
Annihilation
(see review
here
) involves the all-women twelfth expedition: a biologist, a surveyor, an anthropologist and a psychologist.
Authority
details the attempts of Control, the Southern Reach's interim director, to take charge of his agency.
Acceptance
concludes this trilogy's look at human identity with a visit to Area X by Control and someone connected with the twelfth expedition.
These three books must be read in order and even then your imagination will have its hands full. When I read
Acceptance
, I wondered if I'd unknowingly taken something that was affecting my mental processing. Fun. These books are fascinating sci-fi/detective sleuthing/dystopian fiction for the right reader.
Like your British espionage to be more than a frantic boiling of nifty gadgets, cold-blooded spies and hot babes?
Try Gerald Seymour's 464-page
The Dealer and the Dead
(Thomas Dunne, February 2014). In 1991, some men and boys in the Croatian village of Vukovar wait for an arms dealer's promised shipment. It never arrives and they are slaughtered by the Serbs. Almost two decades later, a Vukovar farmer's field is cleared of land mines. An unearthed body reveals the arms dealer's identity: Harvey Gillot, a wealthy Englishman famous for the reliability of his word. The surviving Croatian villagers have long memories and are now bent on revenge.
Seymour outdoes himself this time with his many, and I mean
many
, characters, few of whom approach likability. If you appreciate a slow-burning, multi-threaded story that ultimately kicks into high gear, give this book about redemption and the shadowy world of arms dealing a shot. Or, pick up Seymour's 2013 book,
A Deniable Death
(reviewed
here
).
And now, I'll do the time warp and pick up Zia Haider Rahman's
In the Light of What We Know
(Farrar, Straus and Giroux, April 2014). It slips time in its story about two friends, one of whom betrays the other. I'm enjoying Rahman's exploration of how well we can know the world and ourselves.