In the last two weeks, we've had four snowstorms and a total of almost four feet of snow. Excuse me if I find it hard to get too excited about a new murder mystery series set above the Arctic Circle. Still, given the star-studded cast and the big publicity, I had to at least check out
Fortitude
, a 12-part miniseries that began last week.
The production is a venture between the UK's Sky television and the US's Pivot channel. (What, you never heard of the Pivot channel?) Here's the setup. Fortitude is a settlement of about 700 residents, nearly all of whom work at the Arctic Research Centre or in mining. Michael Gambon plays one of the few exceptions; he's a wildlife photographer who, in one of the drama's first scenes, is walking along an icy shore when, in the distance, he sees a man down and being mauled by a polar bear. He gets a rifle shot off at the bear, but then a lawman shouts at him that it's all under control and he should leave.
The local governor, Hildur Odegard (played by Sophie Gråbɵl, who was in the original Danish production of
The Killing
), has big ambitions for Fortitude. She wants to build one of those ice hotels to draw a lot of tourists. A homicide isn't going to help her plans. Neither will a local boy's sudden illness that might be measles but might be a strain of polio that he brought with him when his family moved to Fortitude from Afghanistan. To add to her headaches, somebody has discovered what look like wooly mammoth bones, which biologist Stoddart (played by a former Doctor Who, Christopher Eccleston) would use to put the kibosh on the hotel.
Fortitude
, but I thought I should let you all know about it so you can check it out for yourself. Nordic noir, which mystery mavens have been familiar with for several years now, has started to gain strength in the TV medium. If you enjoyed
The Killing
or other moody crime dramas, give this one a try. It's got that gloomy, claustrophobic foreboding that is so familiar in Nordic noir. But fair warning; you have to pay very close attention. It's not clear at the outset what is going on a lot of the time and the mix of the characters' accents often makes it hard to follow the dialog.
Fortitude
as an on-demand program, so take a look at that possibility. The Pivot channel website is streaming the series
here
as well. Finally, if you want to educate yourself about the series, visit its website
here
.
If I can't be on a nice warm beach this winter (like my brother-in-law and his spouse, who are in Maui right now, not that I resent them
at all
), then watching
Death in Paradise
allows me to enjoy the sun, sand, sparkling sea, tropical breezes––and murder––vicariously. This UK production, filmed on Guadeloupe, is set on the fictional island of Sainte Marie.
The series began in 2011 on the BBC, and is now in Season Four. In the US, you can likely find it on your local PBS station, most of which are currently showing Season Two. If you go to the pbs.org website, you can watch streaming video back to the beginning of the series.
The series begin with the arrival of Detective Inspector Richard Poole of Scotland Yard to Sainte Marie. Poole is disgruntled to find himself sent to Sainte Marie to solve the murder of a police officer, and then horrified when he is pressured to assume the dead man's position on the force. Poole is hostile to sun and heat and he can't stand the relaxed pace. (Kind of like my cousin Lisa from Boston, who gets very irritated when the staff at my local Dunkin' Donuts tries to make small talk rather than produce her coffee instantly and with zero chit-chat.) Poole stomps around Sainte Marie wearing a suit and tie, seeming to hope that if he continues to dress as a Londoner he'll return to London very soon. No such luck.
The cases that Poole, Camille and the force tackle are sometimes very island-oriented, such as voodoo, a scuba diving death, and drug running by yacht. Others, though, could be crimes committed anywhere; the viewers just get the added treat of the tropical scenery.
I won't claim that
Death in Paradis
e is high art or that the production values are elevated. No, this is standard BBC murder mystery fare––but worth watching because of the appeal of the characters and the attractiveness of the setting.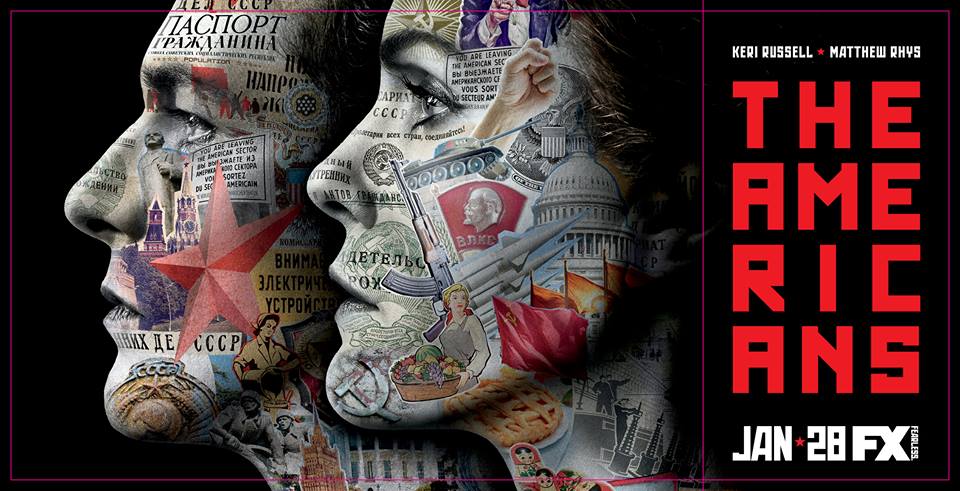 Just a quick final mention. If you prefer your crime stories to be set somewhere between the extremes of the Arctic Circle and Sainte Marie, the third season of
The Americans
just began on FX. This thrilling and stylish story of deep undercover KGB spies working in Washington DC in the 1980s, which I wrote about
here
two years ago, is entering a fascinating new phase as the protagonists' two kids become interesting to the Soviets as possible second-generation agents. The success of
The Americans
has apparently inspired a new show on NBC called
Allegiance
, which began last night. I'll be sticking with FX.