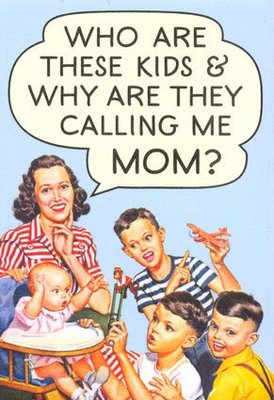 Mothers. We celebrate 'em here in the United States on Mothers Day, this Sunday. Whether you need a gift for your mother or want to read a book in her honor, check out some of the following ideas:
For the mother whose math skills evaporated when letters appeared in your homework equations, but she gamely insisted on helping you anyway: Yokō Ogawa's
The Housekeeper and the Professor
. After a mysterious accident in 1975, a Japanese mathematician can only remember new things for 80 minutes. The baseball-obsessed professor copes by covering himself with post-it notes and hiring a housekeeper with a young boy, whose flat head reminds him of a square-root sign. Heart-warming and wonderful.
Have a mother who caught you drinking and smoking in the garage when you were 13 and read you the riot act in words you can still recall today? Pay her back with Patrick Hamilton's masterpiece of black comedy,
Hangover Square
, set in 1939 London before England declared war on Germany; or Malcolm Lowry's
Under the Volcano
, which follows the alcoholic British consul Geoffrey Firmin as he drinks himself to death in a small Mexican town on the Day of the Dead in 1938. Or
A Drop of the Hard Stuff
, in which Lawrence Block's ex-cop turned PI Matthew Scudder looks back at his first year off the bottle. Or Geoffrey Homes's 1940
Finders Keepers
, featuring Humphrey Campbell, a hardboiled private eye who only drinks milk. Daniel Mainwaring (whose pseudonym was Homes) also wrote
Build My Gallows High
, the powerful novel of suspense that was filmed as
Out of the Past
with Robert Mitchum and Kirk Douglas.
Your mom recognized your inner savage and swore to civilize you and your brother before you left home. Nice try, but no cigar. As we crime fiction fans know, there is no air too rarified for violent death: A murderer at the ballet keeps publicist Peter Cutler Sargeant II on his toes in
Death in the Fifth Position
by Edgar Box (pseudonym of Gore Vidal). When a cathedral organist is murdered in
Holy Disorders
, by Edmund Crispin, eccentric Oxford don and part-time detective Gervase Fen investigates.
Murder in the Museum of Man
, by Alfred Alcorn, features a prissy MoM recording secretary, Norman de Ratour, who tackles a murder that might involve cannibalism. This academic spoof definitely involves oodles of black humor and wit. In 1949's
Engaged to Murder
, by M. V. Heberden, someone has the bad manners to commit murder at a Buenos Aires dinner party of Americans, Anglo-Argentines, and French expats. Then private eye Rick Vanner, an ex-naval intelligence officer, becomes involved. Don Winslow's
The Kings of Cool: Prequel to Savages
, is set in 1960s southern California and is anything but civilized. If you've seen Oliver Stone's
Savages
, based on Winslow's novel of the same name, you'll know what I mean.
Bedtime when you were a kid always meant a reassuring peek under the bed for monsters and a soothing night-time story. Then your mom crept to bed and lulled herself to sleep with something like German writer Leonie Swann's charming and quirky tale about some sheep who solve their shepherd's murder in
Three Bags Full
. Or maybe your mom was under the covers with a flashlight, breathing through her mouth and reading a Stephen King book like
The Stand
, in which a superflu wipes out almost the entire United States, or a Joyce Carol Oates novel such as
The Accursed
, stunning and macabre historical fiction set in early-20th century Princeton, New Jersey. King's son, Joe Hill, just published a scarefest titled
NOS4A2
. That's what's on the license plate of Charles Manx's 1938 Rolls Royce Wraith. In it, Manx takes children on a terror ride to Christmasland. For an adrenaline rush, Paul Doiron's
Bad Little Falls
, about a search for a murderer in a Maine snowstorm.
If your marriage into a family of nutbars was a mistake, it's in spite of your mother's warnings. Or perhaps your mother's own family is bonkers. For reading about families rocked by crime, there's an excellent legal mystery by Jay Brandon,
Defiance County
, set in the gorgeously spooky Piney Woods of Texas; John Hart's Edgar Award-winning
The Last Child
, in which Johnny Merrimon loses his twin sister Alyssa; and Michael Cox's literary
The Meaning of Night: A Confession
, which begins with our narrator murdering a stranger for practice. In Indian writer Manu Joseph's funny, but tragic 2013 novel,
The Illicit Happiness of Other People
, Ousep Chacko tries to understand why his oldest son, a gifted cartoonist, killed himself.
Your mom didn't know much about cars, but that didn't stop her from issuing good advice about them, like always wear clean underwear in case an accident sends you to the hospital; don't buy a black car because it gets too hot or a white one because it shows the dirt; and always check for a killer lurking in the backseat before getting behind the wheel. Pay homage to your mom with Simon Wood's
Did Not Finish
, in which rookie British race-car driver Aidy Westlake investigates the crash that killed a fellow driver.
Did your mother keep a kitchen so clean, your family could get down on all fours and eat off the floor? Perhaps she was adventurous and nontraditional enough to love eating this way. She'd like Rivka Galchen's beautifully weird and moving debut,
Atmospheric Disturbances
, in which a New York psychiatrist claims that his South American wife has disappeared and been replaced by a "simulacrum." She'd also enjoy Vladimir Nabokov's
Pale Fire
, full of word play and double meanings, and Michael Dibdin's world-weary Italian cop Aurelio Zen, who investigates after a Catholic mass is interrupted by a fall from St. Peter's dome in
Cabal
.
It's not rare for a mother to have eyes in the back of her head, a bat's sense of hearing, and an early-warning system that recognizes you're heading for trouble before you know it yourself. For you or her: John le Carré's just released
A Delicate Truth
, which involves a counter-terrorist operation code-named
Wildfire
in Gibraltar, or Michael Marshall Smith's
Spares
, featuring ex-soldier, ex-detective Jack Randall, who deals with a future dystopia in rural Virginia.
I've suggested more than seven books, but my mother taught me not to skimp and not to be lazy. I hope all mothers, and all of you fondly remembering your mothers, have a wonderful Mothers Day.