Yes, yes I am. It was a year ago when I wrote
here
about my love for the
Veronica Mars
TV series, which ran from 2004-2007, and the Kickstarter campaign to fund a
Veronica Mars
movie.
You probably heard that the Kickstarter campaign was wildly successful, raising $5.7 million ($3.7 million in excess of its goal).
Veronica Mars
fans––who call themselves Marshmallows––have been anxiously awaiting the movie since the campaign ended. Producer/director/writer Rob Thomas and team posted twice-weekly progress updates to Kickstarter backers and sent out tchotchkes like stickers and teeshirts.
After the world premiere at the South by Southwest film festival in Austin, Texas, on March 8, 2014, the big release day arrived; March 14, 2014. Warner Brothers had agreed to produce the movie if Rob Thomas could raise at least $2 million on Kickstarter, which put the movie in the unusual position of being financed by both the general public and a major studio. As a result, the movie opened in movie theaters and, on the same day, became available for on-demand streaming; a first for a major studio production.
I'll bet the green-eyeshade types at WB were biting their nails about the returns at the theaters, but they needn't have worried. The movie did very well and was an event almost like a Rocky Horror Picture Show screening. Marshmallows thronged the theaters in their Veronica Mars tees, talked back to the screen and sang along to the theme song, the Dandy Warhols'
We Used To Be Friends
.
The movie picks up nine years after the TV series ended, when Veronica was in college in that Raymond Chandler-esque sun-drenched Southern California Babylon called Neptune. Now she's in New York, a new graduate of Columbia Law School interviewing with a high-powered Manhattan law firm. (Look, it's Jamie Lee Curtis playing the firm's managing partner!) She lives with a nice-guy boyfriend who is a radio DJ. (Look, there he is at the radio studio talking with Ira Glass from
This American Life
!)
We're in New York for the approximately five minutes it takes for Veronica to give us a voiceover précis of her life and get a call from her bad-boy ex, Logan Echolls, who asks for her help. He's in a spot of bother, being suspected of killing his self-destructive pop star girlfriend Bonnie DeVille, who also happens to have been a high school classmate of Veronica and Logan. Like Michael Corleone in
The Godfather III
, just when Veronica thought she was out, they pull her back in.
So, not only does Veronica drop everything to jet back to Neptune and help out Logan, it also happens to be the weekend of her 10-year high school reunion. She is absolutely, positively, no way going to go to that horror show, but her best friends, Wallace and Mac, virtually abduct her to get her there. The reunion scenes are a gift to Marshmallows, since they get to see so many of the characters from the series, but fun for others too. After all, who wouldn't get vicarious enjoyment out of seeing somebody like Veronica cold-cock the high school mean-girl-in-chief?
Though the original plan was for Veronica to just help Logan hire a criminal lawyer, you know this Philip Marlowe in a petite blonde body can't just leave it there. Soon, she's deep into an investigation of Bonnie DeVille's murder, uncovering tantalizing facts from a long-ago disappearance, dealing with the present-day intrusions of the 24-hour celebrity "news" cycle (look, there are those creeps from TMZ, and there's a very odd cameo of James Franco!), and tangling with Neptune's venal new sheriff (look, there's Jerry O'Connell!).
The murder mystery is satisfying, with a yelp-inducing climax and a couple of other rapid-fire surprises that had me levitating from my chair. I don't think it's much of a spoiler to say that Veronica decides her real mission in life is to stick around, renew her PI license and work on cleaning up Neptune, rather than be just another suit in New York. As a scarred veteran of law firm life, it was easy for me to applaud that part of the plot, even if it made Veronica's father, Keith Mars, want to bang his head with frustration.
Even if you're not a
Veronica Mars
series veteran, you might enjoy the film. I know some people who said they did, and it made them seek out the old series. The film review site,
Rotten Tomatoes
, says: "It might be a more entertaining watch for diehard fans of the show, but Veronica Mars offers enough sharp writing and solid performances to entertain viewers in the mood for a character-driven thriller."
If you'd like to see the film, it's possible that it's still at an AMC theater near you––as long as you live in a major metropolitan area. But you can watch it from the comfort of your couch, which seems like the right place to watch
Veronica Mars
, by streaming it from iTunes, Flixster, Amazon Instant Video, Xbox Video, Vudu and more. The DVD goes on sale on May 6.
The movie only made me want more Veronica Mars, and that clever Rob Thomas knew that would be the result for Marshmallows. So he launched a Veronica Mars book series on March 25, 2014, with the first book,
The Thousand Dollar Tan Line
(Random House), picking up a couple of months from where the movie left off.
There are nothing but crickets for Veronica at Mars Investigations, and the chances of her ever paying off her school loans look slim, until the Chamber of Commerce hires her to investigate the spring break disappearance of a college girl. The disappearance has become a national cause celèbre, bad for Neptune's businesses, and Sheriff Lamb is clearly not competent to do the job.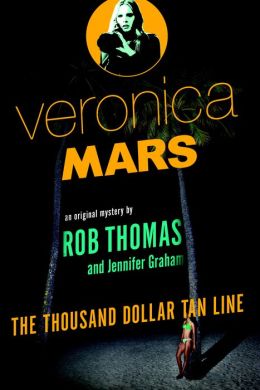 Just as in the series and the movie, Veronica dives in, calling on her cadre of friends, like Mac and Wallace, to help out with legwork and the high-level technical stuff. The mystery is on a par with what Marshmallows are used to from the TV series, with the added benefit of a major plot twist that Veronica runs into during the investigation and that rocks her back on her heels.
As a book, of course this was somewhat less heavy on the dialog than a film/TV script. That makes sense, but it did mean there wasn't quite as much of that snarky patter that typifies the onscreen versions. What made up for that for me was to listen to the audiobook version, read by Kristen Bell, who plays Veronica Mars on the screen. Naturally, she's excellent reading Veronica, but she's surprisingly good at giving voices to all the other characters.
I don't think the book would be of much interest to anyone who hasn't seen the series or the movie, but if you have, it's well worth reading and will pass the time while we're waiting to see if there will be a movie sequel.