It wasn't as big a fiasco as New Coke in 1985, but this year's debut of Coke in holiday cans was not trouble-free. Customers complained they thought they were grabbing a silver can of Diet Coke, only to discover later they had a white can of regular Coke. Some people said Coke in white cans tastes different from Coke in red cans. Others protested that the Coca-Cola company has no business weighing in on global warming and polar bears. When Yahoo News recently published an article about these complaints, it drew more than 12,500 online comments. If the first page of comments is any guide, commentators view complainers as careless morons with nothing better to do than calling beverage companies or casting uninformed votes that have led to the United States' current political and economic disaster.
Dead Ex
, by Harley Jane Kozak, begins in late December, narrator Mary Wollstonecraft (Wollie) Shelley has a life brimming with changes. She has a brand-new lover, Simon, who works for the FBI. Wollie is staying in a Los Angeles penthouse with him while she supposedly looks for a place of her own. She's preparing to help her brother P.B., a schizophrenic, move from a state mental facility to a halfway house in Santa Barbara, California. Designing greeting cards is her regular job, but she needs to supplement this income. She's been a serial dater on a reality show (
Biological Clock
) and painted a frog mural in the kitchen of a soap-opera actress obsessed with frogs. Now an actor has commissioned a mural from
The Iliad
(she's reading Homer in
Cliffs Notes
) and she's been hired to dish about her blind dates with actors for
SoapDirt
, a daytime TV gossip show. It isn't easy for Wollie to find time to perform these jobs, since her main job is helping her best friend Joey, a former
At the End of the Day
soap opera actress and the tabloids' and cops' Number One suspect in the murder of that show's producer, David Zetrakis. It's a mystery why someone would even need to kill Zetrakis. He had pancreatic cancer and hadn't long to live. Had Zetrakis hired someone, or could someone else not wait for his natural death? Stay tuned for Wollie's investigation.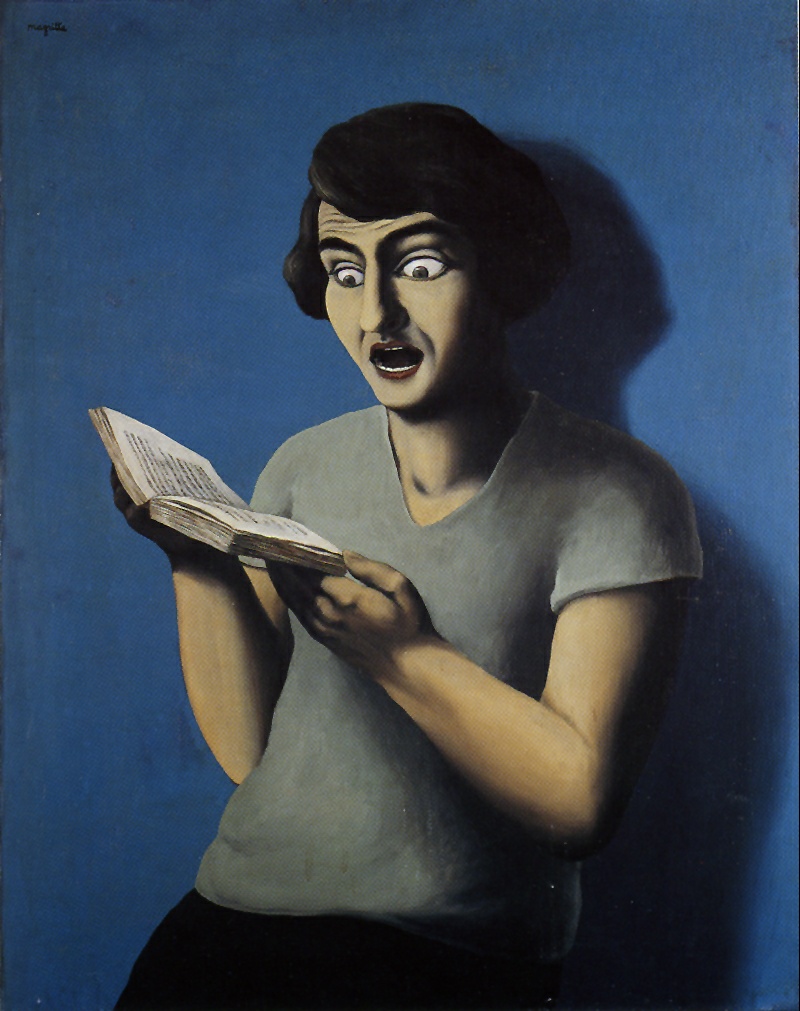 Magritte's The Submissive Reader, 1928
I've been looking for a light-hearted series for occasions I want to read but don't have much intellectual energy. When I'm tired, I want to be entertained rather than challenged. At the same time, I don't want a book with characters who are boring or too stupid to live, an awkward writing style, a plot with irritating holes or blood and guts everywhere. I want to curl up in a chair or prop myself up in bed and relax, happily turning pages rather than turning them while sick with dread. I haven't read the first two books in Kozak's Wollie Shelley series (
Dating Dead Men
and
Dating Is Murder
), but I might need to pick up one of them.
Dead Ex
, the third in the series, didn't have me laughing helplessly, but I enjoyed the author's breezy writing style and inside knowledge of Hollywood and daytime TV. Kozak has appeared on the soap opera
The Guiding Light
and in movies such as
Parenthood
and
Arachnophobia.
(She plays Jeff Daniels's wife, and needless to say, I'm getting this DVD to watch again tonight. It should have made my list of Halloween flicks.) Kozak is not a dummy. Interspersed through the book are Wollie's thoughts about what Greek gods and mortals would say about her murder investigation and current events. It's not easy finding a mix of smart and casual writing. If you're on the lookout for an agreeable read over the holidays,
Dead Ex
might be a nice holiday treat.
Friends and family are gathering at Warbeck Hall, an English country estate, for a traditional Christmas and a chance to say goodbye to the old aristocrat who lies on his deathbed upstairs. The cast of characters in Cyril Hare's
An English Murder
couldn't be better. It includes the lord's wayward son, a beautiful young woman still in love with the son even though he has treated her shamefully, a cousin who's a cabinet member of the government and the policeman on detail to protect him, the wife of one of the cousin's government underlings and a butler who's been in service to the old lord forever. Holed up in the library, while the others try vainly to make merry, is a Czechoslovakian historian happily digging through ancient books and records. The snow is piling up outside. There's so much tension inside, provided by people whose political views and personal desires will never intersect, that when a death happens it's hardly surprising. Suicide or murder? No one can leave or arrive, so it's up to the policeman on hand to investigate even though his detective skills are very rusty. That's too bad, because someone's killing skills aren't rusty.
Tragedy at Law
is about the travails of Judge Barber, a circuit judge; and
With a Bare Bodkin
is set in a wartime ministry housed in an old mansion) or barrister Francis Pettigrew (
When the Wind Blows
is about a murder during a concert).
An English Murder
is a standalone book written in 1951. It's a timeless story about responsibility, tradition, ambition, social class and change. Since World War II, English society has been changing and this book is about the painful progress of those changes. Like all of Hare's books, it assumes that the reader is intelligent, but there's no requirement that the reader be a rocket scientist. This book is a mystery classic and it makes a great gift for someone––including yourself.
The Nine Tailors
, by Dorothy L. Sayers, Lord Peter Wimsey and Bunter are staying at a vicarage when Sir Henry Thorpe dies. This leads to an upsetting discovery in his family gravesite. The East Anglia setting, change ringing, eccentric characters and unusual plot make this one of my favorite Lord Peter books.
Envious Casca
, by Georgette Heyer, is an entertaining mystery set at the English country estate of wealthy and short-tempered Nate Herriard. His younger brother Joe has talked him into hosting a Christmas house party for some relatives, their guests and Nate's business partner. The houseguests irritate each other as well as the host. To make bad feelings unanimous, the servants despise many of those present. With this distinct lack of holiday cheer it's not a shock when murder results, although the method is a puzzler.
Nicholas Blake's
Thou Shell of Death
is set at another home in the English countryside. This one belongs to Fergus O'Brien, a famous airman. When O'Brien receives several death threats before Christmas, he responds by inviting his enemies to spend the holiday with him to better keep an eye on them. Another of Blake's Nigel Strangeways books,
The Corpse in the Snowman
, is set during a Christmas house party. In this one, a parlor game involving a ghost has an unexpected result.
Tied up in Tinsel
, by Ngaio Marsh, Hilary Bill-Tasmin is remodeling the family home and has staffed it with unusual servants. To celebrate his planned engagement, he invites his odd relatives and his intended to stay with him for Christmas. Already there is Troy Alleyn, wife of Scotland Yard's Roderick Alleyn, who is painting Bill-Tasmin's picture. A murder interrupts the festivities.
I hope you're enjoying the holiday season and finding time to relax with family, friends and a good book. A break from the pressure of shopping and making plans is a good thing. As a change of pace, I've been reading a good thriller not set during the holidays, Joseph Finder's
Paranoia
. Adam Cassidy is a low-level employee at a high-tech company. After the tech meltdown, because he "truly despises" his job, he impersonates someone else and arranges a very lavish party at company expense for a retiring loading dock worker. He's discovered and, in order to avoid prosecution for embezzlement, he agrees to take a job at a rival company and work as a mole. Things get very complicated when the change does him good and he likes his new job.