It's official. I'm a Baby Doc (my husband). A mean TSA agent (my kids). All this because I'm supervising the packing for our lake vacation trip. I'm feeling very misunderstood, much like some characters in books I've been reading.
You can bet no Wall Street guy has won a recent popularity contest. Grove O'Rourke, a top broker at Sachs, Kidder, and Carnegie, says some people think of Jack London's book when they hear "the call of the wild." He associates that phrase with his job, because stockbrokers yap and fight all day. As Norb Vonnegut's
The Trust
opens, O'Rourke is on the phone with his head under the desktop, trying to hear Palmer Kincaid, his old mentor and biggest client. Kincaid needs O'Rourke's help. By the time O'Rourke arrives in Charleston, South Carolina, Kincaid has died in a solo night-boating accident.
A Thousandth Man
Kipling wrote a poem about Solomon's one man in a thousand, who will stick closer than a brother when "the whole round world is agin you." Kincaid's 33-year-old daughter, Claire, tells O'Rourke her dad thought of him as his thousandth man. That's why his will asks O'Rourke to join Claire and JoJo, Kincaid's much younger second wife, on the board of the Palmetto Foundation, a conduit for philanthropists. The threesome has no sooner authorized a $25 million transfer to the Philippines, at the request of a priest from the Catholic Fund, when O'Rourke gets a phone call from lawyer Biscuit Hughes. Hughes is representing some people in Fayettesville, North Carolina, who are outraged that a huge adult superstore has moved into their neighborhood. The XXX-superstore's unlikely owner? The Catholic Fund.
It's obvious O'Rourke needs to stop answering the phone. But let's not pursue this unhelpful line of thinking. Better for us to listen to Santa Esmeralda play "Please Don't Let Me Be Misunderstood" on O'Rourke's behalf, because the shit now hits the fan. Everyone is angry at the good-intentioned O'Rourke. FBI hard-ass Agent Izzy Torres. His manipulative SKC boss Katy Anders. Claire, who resents his distrust of Father Ricardo. And Manhattan girlfriend Annie, since Claire was a high school-age O'Rourke's Daisy Buchanan and O'Rourke is staying in Claire's Charleston guesthouse. Because Santa Esmeralda's version of this song is heard in
Kill Bill: Volume 1
, it's especially appropriate. O'Rourke's investigation of the Catholic Fund spawns a kidnapping and scenes that would fit right into Quentin Tarantino's movie.
Author Vonnegut, a distant cousin to Kurt Vonnegut, worked in wealth management and has written fiction and nonfiction about Wall Street.
The Trust
, published last month by Minotaur Books, is the second Grove O'Rourke book after
Top Producer
. Vonnegut's characters, even those who wear designer clothes and behave with southern wile and charm, carry out a rip-snortin' plot. O'Rourke begins a little buttoned down, but circumstances and the company of the rumpled Biscuit jerk him out of his cordovan loafers. The financial shenanigans are explained in terms even people who can't balance a checkbook can enjoy. While I recommend you read this snazzy thriller, I must issue a stern reminder. Humans aren't the only ones misperceived. Great Stuff Big Gap Filler is grossly misunderstood by one of
The Trust
's memorable villains. Read labels, people!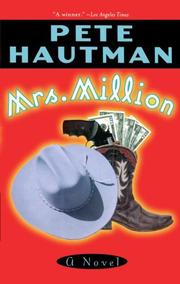 The characters in Pete Hautman's
Mrs. Million
don't only not understand each other. They don't even understand themselves. After middle Grabo sister Barbaraannette Quinn wins $8.9 million in Minnesota's Powerball lottery, she's as surprised as everyone else when she stands in front of the microphone and announces a $1 million reward for the safe return of her missing husband Bobby. Six years earlier, Bobby had set out fishing from their Cold Rock home and never returned.
Barbaraannette admits that the dumbest thing she's ever done is marrying Bobby and the second dumbest is offering big money for his return. Other than knowing how to have a good time and looking good in and out of his clothes (the guy is "hung like a racehorse"), there hasn't been much to admire about Bobby.
A co-misunderstanding of the color red
Now that he's worth all that money, everyone wants the award, including Bobby himself, who saw Barbaraannette make her announcement on TV. He and his Arizona girlfriend, Phlox, decide she'll claim the reward, so they head to Cold Rock. Unfortunately, they barely make it past the Taxidermy & Cheese Shoppe before Bobby is spotted by a couple of former business partners whom he cheated out of some money. Also figuring in the plot are a good-lookin' but not real smart young sociopath, Jayjay Morrow, fresh out of prison but not out of ideas for turning a fast buck; André Gideon, a finicky professor who lusts after Jayjay; Barbaraannette's sisters, who are nothing like her, and their mother, Hilde, who likes to escape from her assisted-living home by stealing a doctor's car; and Art Dobbleman, a very shy banker who's had a crush on Barbaraannette since high school.
Mrs. Million
is the fifth book in a series about a group of small-town Minnesota gamblers, but it's only linked to the series by a mention. Hilde likens gambler Sam O'Gara, Barbarannette's father, to her missing husband Bobby. This book is similar in flavor to Carl Hiassen's
Lucky You
, which also involves a lottery winner's travails. Like Hiassen's heroines, Hautman's Barbaraannette has more determination and smarts than her sweetness might suggest. And like Hiassen's book, it's very entertaining. A good book for vacation reading.
I'm enjoying sharing my misunderstood state with some fictional characters. I'm now reading a good book of British espionage,
Dead Spy Running
, by Jon Stock. It's the first of a trilogy involving Daniel Marchant. (The second,
Games Traitors Play
, was published in March 2012 by Thomas Dunne/St. Martin's.) The book begins when Marchant, who's been suspended from MI6, is running a London marathon. The US ambassador to England is also running. Marchant notices a fellow runner with a belt of explosives strapped around his waist running behind the ambassador's group. It's set to go off when he drops below a certain pace. Like his late father, Stephen Marchant, head of MI6 until he was forced to resign in disgrace, Daniel's intentions are suspected by his intelligence colleagues. Yet Daniel is determined to clear his father as well as himself.
Great British espionage deserves a great British band. I'll leave you with the Animals singing "Please Don't Let Me Be Misunderstood."