I'm supremely untalented in arts and crafts. I can't sew a straight line; in life drawing class, my version of a reclining human form looked like a displaced sea lion; my attempts to learn how to knit were so laughably futile I decided I'd have better luck using the knitting needles as chopsticks. My failures in this sphere are probably part of what caused my lack of interest in craftsy mysteries.
I'm not bad at cooking and baking, so I perk up more at mysteries that feature food. Not so much the ones with cute, culinary titles and lots of recipes in them, though. I prefer books that integrate a lot of good food in the characters' lives and make me want to dash out to a restaurant or into the kitchen to put the pots and pans to work.
Crèpes Suzette
Naturally, the French and Italians specialize in making the reader drool all over the page. Georges Simenon's Inspector Maigret regularly eats traditional dishes, like fois gras with truffles, tripe á la Caen, coq au vin, onion soup and crèpes Suzette––and there's more where that came from when he's at home. Madame Maigret is characterized as a good, plain cook, but her meals sound delicious to me––and they attract Maigret home for lunch quite often. There is even a book of her dishes, collected by Robert J. Courtine and titled
Madame Maigret's Recipes
. The book is out of print, but can be located.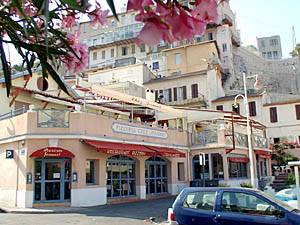 Marseilles café
Even in a gritty, noir series like Jean-Claude Izzo's Marseilles trilogy, protagonist Fabio Montale takes time out from investigations to enjoy the city's bars, music and, yes, food. Of course, it has a more Mediterranean flair than your Parisian cooking, but that's not a bad thing; not with dishes like spaghetti with basil and garlic, baked anchovy purée, and fricassée with clams.
When the moon hits your eye like a big pizza pie, that's not just amoré, it's a regular night in a book featuring Donna Leon's Inspector Brunetti, Andrea Camilleri's Inspector Montalbano or Michael Dibdin's Aurelio Zen. Maybe my favorite meal description is in Camilleri's
The Smell of the Night
, when Montalbano stops in at a tiny trattoria recommended to him. It doesn't look like much of a place to him, but he's ravenous and decides to give it a try. The proprietor tells him they have burning pirciati that evening if he feels up to it. Montalbano doesn't want to give the man the satisfaction of asking how the dish is prepared, and he certainly feels he's "up to it," whatever that means, so burning pirciati it is. When the dish arrives, it smells wonderful, and Montalbano immediately digs in––only to feel as if his mouth has burst into flames that are only barely subdued by his drowning them in an entire glass of wine.
Pirciati (not sure if it's burning, though!)
Montalbano decides he must know what is in the dish, and the proprietor tells him: "Olive oil, half an onion, two cloves of garlic, two salted anchovies, a teaspoon of fine capers, black olives, tomatoes, basil, half a pimento, salt, Pecorino cheese, and black pepper." Battling the sweat pouring down his forehead, Montalbano devours the whole dish and grabs bread to mop up the juices, "[p]unctuating his forkfuls with gulps of wine and alternating extreme agony and unbearable pleasure." He refuses a second course, and the now-respectful proprietor is understanding, since he comments that "[t]he problem with burning pirciati is that you don't get your taste buds back until the next day."
Braised wild turkey
Closer to home, Rex Stout's Nero Wolfe is at least as famous a gourmand as he is a detective. He keeps a full-time chef, Fritz, at his brownstone, and with Fritz's cooking, there is no wonder the detective weighs, as his colleague Archie Goodwin tells us, one-seventh of a ton. You won't be surprised to learn that
The Nero Wolfe Cookbook
was published–––and, unlike
Madame Maigret's Recipes
, this book is still in print. Georgette Spelvin is devoted to Nero Wolfe (and even more to Archie), and I have challenged her to write about the objects of her devotion here. In hopes that she'll be more likely to comply, I won't say any more about Nero Wolfe, Archie or Fritz's cooking.
Steak frites
Regular readers of Read Me Deadly know how dedicated I am to Louise Penny's Armand Gamache/Three Pines series. If I could enter the world Penny creates, I'd head straight for Olivier's bistro in Three Pines. The croissants sound like they're of Parisian quality, but Olivier doesn't make them; he buys them from the bakery down the block. So, much as I love croissants, especially pain au chocolat, what I'd show up for would be Olivier's impressive sandwich creations and, most of all, the steak frites. Come to think of it, Martin Walker's Bruno Courrèges makes a pretty mean steak, too. What I know about steak is a little secret I learned from the folks at America's Test Kitchen. Here it is, from the May & June 2007
Cook's Illustrated
magazine:
Pan-Seared Thick-Cut Strip Steaks (for four)
2 boneless strip steaks, 1-1/2 to 1-3/4 inches thick (about 1 pound each)
Kosher salt and ground black pepper
1 tablespoon vegetable oil
1. Adjust oven rack to middle position and heat oven to 275 degrees. Pat steaks dry with paper towels. Cut each steak in half vertically to create four 8-ounce steaks. Season steaks liberally with salt and pepper. Using hands, gently shape the steaks into uniform thickness. Place steaks on wire rack set in rimmed baking sheet; transfer baking sheet to oven. Cook until instant-read thermometer inserted horizontally into center of steaks registers 90-95 degrees for rare to medium-rare, 20-25 minutes; or 100-105 degrees for medium, 25-30 minutes.
2. Heat oil in 12-inch heavy-bottomed skillet over high heat until smoking. Place steaks in skillet and sear until well-browned and crusty, 1-1/2 to 2 minutes, lifting once halfway through to redistribute fat underneath each steak. Reduce heat if food begins to burn. Using tongs, turn steaks and cook until well-browned on the other side, 2 to 2-1/2 minutes. Transfer steaks to clean rack and reduce heat under pan to medium. Use tongs to stand two steaks on their sides. Holding steaks together, return to pan and hold them with the tongs so that you can sear all the edges until browned, about 1-1/2 minutes. Repeat with remaining 2 steaks.
3. Return steaks to wire rack and let rest, loosely tented with foil, for about 10 minutes. If desired, make a steak sauce in the now-empty skillet; e.g., red wine and mushroom pan sauce.
Delhi street food vendor
A couple of weeks ago, I listened to the audiobook of Tarquin Hall's
The Case of the Deadly Butter Chicken
. The protagonist of Hall's mystery series is Delhi private detective Vish Puri. When I tell you that his nickname is Chubby, you begin to understand that food is something Vish takes very, very seriously. As he zips around Delhi, he makes detours to all his favorite street vendors. In just this one short book, he eats at least a dozen meals that will have you looking up airfares to India, or at least plotting an immediate visit to the nearest good Indian restaurant. Half of these dishes I've never heard of, like poori, rajma chawal, papdi, channa batura and bedmi aloo, but that doesn't mean I wasn't ravenous for them.
Butter chicken over rice
What I didn't know about the book is that in its printed form, it includes some recipes at the end. On audio, you don't even get a hint of that. While I was reading about Vish devouring butter chicken at a cricket banquet, all I could think about was how much I wanted some. I didn't care that it killed a guest at the banquet. I just remembered the butter chicken at Amber India in Mountain View, California. When I worked in Palo Alto, a group of us would go there for their lunch buffet every couple of weeks. It may have been a buffet, but I only had eyes for the butter chicken. I don't know what recipe Tarquin Hall put in his book, but here's the Amber India recipe that was printed in the
San Francisco Chronicle
some years ago:
Butter Chicken from Amber India
Main ingredients
3 pounds chicken (2 half-breasts, 2 thighs, 2 legs), skinned
Juice of one lemon
1 tablespoon hot red pepper flakes
2 teaspoons salt
1-1/2 cups unflavored yogurt
2 tablespoons heavy cream
1-1/2 teaspoons garlic paste
1-1/2 teaspoons ginger paste
1/2 teaspoon ground coriander seed
1/2 teaspoon ground cumin
1/2 teaspoon garam masala
1/2 teaspoon salt
Sauce ingredients
1 teaspoon powdered ginger
1/2 teaspoon ground red chile
Pinch garam masala
Pinch mace
Pinch nutmeg
1/2 teaspoon ground white pepper
2 teaspoons brown sugar
1/4 cup butter
2 cups canned tomatoes, chopped
1 tablespoon tomato paste
2 cups water, or more as needed
2 tablespoons heavy cream
2 teaspoons ground fenugreek
Salt to taste
Instructions
1. Make 3 parallel cuts on top of each piece of chicken. Place the chicken in a resealable bag.
2. Combine the lemon juice, red pepper flakes and salt; pour over the chicken. Seal the bag and refrigerate 30 minutes.
3. Combine the yogurt and cream in a bowl; blend well.
4. Mix together the garlic paste, ginger paste, coriander, cumin, garam masala and salt. Add to the yogurt mixture, blending thoroughly.
5. When the chicken has marinated for 30 minutes, remove it from the refrigerator, open the bag and pour in the yogurt mixture. Reseal the bag and refrigerate overnight.
6. Next day, to make the sauce, combine the ginger, ground red chile, garam masala, mace, nutmeg, white pepper and brown sugar in a small bowl.
7. Melt the butter in a large skillet over medium-high heat. Add the tomatoes, tomato paste, the spice/sugar blend and water. Simmer, stirring frequently, for 20 minutes.
8. Add more water if the mixture gets too dry.
9. Preheat the oven to 450 degrees.
10. Remove the chicken from the marinade; discard the marinade.
11. Arrange the chicken pieces in a baking pan large enough to hold them in a single layer. Bake for 30 minutes.
12. Let the chicken cool until you can handle it; then remove the meat from the bones and discard the bones.
13. Add the chicken meat, the cream and fenugreek to the sauce. Simmer for 10 minutes, stirring frequently to prevent burning. Add salt to taste and serve over rice.
Serves four. Nutrition information per serving: 325 calories (not including the rice), 28 grams protein, 8 grams carbohydrates, 20 grams fat (10 grams saturated fat), 1 gram fiber.
Swedish cream wafers
If you want to read mysteries that
won't
make you hungry, I would recommend most Nordic mysteries. The food usually sounds dreary at best, dreadful at worst. Sheep's head or fermented shark fin, anyone? If the food isn't frighteningly grotesque, it's just sad, like Stieg Larsson's Lisbeth Salander and her regular diet of frozen pizzas. I always feel so sorry for the Nordic books' characters that I want to make them some Swedish cream wafers; simple cookies so good that I haven't made them in decades because I will eat the entire batch all by myself. I have no idea where I got this recipe. I just have my handwritten index card from at least 30 years ago.
Swedish Cream Wafers
Wafer ingredients
1 cup salted butter (at room temperature, so it's soft)
1/3 cup thick cream
2 cups sifted flour
Granulated sugar for coating the wafers
Filling ingredients
1/4 cup salted butter (at room temperature, so it's soft)
3/4 cup sifted confectioner's sugar
1 egg yolk
1 teaspoon vanilla (or lemon extract if you prefer)
Instructions
Preheat the oven to 350 degrees.
Mix together the wafer ingredients and refrigerate the dough for at least an hour, until it is cold. Using one-third of the wafer dough at a time, keeping the rest cold, roll out the dough 1/8 of an inch thick on a lightly floured surface. Cut the dough with 1-1/2 inch round cookie cutter (flour the cutter so it doesn't stick), coat both sides of each wafer with granulated sugar, prick with a fork four times.
Bake the wafers for 7-9 minutes, until a light golden. Do not brown. Let cool.
While the wafers are baking and cooling, mix the filling ingredients until the filling is smooth. Once the wafers are completely cooled, spread the flat side of a wafer with the filling and lightly press the flat side of another wafer against the filling to make a filled cookie. Repeat with the rest of the wafers and filling.
Would you like to tell us some of your recipes and the books that inspire you to make them?