Amuse-bouche
.
Definition
: A bite-sized hors d'oeuvre. From the French; literally, something that entertains the mouth.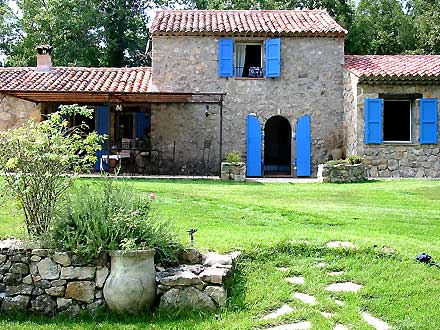 In the late 1980s, British advertising executive Peter Mayle and his wife moved to Provence, where he intended to write a novel. Instead, he wrote an account of his new Provençal life; his oddball neighbors, his misadventures getting his ancient farmhouse renovated, and maddeningly tantalizing descriptions of food and drink.
A Year in Provence
was a runaway best-seller worldwide, and it helped set off an explosion in Provençal tourism. At regular intervals, Mayle updated his chronicles, publishing
Toujours Provence
and
Encore Provence
, as well as other nonfiction books about French living and other topics.
Mayle did get around to writing novels, too; mostly caper-type stories that are the literary equivalent to amuse-bouches in French cuisine. Every few years––probably about the time he needs a cash infusion to maintain his lifestyle––Mayle publishes another 200-pager:
Hotel Pastis
,
Anything Considered
,
Chasing Cézanne
,
A Good Year
, and
The Vintage Caper
.
The Vintage Caper
, published in 2009, is Mayle's first foray into series fiction.
In
The Vintage Caper
, Los Angeles-based investigator Sam Levitt is hired to track down Danny Roth's stolen multimillion-dollar wine collection. Sam's sleuthing takes him to Marseille and a little wine heist of his own. Along the way, there is a whole lot of mouth-watering food and wine, and the gorgeous scenery and atmosphere of the south of France.
Three years have passed and, in
The Marseille Caper
, published in 2012, Sam is back in Los Angeles, his romance still going strong with Elena Morales, the insurance executive who hired him to track down Danny Roth's wine. This time around, Sam is hired by Frenchman Francis Reboul to go back to Marseille and be Reboul's frontman in a competition to develop a valuable piece of real estate on a picturesque harbor. Elena goes along for some much-needed rest and relaxation.
The R&R is in short supply, though, as the competition turns ugly. Luckily, Sam has a few tricks up his sleeve, too, and his compatriots––from suave journalist Philippe, to starchy (but always game) translator Daphne, to the Corsican brothers Flo and Jo––have all the guile and flair that Lord Wapping's crew of thugs lack.
This is a featherweight of a story; the kind of book so insubstantial that only an already-popular author could get it published. Still, it's an entertaining way to spend a few hours, especially if you're in the mood for a book that will take you on a mental vacation. During the bleak midwinter, an additional benefit of reading books like Peter Mayle's is that they remind me the days are getting longer and it won't be too much of a wait before I can sit on a terrace too, soaking up the sun, drinking fruity wines and eating––not just reading––amuse-bouches.
Note
: A version of this review may appear on Amazon and other reviewing sites under my user names there.