Summer is a good time to give the house a sweep. Books are taking over and some must leave. Others must go back onto shelves. Sorting takes all my will power because the temptation to sit down and read is almost overwhelming. Here are some of the books I've already sorted.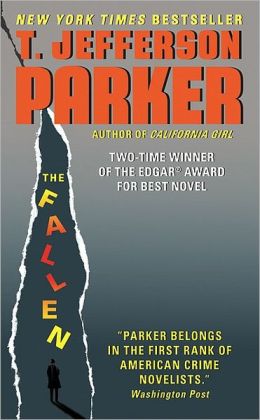 One of the characters in T. Jefferson Parker's
The Fallen
notes that a man's life can change in a moment. Something happens and life is divided into what went before and what comes after. For Det. Robbie Brownlaw, it's a fall from a six-story building. Afterward, he can see colored shapes that give away a speaker's emotional state. His ability to detect lies comes in handy when Robbie looks into the death of Garrett Asplundh, a member of the San Diego Ethics Authority Enforcement Unit that investigates corruption in civic leaders. Garrett was killed shortly before a meeting with his estranged wife, Stella.
In addition to Robbie, many of
The Fallen
's other characters have fallen in a life-altering way. Into a swimming pool, prey, in and out of love, from grace, into depression, from moral uprightness, under someone's thumb. Twenty-nine-year-old Robbie, who narrates this standalone, would make a great series protagonist because he's honest and insightful. We grow close to characters Robbie and Garrett as the murder investigation proceeds. I loved this book and I'll give it away so someone else will enjoy it too.
Mary Webb's
Precious Bane
, beautifully written in a Shropshire dialect, transports a reader to life in rural Shropshire in the early 1800s. Narrator Prue Sarn deals with the social awkwardness created by her cleft lip, while her greedy brother Gideon, who "eats" his father's sins at his funeral in order to take over the Sarn farm and house, bowls over anyone who stands between him and money. Reading Webb is more fun than Thomas Hardy. This is the 1924 book that inspired Stella Gibbons' blackly comic
Cold Comfort Farm
, and I'm lending them both to a friend.
Sometimes airplane reading demands characters who constantly chase each other around, like those in
Once a Spy
by Keith Thomson. It's narrated by Charlie Clark, a gambler who spends 364 days a year at Aqueduct Racetrack and is deep in debt to a Ukrainian heavy. Charlie very rarely sees his father, Drummond, but now Charlie gets a call from a social worker because Drummond is wandering around the snowy Brooklyn streets in his pajamas. Although Charlie thinks Drummond retired from a job selling washing machines, Drummond was actually a crack American spy. (The washing machine salesman/spy is homage to Graham Greene's vacuum cleaner salesman/spy in
Our Man in Havana
.) Drummond suffers from dementia and is under surveillance by the NSA, because his old colleagues are worried that he may leak top secrets.
Drummond isn't a "cranky old geezer" like some characters Sister Mary Murderous mentioned
here
. Instead, he's a sweetly forgetful man with startling periods of lucidity, brought about by deadly danger, in which he turns into a James Bond figure. Charlie and Drummond hit the road, pursued by spooks. It's nonstop action and double crosses but Drummond and Charlie now have a chance to build the father-son relationship that Drummond's career made impossible. Into the giveaway box this goes.
Michael Underwood is the pen name of John Michael Evelyn, who drew on his own career in writing his legal mysteries. I like his 1981 standalone book,
Hand of Fate
, which begins with the facts of the case against Frank Wimble, accused of killing his wife. There isn't much evidence, only a skeletal hand bearing a wedding ring. The puzzle is put together piece by piece in the courtroom.
I like to re-read my old British mysteries when I can't settle on what to read. This one isn't action packed. It's for times when you want reassurance that the world is a civilized place where reason and logic prevail. Back onto the shelf.
My sorting and packing will take forever and will be undone by new additions. Is anyone capable of quickly sorting books? Please share your methods.