Here at
Read Me Deadly
, we're conflicted about doing a roundup of the year's best books. It isn't easy looking back and whittling it down, is it, Georgette? Deciding what is "best" is subjective and changeable from one hour to the next. Yesterday, I decided to make it a little easier for myself by focusing only on fiction published in 2014 and not ranking my picks. By evening, my erasures had created holes in the list. No NFL coach has agonized more over substitutions, but at least I didn't have a playoffs berth at stake!
After we've posted our favorites this week, we'll discuss them as a group next week. I have no doubt I'll be ready to amend my picks then. But for now, here's the 2014 fiction I enjoyed most this year.
A Darkling Sea
(Tor, January 2014) is fun sci-fi set on the frozen moon of Ilmatar. Far below the ice-covered surface live blind, lobster-like Ilmatarans. Hitode is manned by a group of human scientists who are bound by an agreement between Earthlings and their first extraterrestrial contacts, the Sholen. The six-legged Sholen, far more technologically advanced than humans, demand Hitode scientists in no way make contact or interfere with Ilmatarans.
The scientists' investigation of the Ilmatarans is stymied so Henri, a media-darling Hitode archaeologist, insists on starring in a clandestine research mission to be filmed by nature photographer Rob. The old TV series
Mutual of Omaha's Wild Kingdom
never featured anything approaching Rob's filmed disaster. The Ilmatarans, who have their own scientific curiosity, naively capture and dissect Henri. This brings the Sholen to Ilmatar and three species' politics and cultures collide.
I read
A Darkling Sea
after spotting it on
Publishers Weekly
's list of best 2014 sci-fi. I love books in which humans interact with extraterrestrials and Cambias has created species with both striking differences and interesting similarities. The author is excellent in his use and description of technology, but his book is more than a geeky vision of future tech. It's a comic coming-of-age story and an examination of identity, culture, imperialism and colonialism. I'm glad it's the first book of a series because I look forward to returning to Cambias's strange world.
Annihilation
(see the review
here
),
Authority
and
Acceptance
were all published by FSG Originals/Macmillan in 2014. (In November, FSG Originals published
Area X
, a hardcover edition that contains the complete trilogy.) These beautifully written books combine elements of sci fi, fantasy, dystopian fiction, and horror. Some spooky scenes and unsettling imagery appear. VanderMeer does a great job with themes of authority and identity (specifically, what makes us human). The books must be read in order.
Toby Clements'
Kingmaker: Winter Pilgrims
is historical fiction that runs riot through the War of the Roses.
Kingmaker
, first in a new series, was published in February 2014 by Century, a Random House UK affiliate, and arrived at our house after its original purchase in London by a friend.
It begins with events in 1460 that lead Sister Katherine and Brother Thomas to be evicted from their religious orders. As they flee, they are caught up in the English civil war fought by the royal houses of Lancaster and York. Real-life figures such as the future Yorkist monarch, Edward, Earl of March, and his adviser, the Earl of Warwick, appear, but it's Clements' ordinary men and women like Katherine and Thomas who give this book a vivid authenticity. It's cinematic and very appealing.
Have you watched the HBO TV series
True Detective
? The 2014 season consists of an eight-part crime drama set in the coastal plains of southern Louisiana. I was repulsed by the serial killer's staged tableaux at the series' center, but riveted by the performances of Woody Harrelson and Matthew McConaughey. I felt much the same way when I read Lauren Beukes's
Broken Monsters
(Mulholland, September 2014), a thriller/horror genre-bender laced with comedy.
A serial killer's first "artistic" tableau, staged in an abandoned warehouse in the decaying city of Detroit, is half-boy, half-deer. And that's just for starters. The multi-threaded story is told from several points of view, including investigating detective, Gabriella Versado, her teenage daughter,
an itinerant artist, a journalist
and the killer. Blood and gore don't spill from the pages but the book is as twisting and weird as you'd expect from South African writer Beukes, who also wrote 2013's
The Shining Girls
, featuring a time-traveling serial killer. I read
Broken Monsters
on a night I was the only one awake and experienced what true dread feels like.
I had fun reading David Shafer's
Whiskey Tango Foxtrot
(Mulholland, August 2014). It features an international media/industrial cabal called the Committee, natch, that wants to create a "New Alexandria" in which all information is privatized so they can take over the world. Playing David to the Committee's Goliath is the underground online group Dear Diary. Joining the fray is a trio in their 30s: Leo Crane, who uses his trust funds to abuse drugs and get paranoid in Portland, Oregon; his former school buddy, Mark Deveraux, a cynical self-help guru living lavishly in Brooklyn; and the good woman who brings the friends back together, Leila Majnoun, an increasingly fed-up worker for a global nonprofit agency.
Of course, Shafer isn't the only one to write about an unscrupulous Big Data conspiracy. Last year, there were Thomas Pynchon's
Bleeding Edge
and Dave Eggers'
The Circle
, but this topic is important (NSA, anyone?) and this book is different. Shafer has an original voice that's darkly comic, paranoid and compassionate (if you can imagine that) and his characters are fully developed. I guess the best way to describe this is a cyber-techno thriller driven by its sympathetic characters rather than adrenalin.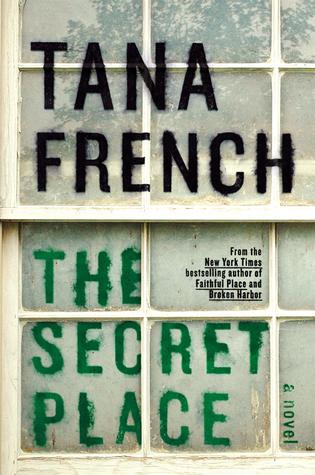 I read Tana French's Dublin Murder Squad books for her stylish writing, characterization, meticulous plotting and Irish setting. The murder investigation in
The Secret Place
(Viking Adult, September 2014) begins when 16-year-old Holly, daughter of Det. Frank Mackey, gives a photo to Det. Stephen Moran, who's working cold cases. In the photo is Chris Harper, a rich and popular boy who was found dead a year ago on the grounds of Holly's school, St. Kilda's. Written across the photo is the sentence, "I know who killed him." The photo was posted on a St. Kilda's bulletin board called "the Secret Place." Stephen, who is ambitious to become a member of the Murder Squad, joins the Squad's tough Det. Antoinette Conway to investigate the now-hot case at the exclusive girls' school.
This fifth series book differs from the previous books, which are told from the lead detective's point of view. In
The Secret Place
, Tana French toys with the time frame and varies the point of view. One story line follows the course of the investigation by Stephen and Antoinette, while the other follows two competing groups of four St. Kilda's girls in the year leading up to Chris's murder and its aftermath. If you find teenage girls unbearable, you probably won't like this book. I enjoyed seeing French's police again and the book's focus on relationships.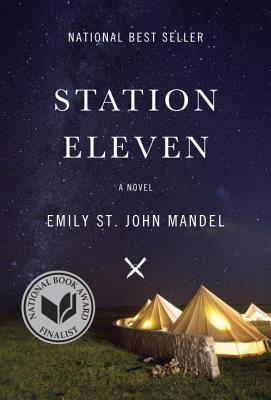 What would the reading year be like without TEOTWAWKI (the end of the world as we know it)? My favorite 2014 dystopian novel is
Station Eleven
(Knopf, September 2014), by Emily St. John Mandel. The story centers around three characters: Hollywood star Arthur Leander, who dies onstage during
King Lear
in the book's opening pages; Jeevan Chaudhary, the good Samaritan who tries to save him; and a child actress, Kirsten Raymonde. Later that night, the Georgia flu begins wiping out most of the world's population. Years later, Kirsten is a member of a troupe of Shakespearean actors traveling through the Great Lakes area, which looks like something out of a Cormac McCarthy novel. They are on their way to a cultural center, and a group of stranded survivors, at a former airport.
Mandel travels back and forth in time, weaving together the stories of these three people and their associates and adding intrigue in the form of a sinister figure, the Prophet. The strength of Mandel's writing and the journey of her survivors brought to my mind the nameless narrator's walking tour of Suffolk in W. G. Sebald's
The Rings of Saturn
. Mandel's artists and musicians believe that simply surviving isn't enough.
Station Eleven
made me think about the world's beauty and its future.
Rabih Alameddine's
An Unnecessary Woman
(Grove Press, February 2014) is a portrait of Aalyia Sohbi, a 72-year-old divorced and godless woman whose family considers her worse than an unnecessary appendage. She's an obstacle because they lust after her apartment. Aalyia loves her city, Beirut, and she loves her books. After her divorce, she began working at a bookstore, where she was paid so poorly she stole books from time to time to make up for it. For more than three decades, Aaliya has begun the New Year by translating one of these books into Arabic. When she's finished, she simply puts it away. The quiet Aaliya needs for these translations is threatened by the war and her family.
Aalyia's thoughts about various books and writers are a treat to read. For example, here's Aalyia on Spanish writer Javier Marías, author of
The Infatuations
:
In one of his essays, (Javier) Marías suggest that his work deals as much with what didn't happen as with what happened. In other words, most of us believe we are who we are because of the decisions we've made, because of events that shaped us, because of the choices of those around us. We rarely consider that we're also formed by the decisions we didn't make, by events that could have happened but didn't, or by our lack of choices, for that matter.
How can a person read this book and not fall in love with Aalyia? I have Alameddine's
The Hakawati
, "an
Arabian Nights
for this century," on my 2015 reading list.
A Darkling Sea
. In Okey Ndibe's
Foreign Gods Inc.
(Soho, January 2014), the culture clash is experienced by a Nigerian who immigrates to America. Ikechukwu "Ike" Uzondu drives a New York City cab despite his economics degree from Amherst. After his green-card marriage ends, Ike is overwhelmed by debt. His plan to deal with it involves stealing the statue of the god Ngene in his native Nigerian village and selling it to Foreign Gods, Inc., a New York gallery specializing in religious artifacts from Asia and Africa. Needless to say, his trip to Nigeria and the scheme don't go as planned.
Ike's life is fragmented as he straddles two countries. He doesn't feel completely at home in either of them.
Foreign Gods Inc.
has elements of a satire but it's a poignant portrait of a man who immigrated to America and got lost trying to find the American dream.
Euphoria
(Atlantic Monthly Press, June 2014), Lily King re-imagines the 1933 presence in New Guinea of a trio of young anthropologists: Margaret Mead, her then-second husband, Reo Fortune, and her future-third husband, Gregory Bateson. Her fictionalized anthropologists are Nell Stone, an American; Schuyler "Fen" Fenwick, an Australian; and Andrew Bankson, an Englishman.
We learn Bankson has been alone in New Guinea, studying the Kiona river tribe, for several years. He's lonely and depressed when his narration begins, "Three days earlier, I'd gone to the river to drown myself." He's saved from another attempt by his chance meeting with plucky Nell and her tightly-wound husband, Fen. Nell and Fen are ready to leave New Guinea unless they can come up with a suitable tribe to study. Bankson, already smitten with Nell, hastens to locate a tribe, the Tam, along the Sepik River, an hour boat's ride away. The trio's involvement with their work and the love triangle's growing passion are revealed through Bankson's narration and Nell's writing. (One smokin' scene involves the three poring over an unedited copy of Ruth Benedict's
Patterns of Culture
!)
King's prose manages to be taut and lush, restrained and sensual––all at the same time. She keeps her focus on the three anthropologists during this moving story but our glimpses of the New Guineans are fascinating. I'd particularly suggest this book to readers who liked Ann Patchett's
State of Wonder
, Hanya Yanigahara's
The People in the Trees
or Mischa Berlinski's
Fieldwork
.
There you have it, my for-now favorite 2014 fiction. We'll have more favorites this week.