Pimlico in Maryland, home of the Preakness Stakes
Most of my interest in horses began when, as a girl, I read such exciting stories as Anna Sewell's
Black Beauty
, Mary O'Hara's
Thunderhead
and even Marguerite Henry's
Justin Morgan Had a Horse
. Even now, I still read stories about horses when they cross my path. The best in recent years is Jane Smiley's
Horse Heaven
, in which two of the main characters are animals: a racehorse and a dog.
Racehorses are creatures of beauty, and I am old enough to have had the pleasure to see
Secretariat
cross that finish line as it happened––on TV, of course. And though I was in Baltimore when the second race at Pimlico took place, I also watched it from afar. This is a great time of year to read a racing story, as
I'll Have Another
, winner of the Kentucky Derby, goes into this Saturday's Preakness as a contender for the Triple Crown. There hasn't been a Triple Crown winner since
Affirmed
in 1978.
One very enjoyable mystery is
Full Mortality
by Sasscer Hill. It is about Nikki Latrelle, a jockey who finds herself at the scene of two separate instances of murder at a track. She has a habit of going to the racetrack when she has insomnia. This habit has landed her in hot water and jeopardized her livelihood because, naturally, being in the wrong place at the wrong time too often leads to warranted suspicion.
Nikki works out of the Laurel Park racetrack in Laurel, Maryland. She has worked her way up to a reputation as an excellent jockey. The night before she is due to ride a possible winner in the next day's $200,000 Venus Sweepstakes, she takes a past-midnight trip out to see the horse named
Gilded Cage
. She surprises a man who runs out of the stall and knocks her over, and finds "Gildy" dead.
Nikki's main job is as an exercise rider for Jim Ravinsky, who is a trainer at Laurel. He had given her a chance when no one else would. Fortunately, Jim still has faith in Nikki and believes what she says. There are other trainers and barns at the Park and it is at one of these that Nikki believes there is some skulduggery. When a second horse is found dead, along with a dead jockey, and they are discovered once again by Nikki, she is denied access to the park.
Big Brown, photo by Louisville Courier-Journal
Nikki recognizes distinctive characteristics of horses and she recognizes a few horses back at the track that she has seen at Dark Mountain, a place that is, for most horses, a stop on the way to the glue factory, so she believes that some form of fraud is going on. She also finds it suspicious that the two dead horses belong to two widows who will now be collecting the death benefits of the insurance paying out now for "full mortality." (Full mortality is a form of life insurance covering the horse if it dies from accidental causes, sickness, disease, humane destruction and theft.) Nikki needs to clear her name and solve this puzzle.
Sasscer Hill lives on a Maryland farm and has bred racehorses for many years. She is best known for her stories in the
Chesapeake Crimes
anthology series. She brings the racetrack and the surrounding characters to life. The books have a fast pace and the back story of the racing world draws the reader onto the racehorses' backs as they fly down the backstretch. I enjoyed
Full Mortality
immensely and I'm looking forward to reading the next in the Nikki Latrelle series,
Racing From Death
.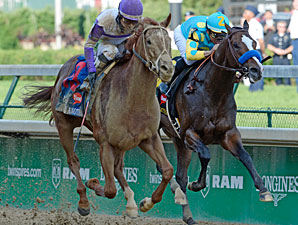 I'll Have Another and Bodemeister in the Derby
I'm lucky I'm not bow-legged from growing up on horseback. I love horses and racing, although the thoroughbred industry needs to improve issues with safety and its retired horses.
Condi, we were lucky to have the chance to see
Secretariat
run; some of Big Red's track records still stand, and he is ranked second only to
Man o' War
on
Blood-Horse Magazine
's list of
Top 100 U.S. Racehorses of the 20th Century
. Including
Secretariat
, only 11 horses have won the U.S. Triple Crown, and
I'll Have Another
will need a big serving of luck to beat
Bodemeister
and
Creative Cause
in the Preakness, the second of the Triple Crown races, this weekend. I doubt he's up to it.
I liked Jane Smiley's
Horse Heaven
, too. The 2010 National Book Award winner,
Lord of Misrule
, by Jaimy Gordon, set at a third-rate horse racing track, and Laura Hillenbrand's
Seabiscuit: An American Legend
are also excellent. For nonfiction books about thoroughbreds, a great source is
Exclusively Equine
, where the Thoroughbred Legends series and some of Barbara D. Livingston's beautiful books of photography are available.
Dick Francis steeplechasing
Dick Francis was an English jockey who rode for the Queen Mother, and his name is the one most closely associated with crime fiction involving horse racing. He wrote many mysteries (with the help first of his wife and, after her death, the help of their son Felix), both series and nonseries books. The stories vary in their connection to the business of horse racing. Francis's books are straightforward adventures/thrillers that are very well-plotted and paced. His trademark is good storytelling, without much extraneous description, featuring tough-minded protagonists and unique characters. It isn't necessary to like horses to appreciate his books; they aren't horse-centric. You might try
Whip Hand
(former jockey/PI Sid Halley is hired to investigate possible race tampering),
Reflex
(a racing photographer's death needs looking into), or
The Danger
(Andrew Douglas's job is to solve a series of track-related kidnappings). Since Dick Francis's death in 2010, Felix Francis has carried on.
Shoemaker on racing great Spectacular Bid
If asked to name an American jockey, many people would probably say "Bill Shoemaker." By 1991, Shoemaker had retired and was working as a race horse trainer. That year, he rolled his car in a solo drunk-driving accident and was paralyzed from the neck down. He continued to train horses from his wheelchair, however, and in 1994 he published the first of three Coley Killebrew mysteries,
Stalking Horse
, featuring an ex-jockey who now owns a restaurant in southern California. Shoemaker retired from writing and training horses in 1997 and died in 2003. He left racing fans many wonderful memories and three books of crime fiction. These books create a vivid picture of horse racing and are surprisingly good.
Good luck if you're betting on the Preakness tomorrow. Nothing besides death and taxes is a sure thing, but one of the books we've mentioned today might be a winner for you.