This young man is obviously not riveted.
H. R. F. Keating died last year, but he left us with Inspector Ganesh Ghote of Bombay, India, and some wonderful books of crime-fiction criticism, including my last night's read,
The Bedside Companion to Crime
. While critic Julian Symons slights the "humdrums," Keating celebrates the "delightfully dull." They are comforting books because they're smoothly written, and you know they will end with justice done. Now, you may be thinking that the rest of my post is about good cozies or traditional mysteries. Nah. Recently, I've been reading too many books of twists and turns to be straightforward like that. Below is a variety of books, none of which is unbearably or astonishingly dull.
These folks could use a big antidote to boredom. Perhaps Andrew Gross's shocking EYES WIDE OPEN.
Michael Gruber:
Valley of Bones
(2005). The dapper Afro-Cuban Miami detective Iago Paz first appears in Gruber's fun debut,
Tropic of Nigh
t. Now he's back on a case of defenestration (is that a stupendous word or what?). A loathsome Sudanese hoodlum goes out a hotel window (yep, that's what defenestration is), and inside the room is a praying Emmylou Dideroff, a member of the Society of Nursing Sisters of the Blood of Christ. Paz bundles her off to write what might be a long and heroic confession. Then he and psychologist Lorna Wise investigate Emmylou's colorful past and the crime. Happily, they also find time to trade quips and canoodle. Very entertaining.
Michael Innes:
A Private View
(1952, APA
One Man Show
). In this playful and witty book, a dead young painter's masterpiece is stolen from under the nose of Sir John Appleby, assistant commissioner of New Scotland Yard. The reader revisits the Duke of Horton's mansion, scene of
Hamlet, Revenge!
, and watches Sir John and his underling, Inspector Cadover, investigate. This lively story should be of particular interest to readers who enjoy art mysteries.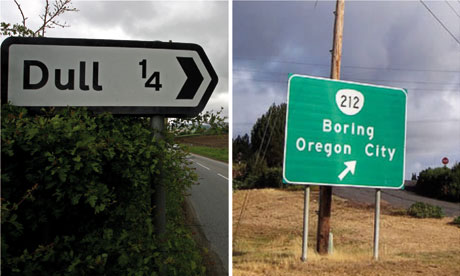 Fitting twin cities: the Perthshire, England village of Dull and the town of Boring in Oregon, USA
Jon Fasman:
The Unpossessed City
(2008). Fasman likes to jam-pack his books with detailed information and story lines. He did this in his debut thriller,
The Geographer's Library
, about a New England cub reporter who, when assigned to write the obituary of an academic, opens a Pandora's box of international intrigue instead. Now, Fasman sends Jim Vilatzer, a Washington, D. C. loser, to Russia, where his interviews about life in the gulags attract the attention of the authorities and the CIA. Who isn't interested in modern Russia?
Minette Walters:
The Shape of Snakes
(2001). Annie Butts suffers from Tourette's syndrome and at the hands of the cruel kids in her working-class London neighborhood. She dies in the street in what is ruled an accident. Twenty years later, her determined former neighbor, Mrs. Ranelagh, is back to finish her investigation into Annie's death. Man, what a read! Walters can give Ruth Rendell's darkest books a run for their money.
Peter Dickinson:
The Glass-Sided Ants' Nest
(1968, APA
Skin Deep
). The always-original Dickinson's debut features a New Guinea tribe called the Ku that has moved to London at the end of WWII. When an elderly chief is murdered, Supt. Pibble investigates. Humorous, interesting psychology and anthropology, and unique characters.
Reginald Hill:
The Woodcutter
(2011). Betrayal and revenge in a complex story about an English woodcutter's son, Sir Wilfred Hadda. Hill's last book is a twisted fairytale and a gorgeous stand-alone of psychological suspense. You'll savor each of the 500 pages.
Sally Spencer:
Echoes of the Dead
(2011). The self-confessed murderer of young Lilly Dawson is dying. He now confesses that his confession was a lie. DCI Monika Paniatowski must clear up a 22-year-old case from her beloved mentor Charlie Woodend, now retired.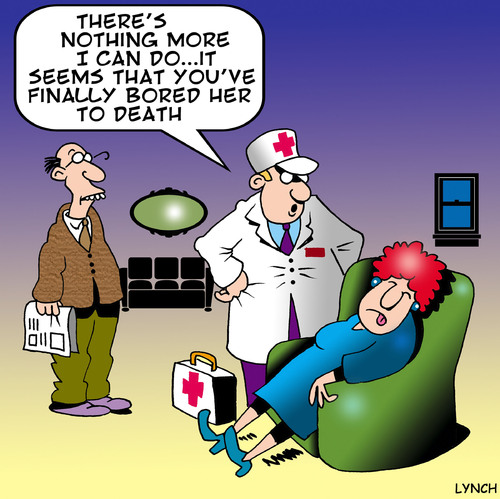 Ross Macdonald:
The Ivory Grin
(1952). Private eye Lew Archer in a nicely convoluted plot about a corrupt California town. You've gotta read some classic American hardboiled crime fiction this summer: Ross Macdonald, Dashiell Hammett, Raymond Chandler, and James M. Cain.
Eliot Pattison:
The Lord of Death
(2009). A subtle and complicated thriller featuring an exiled investigator from Beijing, Shan Tao Yun. Shan is now in Tibet, where he runs into several deaths that arouse his curiosity.
Marcia Clark:
Guilt by Association
(2011). Yes, this is the O. J. Simpson prosecutor. Trust me, she does a far better job as a writer than she did in that trial. Her female prosecutor, Rachel Knight, is gutsy and smart, and this debut about a rape case is wonderful.
Michael Gilbert:
The Black Seraphim
(1984). A harried young barrister vacations in Melchester, the cathedral town of Gilbert's first book,
Close Quarters
. He doesn't have an easy time of it, due to his relationship with his beloved and the murderous antagonisms among the clergy. You can count on Gilbert for an intelligent English mystery. Gilbert was a lawyer, and many of his books feature lawyers. Does that sound dull? Not when a client is found dead in a deed box, as in
Smallbone Deceased
. A nice bit of trivia about Gilbert is that he once had Raymond Chandler as a client.
Tom Wolfe:
The Electric Kool-Aid Acid Test
(1968) and
Radical Chic & Mau-Mauing the Flak Catchers
(1970). Okay, not mysteries in the traditional sense, but if you haven't yet read these books, it's my duty to mention them. Ken Kesey and his Merry Pranksters on the road, and Leonard Bernstein and his friends raise funds for the Black Panthers.
Perfect
for a trip back to the 1960s via reading in the hammock.
We'd love to hear your ideas about un-dull reading designed to dispel the doldrums of summer.