Earlier this week, I was stunned when my fellow Material Witnesses began making lists for our upcoming summer books post on June 28th. Is it summer time already? My kids are out of school, but it's still hard to believe when the weather has been zigzagging between hot and cold. I've been pulling sweaters on and off and switching from hot chocolate to iced tea accordingly. But the decision to apply heat or ice can be trickier than that. Take the debate between applying a cold pack or a heating pad to a sports injury. And how do you pick a book when the thermometer ranges from 95° to 55°? A book like Robert Aickman's
Cold Hand in Mine: Strange Stories
(the title's got that right) raises your temperature by making your heart pound, but also gives you goosebumps that chill. A better bet might be one of these two books:
When
Beluga
narrator Nick Reid tells himself out loud, "I'm not having the week I'd hoped to have," he hasn't seen the half of it. He and his ginormous best friend, Desmond, were "taking time off" after robbing a meth lord of $300,000 in Rick Gavin's first series book,
Ranchero
(reviewed
here
). To keep up appearances, Nick and Desmond have returned to repossessing rent-to-own furniture when Kalil's customers, many of whom live in the type of houses where dogs boil out from under the porch and a shotgun pokes out of a window, don't make their payments.
Therefore, life could be pretty routine in Indianola, Mississippi but for the fact that Desmond's ex-wife Shawnica still has him in her clutches. Her shiftless brother Larry, fresh out of Parchman Prison, wants Desmond to lend him money for a criminal scheme. A hidden trailer-load of already-stolen Michelin tires is just waiting for Larry and his friend Skeeter to steal and sell on the black market––but they need money to buy a truck. Desmond's $30,000 buys not only transportation, but also the terrible vengeance of the man who originally stole the tires, a well-connected Mississippi Delta crime lord, Lucas Shambrough. Between helping Desmond deal with that god-awful sniveling Larry, Shambrough's deadly "ninja schoolgirl assassin" and his dumber-than-two-sacks-of-hair hired cracker villains, it's a wonder Nick has time to court pretty Greenville cop Tula Raintree, although it is convenient that their first "date" happens when she's placed Nick under arrest.
Author Rick Gavin, who lives in the Delta and writes when he isn't doing construction work, combines the charm of appealing characters with insightful observations of Delta residents and traditions. The dialogue is pitch perfect. Watching Nick, a former Virginia deputy sheriff, scuff up no-goods, and Desmond squeeze relish onto his Sonic drive-in hot dogs goes well with ice tinkling in a glass of lemonade and the drone of a ceiling fan. This entertaining Mississippi Delta noir, both gritty and funny, is perfect for hot days of summer reading.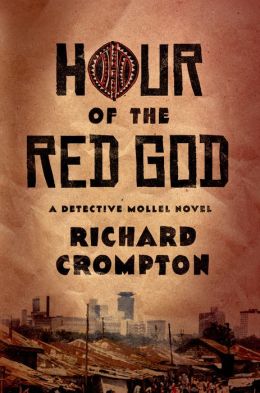 On the other hand, Richard Crompton's 2013 debut,
Hour of the Red God
, is a great pick when it gets chilly. It's a book set in Nairobi, Kenya, "a landscape of corrugated iron, concrete, and thatched
makuti
roofs."
The title is the English translation of
Enkai Nanyokie
, the Maasai tribe's name for the time when people turn against each other in anger and madness descends. In his criminal investigations and the loss of his wife, Detective Sergeant Mollel is much more familiar with the vengeful and capricious Red God than the loving Black God.
Mollel is a conscientious man who never seems to feel at home, even with his young son. He has long and looped ears that are a mark of pride among the Maasai but an object of ridicule and prejudice elsewhere. His boss, Otieno, has brought him back from traffic duty in Loresho to Nairobi Central CID. The mutilated body of a young Maasai woman has been found in Uhuru Park and Otieno expects Mollel to solve what he calls "a Maasai circumcision ceremony gone wrong." Mollel disagrees. He says it's deliberate murder.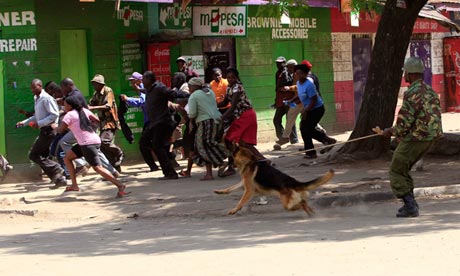 He and his colleague Kiunga, a Kikuyu, investigate against the backdrop of the 2007 election, with its ethnic violence and the involvement of
mungiki
gangs and the government's paramilitary General Services Unit. Evidence leads the two policemen to Orpheus House, a recently closed refuge for women who wish to leave prostitution, and to powerful political and religious leaders.
Former BBC journalist and Nairobi resident Crompton's book is nothing short of stunning. His prose, with a lack of quotation marks, takes some getting used to, but it fits this complex story about crime set in an exotic Nairobi. Mollel reminisces about his tribal childhood and shares various Maasai myths. Even in the city center, Mollel doesn't escape tradition. At night, there are rumors of night runners with supernatural speed and strength who, when killed return, to their forms as normal humans. The stories about scavengers that Mollel's mother told him influence how he solves a crime. Crompton's characters are caught between modernity and traditionalism. How does tribal identity survive in a changing world?