Outside
magazine. She and her friends are planning a camping trip, and because it's a good idea to hang food high off the ground between two trees in bear country, this sleeping bag hammock looks good to her.
I've been doing some wishful thinking about items that could improve my overall reading experience or that could have enhanced specific books I've already enjoyed.
When a banker's corpse, nude but for his pince-nez, is found in a tub, Lord Peter Wimsey's sleuthing career begins (Dorothy L. Sayers'
Whose Body?
); in a later Sayers book,
Have His Carcase
, Harriet Vane contemplates a dead body on a beach free of footprints. The body of Kate Sumner washes ashore along the Dorset coast in Minette Walters' hardboiled
The Breaker
.
While more water is running into the tub, there's Arthur Conan Doyle's "The Final Problem," in which Moriarty shoves Sherlock Holmes over Reichenbach Falls, or Joyce Carol Oates' novel,
The Falls
, which begins when Ariah's brand-new husband throws himself over Niagra Falls. As the water becomes very cold, follow the Arctic Sea rescue of men at a stranded British meteorological station in Alistair Maclean's
Ice Station Zebra
, or shiver through the Arctic expedition in Dan Simmons's 2007 thriller,
The Terror
. Dana Stabenow's Kate Shugak series, set in Alaska, would be perfect here, too.
Come with me as I step out of the tub and head for another favorite reading place. Get a load of the snazzy car interior in the picture on the right. For reading in the car—and I'm not talking about while stopped at red lights here—the Rolls Royce Phantom is perfect. I can hear the Dom Pérignon fizzing in one of those glasses as I read about Tarquin Winot's culinary gambol through Provence and the past in John Lanchester's witty
The Debt to Pleasure
, or the acrimonious country house party celebrating Christmas in
Envious Casca
by Georgette Heyer. I can also hear my husband's incredulous laughter if I suggest we buy this $500,000 car....
Easier on the pocketbook—and therefore more bucks for books—are the bookmarks pictured below. I can visualize that desperately raised hand on the left marking my spot in Urban Waite's 2013 standalone,
The Carrion Birds
. After all the crime fiction characters who've come to grief, vowing that
this
heist is their last, you'd think Ray Lamar would know better. The bookmark of tagged toes on the right would be at home in Daniel Woodrell's
Give Us a Kiss: A Country Noir
, set in the Ozarks and involving the feuding Dolly and Redmond clans.
I don't know about you, but I like to note certain pages when I read. More fun than square yellow Post-It notes are the fruit-shaped sticky notes on the left below. Funky note paper demands funky pens; the fish pens on the right caught my eye. Perfect for scribbling notes as Cyril Hare's characters fish on the River Didder in
Death Is No Sportsman
, or the Macleans cast flies into a Montana river in Norman Maclean's lyrical
A River Runs Through It and Other Stories
.
I've always liked matching my drinking and eating with my book's characters, and the little gizmo at right would come in very handy. Some writers just demand an evening on the porch swing, where you sit with a drink in one hand and the book in the other. James Ellroy, Flannery O'Connor, Joseph Wambaugh. Reavis Z. Wortham, whose hardboiled series is set in Lamar County, Texas, is another. His
The Right Side of Wrong
is due next month.
Joji Kojima Eye Covers
I'll take out my contact lenses in favor of the outrageous eyewear on the left while I read Benjamin Black's Quirke books, about a 1950s-era Dublin coroner, or Karen Slaughter's Dr. Sara Linton books, set in Georgia. The glasses on the right, which look like a piece of melting colander, are suitable for reading books about Andrea Camilleri's Salvo Montalbano and Donna Leon's Guido Brunetti. Say you're hungry after reading Carlo Lucarelli's
Carte Blanche
, a Commissario De Luca book, set in fascist Italy. Make sauce and pasta, take off your glasses, and use them to drain your noodles.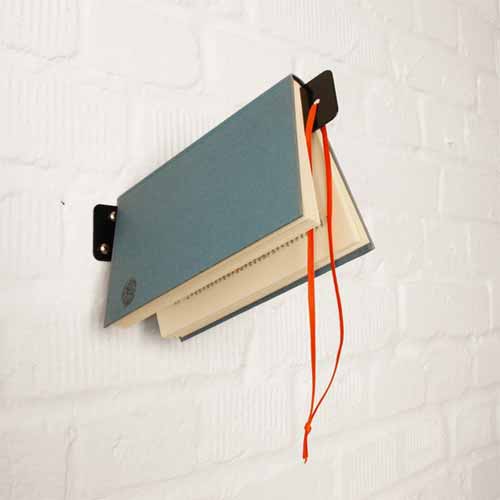 If you're like me, you have a difficult time finding your book after you've set it down. This wall-hanging bookmark solves the problem of keeping your place and preventing your book from disappearing. And now, dear friends, I'm disappearing with my book of historical fiction, David Morrell's
Murder as a Fine Art
, featuring that English opium-eater, Thomas De Quincey.