From the painting Ophelia by Millais
A Decent Interval
by Simon Brett
Shakespeare's
Hamlet
—with its themes of revenge, mortality, and madness—is made for crime fiction. In
Death in the Morning
by Sheila Radley, Mary Gedge is found dead, floating in the water and surrounded by flowers, like Ophelia. Martha Grimes's title,
The Dirty Duck
, is taken from a Stratford-upon-Avon pub, and Inspector Richard Jury's sidekick, Melrose Plant, finds a clue to the murder in
Hamlet
. Scamnum Court is the setting for an aristocrats' amateur production of the play in the 1937 book
Hamlet, Revenge!
by Michael Innes, and one of the actors is killed.
Hamlet
is staged again, with no better luck, in Simon Brett's
A Decent Interval
(August 2013, Severn House/Creme de la Crime).
This 18th book in the series marks a return for actor/sleuth Charles Paris, whom we haven't seen since 1998's
Dead Room Farce
. Nothing much has changed for Charles, now in his late 50s. He still gauges his mood by how quickly he finishes crossword puzzles in
The Times
; vows sobriety, but polishes off bottles of Bell's and wakes up hungover in a chair; and reminds himself to call Frances, his estranged wife, whom he hasn't seen for months. Their marriage foundered years ago due to his infidelities, booze, and time away from home, although Charles likes to think—without any encouragement—that they still love each other. Don't ask when he last called his daughter, Juliet, now married and the mother of twins.
Professionally, Charles has done a lot of "resting" (waiting for work). A call from his agent, Maurice Skellern, sets Charles up with a day of filming for a cash-strapped TV documentary about the English Civil War. He fights the Battle of Naseby—alone. And then Maurice has good news. Ned English, known for his "reimagining" of classic plays (he set
King Lear
inside an aquarium), is directing the new Tony Copeland touring production of
Hamlet
. Because Ned thinks the key line in the play is "
There is nothing good or bad but thinking makes it so
," the action of the stage will be set inside a replica of Hamlet's skull.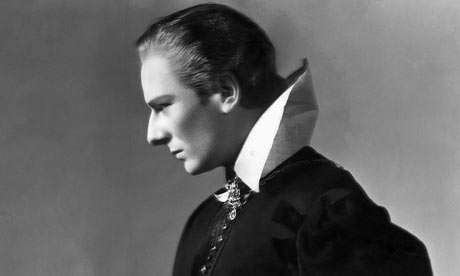 John Gielgud's Hamlet (Hulton Archive/Getty Images)
The setting isn't the only offbeat element of the production. The goal of the director and producer is theater seats full of "lovely young bums," so the lead roles of Hamlet and Ophelia go to two reality show winners: last year's
Top Pop
, singer Jared Root, who can't act or project his voice without a mike; and
StarHunt
's winner, Katrina Selsey, who can act, but wants songs from her upcoming album to replace Ophelia's mad gibbering. Surrounding these divas onstage are "solid, biddable" actors like Charles, cast as the Ghost of Hamlet's Father and the First Gravedigger.
Of course, tension begins to build at the first read-through and increases steadily thereafter. Charles looks for someone shaggable, but there's not the camaraderie of earlier times. While not on stage, younger actors text and tweet, drink bottled water, and head to the gym. Charles feels like an old fogey and worries he'll never have a big role or a woman again. Readers don't need to worry; an injury and a death that don't appear in the
Hamlet
script cast Charles in the familiar role of sleuth.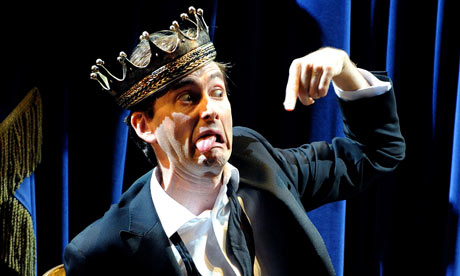 David Tennant's Hamlet (Ellie Kuurtz/RSC)
Charles's long-overdue reappearance is, as usual, a combination of amusing satire, theater history and lore, and traditional whodunit. His reminiscences of old roles are accompanied by snippets of reviews (e.g., "'With Charles Paris as Julius Caesar, I was surprised Brutus and his cronies didn't take action earlier.' --
Beeston Express"
). He recalls many road productions in Marlborough's Grand Theatre and its neighborhood pubs.
In assessing his past and predicting his future, Charles is more cynical and pessimistic than ever. He's losing Francis, perhaps for good. It would be a lovely novelty to awaken without the "shifting tectonic plates" of a hangover, but Charles can't stop buying Bell's. He surveys his fellow professionals, and few of them have happy family lives. The theater appears increasingly unfair. Genuine acting talent is often trumped by good looks, a relationship with someone famous, or membership in an acting dynasty. In
A Decent Interval
, the casting of theater leads is the result of a TV publicity circus rather than the normal auditioning process. A formerly successful director is unable to find work doing straight plays. One immensely talented actor spirals down after a life of fame; the career of another ends prematurely. It seems a miracle that Charles not only sticks it out, but that he'd never do anything else.
Jean Simmons as Ophelia