I love spring. As the weather warms, I take great pleasure in stripping flannel sheets off the beds and putting away heavy winter coats and boots. Soon it will be time for summer vacation planning and collecting lightweight books for hot weather reading. But not yet. Now I'm in the mood for books about a master spy; murders among publishers; a merry tangle with a serial killer; disappearances in Paris, Sweden and the Ozarks; an unlikely hit man operation; and a look at Dr. Jekyll's worse half. I don't have long to wait, because they'll arrive this spring.
I have a weakness for spies who have been at it so long they no longer remember their own names. Before his retirement, Scott Murdoch (not his real name) was once a spy who policed other spies for the US government. He was highly skilled at his job and wrote
the
book on criminal forensic investigation. In fact, an NYPD investigator is using it to track him as Murdoch is pulled out of retirement to foil a terrorist plot involving smallpox that could devastate the world. Murdoch's codename is Pilgrim.
Terry Hayes's
I am Pilgram
(Atria/Emily Bestler, May 27, 2014) is one of the hottest books out this spring. It's the first by veteran screenwriter Hayes. (As in, for example, the screenplay for
Payback
, with Mel Gibson and Maria Bello.) Early readers of the 624-page hardcover call it stunning and cinematic, but also cite the plot's complexity, use of exotic settings and well-developed characters. I'll read it as soon as I get my hands on it.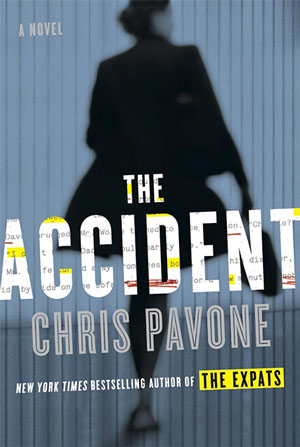 Don't you like books set during 24 hours in which all the characters scurry around like crazy? The ticking bomb at the heart of Chris Pavone's new thriller,
The Accident
(Crown, March 11, 2014), is an explosive unauthorized biography. The manuscript was delivered anonymously to New York literary agent Isabel Reed, who recognizes how dangerous it is. Its publication would threaten the global empire of media mogul Charlie Wolfe, now preparing for a political career. Isabel also thinks she knows who wrote it. Despite the efforts of Isabel, the author and the editor Isabel chooses, the manuscript's existence leaks out and it becomes a target for theft, as publishing insiders try to shop it to Hollywood. Ruthless forces opposed to publication stop at nothing and people start running––or dropping like flies.
Like his 2012 best-selling thriller,
The Expats
,
The Accident
features a strong female protagonist and off-your-seat suspense. Some characters from
The Expats
make an appearance in this one, another reason to look forward to reading it.
Surely one of mysterydom's most engaging and offbeat sleuths is Jimm Juree, a former crime reporter for the Chiang Mai
Daily Mail
, who was forced to quit her job and move when her mother bought a ramshackle hotel in rural southern Thailand. The third book in this lighthearted series, which still manages to address serious social issues, is
The Axe Factor
(Minotaur, April 15, 2014).
Jimm, working as a free-lance journalist, is sent by the online Chumphon
Gazette
to interview Conrad Coralbank, a European crime fiction writer living in Maprao. Coralbank's Thai wife has disappeared suddenly and a local doctor vanished on her way home from a conference. We must suspect Coralbank of bad things (the book's opening, an unposted blog entry, gives a first-person account of killing a woman with an axe, promises more of the same and is signed "C.C.") but Jimm seems taken with him and he with her. A major storm coming their way adds to the excitement.
Part of the fun of reading this series is provided by Cotterill's chapter headings. In the first book,
Killed at the Whim of a Hat
, surprisingly appropriate George W. Bush malapropisms are used. In this book, the malapropisms are provided by Thai signage in English.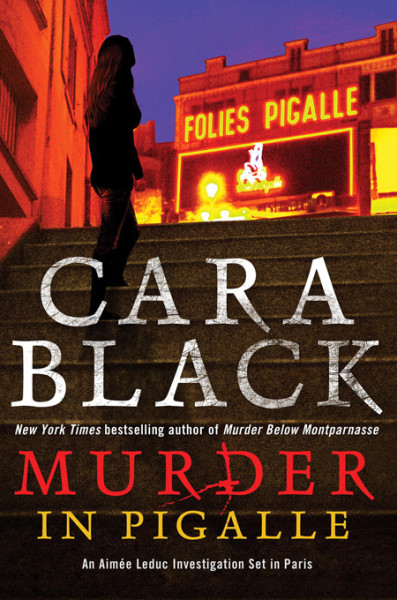 If I can't get to Paris this spring, I can do the next best thing: read the 14th book in Cara Black's Aimée Leduc series,
Murder in Pigalle
(Soho Crime, March 4, 2014).
It's 1998. Aimée is five months pregnant and determined to slow down for her baby's sake. Her resolve to stick to cybercrime evaporates when 13-year-old Zazie Duclos, daughter of her café-owning friends and Aimée's self-styled assistant sleuth, goes missing while tracking a suspect in the attacks on schoolgirls in the Pigalle. The police don't take Zazie's disappearance seriously and Aimée plunges into the havoc in Paris created by soccer's World Cup and a recent heist to find her.
Black's series creates a vivid picture of life in each Paris quartier. Aimée is likable and chic and it will be fun seeing her take on the challenges of motherhood and changes in her relationships.
Small towns can be incubators for secrets and conspiracies and a whole catchbag of weirdnesses. A lot of buzz surrounds Laura McHugh's first book,
The Weight of Blood
, set in the fictional Missouri Ozarks town of Henbane, where teenager Lucy Dane investigates the death of her friend Cheri, who was missing for a year. Cheri's dismembered body was recently discovered in a tree. Lucy's probing opens a serious can of worms involving her attractive mother, Lila, who disappeared when Lucy was only a year old. It's curious that Lucy has never been given a straight story about that by her father, Carl, or her Uncle Crete.
McHugh, who tells the story of the Dane clan from multiple points of view, joins the company of southern writers such as Daniel Woodrell and Ron Rash.
The Weight of Blood
will be published by Random House/Spiegel & Grau tomorrow, not a moment too soon.
I read Craig Johnson's Sheriff Walt Longmire and C. J. Box's Joe Pickett series to spend time in scenic Wyoming with these good men. At the end of Box's 2013 book,
Breaking Point
, I wondered if the state's Game & Fish Department had lost Joe. But all is well with the arrival of
Stone Cold
(Putnam, March 11, 2014). Joe is not only back in the saddle at his old job as game warden, he's a special liaison to Governor Rulon.
Rulon, under pressure from the feds after their investigator's death in Wyoming, sends Joe undercover to remote Medicine Wheel County. Joe is to investigate billionaire hedge fund founder Wolfgang Templeton, whom the feds suspect of running a "high-class" murder-for-hire operation. Templeton is popular among the locals because he's buying up land and putting unemployed people to work. Among his employees is Joe's old friend, the mystifying and deadly Nate Romanowski. Joe's orders are only to observe and report but when he uncovers a mess it's impossible for Joe not to act. As if Joe doesn't have enough to deal with, his daughter Sheridan, away at college, and his ward, April, step into messes of their own. There's no need to begin at the beginning of this series. You can jump in right here.
When you read Robert Louis Stevenson's
The Strange Case of Dr Jekyll and Mr Hyde and Other Tales of Terror
, how did you see Edward Hyde? I doubt you saw him as Daniel Levine imagines him in
Hyde
(Houghton Mifflin Harcourt, March 18, 2014).
Levine's 416-page re-imagining of the 1886 gothic mystery classic begins shortly before Stevenson's novella ends, when Hyde is locked in Jekyll's laboratory cabinet, waiting to die, and Jekyll's letter for his lawyer awaits discovery. Hyde, who narrates, looks back at the scientific experiment that brought him into existence and fleshes out Jekyll's background story and their uneasy co-existence in "the body." After Levine's version is finished, the original novella appears. I'm eager to revisit this fascinating story about the duality of human nature, set in late 19th-century London.
"When the film begins she has no idea what she is about to see. Nor does she realize what devastating consequences this film and the decisions she then makes will have on the rest of her life." This is the opening to Kristina Ohlsson's
The Disappeared
(trans. from the Swedish by Marlaine Delargy, Atria/Emily Bestler, March 4, 2014), the third book in the riveting Fredrika Bergman series about an investigative analyst with Sweden's federal Criminal Investigation Department.
Bergman's latest case is actually a series of crimes, separated by decades and personally touching all the police working on them. The first case involves a missing young woman, Rebecca Trolle, whose thesis research concerned notorious author Thea Aldrin, and who may have unearthed a snuff film. When Trolle's dismembered body is eventually discovered buried in a forest near Stockholm, another body, buried much earlier, is found beneath her. Bergman and her team won't be bored with this case.
There are so many intriguing books coming this spring, I'll be back later this week with more to show you. Tomorrow you'll see what Maltese Condor will be reading as the trees begin budding and flowers start appearing.