By the time Winter Storm Rex dumped yet another generous serving of snow on top of our already thick blanket of the white stuff, I was officially sick of winter. There isn't anything I can do about the weather, and I finally realized that using the snowblower to clear bigger and bigger swaths of the yard wasn't actually accomplishing anything. So I put the machine away and decided to look at upcoming spring books instead.
This is the first entry in a series of posts we'll be doing over the next week to let you know about what we think are the most promising books coming out in the US from March through May. We hope you'll be as excited as we are about the promise of the season (Daylight Savings Time begins this weekend!) and the books.
Some old friends are returning this spring, as welcome as robins and crocuses. Peter Robinson is back with his 21st Alan Banks police procedural,
Children of the Revolution
(William Morrow, March 25, 2014). Can you believe this series has been running 27 years? Robinson has allowed his protagonist to age, which means he's now staring retirement in the face. Apparently, English detectives can be made to retire after they get their 30 years of service, and Banks's boss suggests that may be what's coming for him. Or would he prefer to rein in his maverick ways and go for Superintendent, which would allow him to keep working until age 65?
Fortunately, a murder allows Banks to defer that difficult decision. But investigating the murder of a man Banks's age, who also lives alone in a cottage surrounded by books, music and bottles of wine and spirits, puts Banks in a pensive mood about his own past and future. I had the opportunity to read an advance copy of
Children of the Revolution
and, while I wouldn't say it's the strongest entry in this police procedural series, it's still a rewarding example of that sub-genre, and the personal element of the story may be of particular interest to Baby Boomers.
It's been a long time since I read one of Will Thomas's mysteries featuring Cyrus Barker and his assistant, Thomas Llewelyn, as they crack cases in Victorian London. But that long gap isn't my fault; it's been six years since the last one,
The Black Hand
, was published in 2008. But the boys are back in
Fatal Enquiry
(Minotaur, May 13, 2014). Barker and Llewelyn will tangle with their old nemesis, Sebastian Nightwine. Nightwine has wealth and government immunity on his side, but Barker and Llewelyn are determined to stop him at all costs.
The last couple of Jo Nesbø's Harry Hole books have given me the sense that Nesbø may be planning to wrap up that series soon. I don't know if this is another hint that Harry's days are numbered, but Nesbø's upcoming novel,
The Son
(Knopf, May 13, 2014), is a standalone, not featuring Harry. Still, it looks like we'll recognize the world of
The Son
, in which Nesbø continues his examination of the dark side of Oslo.
Sonny Lofthus, son a cop who killed himself to avoid public exposure of his corruption, has been in prison for the last decade plus, though not for anything he's actually done. But as long as he's kept in plentiful supply of heroin––which he is––he's satisfied to do his time, and serve as the prison population's informal father confessor and advisor. That is, until the day one prisoner's confession changes everything Sonny thought about his father. Now Sonny wants nothing more than to get out of his cage and exact his own justice in Oslo's underworld.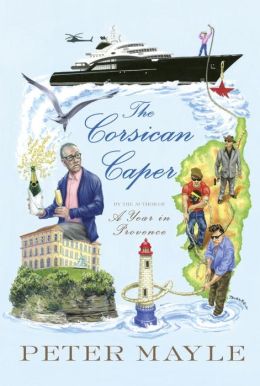 Just thinking about Peter Mayle's capers set in the south of France makes me feel that maybe summer isn't too far away. In
The Corsican Caper
(Knopf, May 13, 2014), Mayle's regular recent protagonist, Sam Levitt, will return and help his friend, billionaire Francis Reboul, when a Russian mogul wants to buy Reboul's mansion and won't take nyet for an answer.
If the Riviera isn't warm enough, I'll head further south, to Italy's Livorno area, in Marco Malvaldi's
Game for Five
(Europa Editions, April 1, 2014). This one's not a return of one of my regulars, but it is another entry in the newly popular sub-genre of geezer lit, as I like to call it. We've talked about some of those, like Jonas Jonasson's
The 100-Year-Old Man Who Climbed Out the Window and Disappeared
, Derek Miller's
Norwegian by Night
and Daniel Friedman's
Don't Ever Get Old
.
In this one, we have a quartet of geezers; old card players who like to hang out at the Bar Lume and solve the world's problems. Their town has its problems, like lowlife types into taking and selling drugs. When a young girl's body is found dumped in a dumpster, the gossip is that it's no surprise considering she hung out with a bad crowd and was over-generous with her sexual favors.
The gents don't buy the facile explanations of the murder and decide to put their heads together and figure it out for themselves, coercing the barman, Massimo, into doing the gumshoe part of the detecting job for them. This is the first in the Bar Lume series. The second, titled
Three-Card Monte
, will appear in August.
Another sub-genre in our crime fiction world is what you might call bibliographic or archival detective stories. I'm talking about books like Michael Gruber's
The Book of Air and Shadows
, Charlie Lovett's
The Bookman's Tale
and, I hate to say it, Dan Brown's
The Da Vinci Code
. First-time author Justin Go's
The Steady Running of the Hour
(Simon & Schuster, April 15, 2014) falls into that category, at least in part, and is getting quite a bit of buzz.
This is a big novel (480 pages), with two stories set in very different times and places, but that reach out and tantalizingly almost touch each other at several points. We begin with the contemporary story of new Cal grad Tristan Campbell, who learns––from a
veddy
proper old London firm of solicitors––that he may be the heir to a huge fortune left in trust by Ashley Walsingham at his death way back in 1924. But here's the thing: Tristan has just eight weeks to prove he is a direct descendant of Walsingham's lover and named beneficiary of the trust, Imogen Soames-Andersson, or the trust will be wound up and its assets distributed to various charities.
The Tristan thread of the story describes his digging around archives, houses and museums in London, France, Sweden, Germany, and even Iceland, to find the documentary evidence he needs. But Tristan finds himself fascinated more by Ashley and Imogen's story than the fortune.
The second thread belongs, of course, to Ashley and Imogen. They meet and fall in love instantly, just days before Ashley must report for trench warfare duty in World War I France. Ashley manages to survive the war, but he is not so lucky when, in 1924, he is part of an early expedition attempting to climb Mount Everest.
I had the opportunity to read an advance review copy of
The Steady Running of the Hour
(which my spaghetti brain kept calling The Slow Ticking of the Hour), and felt that the Ashley/Imogen story was much stronger than the Tristan story. I think that somebody who is attracted by World War I and Everest adventure/romance would probably find this worth reading. I noticed that while pre-publication readers on Amazon are enthusiastic, those on Goodreads are much less so. Take that as you will.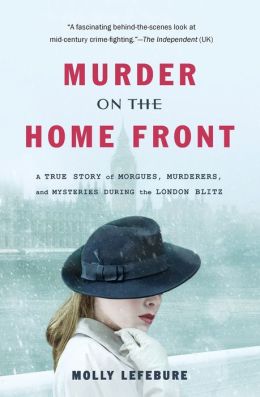 You know I'm crazy about World War II fiction and history, and there is at least one book coming out this spring to feed my mania––and it's not fiction. Journalist Molly Lefebure's job during the war was secretary to forensic pathologist Dr. Keith Simpson. She didn't want to be a secretary, but her newshound's sniffer wanted to know about how the morgue could disclose the secrets to violent death.
In 1955, Lefebure published her memoir of her years behind the morgue door under the title
Evidence for the Crown
. Now, a year after her death at age 93, it's being republished under the more sensational title,
Murder on the Home Front: A True Story of Morgues, Murders and Mysteries During the London Blitz
(Grand Central Publishing, April 1, 2014). "Molly of the Morgue," as she was called by the detectives at Scotland Yard, worked with Simpson for five years on countless cases, including some of the age's most sensational murders. She commented that "you could spend 100 years in London's mortuaries and never be bored." That's a good enough come-on for me! Britain's ITV adapted the memoir for TV, and you may have caught it on PBS last month.
I'll wrap it up for today with something much less serious. Remember my wild enthusiasm for the Veronica Mars TV series and excitement about the Kickstarter-financed movie? (No? Read all about it
here
.) In connection with the release of the movie on March 14, Veronica's creator, Rob Thomas (along with co-author Jennifer Graham) is also releasing the first in a book series.
This new original mystery, which takes up where the movie leaves off, is called
The Thousand Dollar Tan Line
(Vintage, March 25, 2014) and no, I have no idea what that is supposed to mean. What I do know is that I agree with Stephen King about Veronica Mars: "Nancy Drew meets Philip Marlowe, and the result is pure nitro." And yes, I preordered it.
I'll be back in a few days to talk about even more books I'm excited about this spring, including some high-concept novels and, one of my favorite niches, workplace crime. Georgette will be here tomorrow with some killer previews of her own.
Notes: I received free advance review copies of the following titles discussed in this post: The Steady Running of the Hour, Fatal Enquiry and Children of the Revolution.
Portions of this post may appear in book reviews on Amazon, Goodreads and other reviewing sites under my user names there.