I'm more ambivalent about spring this year than Sister Mary. Here in California, we've received about a third of our usual winter rainfall. While part of me longs for more winter and more rain, another part of me looks forward to the joys of spring: flowers blooming, wildlife babies, baseball's spring training. And lots of wonderful new books, of course.
Oh boy, oh boy. I'm really excited about
All the Light We Cannot See
(Scribner, May 6, 2014). Its author, Anthony Doerr, has raked in many awards for his short fiction, and this 544-page novel is already being called a masterpiece for its lyrical writing, sympathetic main characters, and moving story.
It opens right before the 1944 American bombing of Nazi-occupied St. Malo in France's Brittany. Then, before we get to the actual bombing and later years in the 20th century, we go back to the 1930s to trace the history of two foreigners whose lives are due to collide in World War II St. Malo: Werner, a German orphan sent to an elite Hitler Youth academy when he showed a genius for math, is now a young German soldier, using his talents with the radio to track the French Resistance; and Marie-Laure, a Parisian a few years younger than Werner and blind since age 6, who fled with her father, a locksmith at Paris's Museum of Natural History, to the St. Malo house occupied by her great-uncle and his housekeeper, French Resistance members. As if this setup doesn't promise enough adventure, writer Doerr gilds the lily by giving Marie-Laure's father possession of a legendary gem pursued by the Nazis. Yeeesssss!
How many times has a character tried to outrun his past, and how many of these attempts are successful? Maybe a better question for us here at
Read Me Deadly
is, which attempts are entertaining or thought-provoking? Wiley Cash's
This Dark Road to Mercy
(Morrow/HarperCollins, January 2014), Scott Spencer's
Man in the Woods
, and Cormac McCarthy's
No Country for Old Men
, just to name a few.
Another book with this theme, Peter Heller's
The Painter
, will be published by Knopf on May 6, 2014. Its protagonist, Jim Stegner, a renowned painter and lover of nature, moves to rural Colorado from Santa Fe, New Mexico, to begin anew after shooting a man in a bar, losing his teenage daughter, and losing his marriage too. Fly-fishing and painting occupy Jim's time, and the rage that occasionally overtakes him is locked in the closet until he chances upon a man beating a horse. (As far as I'm concerned, it would have been reasonable for Jim to nuke this guy on the spot.) Before long, Jim is hightailing it out of town with men seeking retribution thundering after him.
Heller is a natural story teller. His 2012 post-apocalyptic novel,
The Dog Stars
, is notable for its beautiful imagery and the emotional connection the protagonist, Hig, feels with his dog, nature, and his airplane. After
The Dog Stars
, I have high hopes for
The Painter
.
It's hard to wait until May for these two books, but, luckily for us, there are a bunch of fantastic-sounding books coming out before then.
One of them, Daniel Friedman's
Don't Ever Look Back
(Minotaur, April 22, 2014), falls into the sub-genre that Sister Mary calls "geezer lit."
I appreciate kind and gentle people just as much as the next person, but I prefer my fictional sleuths aged 80+ to be on the dark-humored and cranky side. Buck Schatz, whom we first met in Friedman's Edgar-nominated
Don't Ever Get Old
(see review
here
), is such a sleuth. I figure, you don't live that long just to make nice, and Elijah, a thief, agrees. In 1965, Elijah tried and failed to enlist Buck, then a Memphis, Tennessee cop, in a bank heist that he later successfully carried out. It's been 44 years, but the 88-year-old Buck is the man Elijah now asks to protect him or, if worse comes to worse, to avenge him. Buck's memory and body aren't what they were (whose is?), but he still has the grit and smarts that writer Friedman credits his two sets of grandparents and his great-aunt Rose for inspiring.
March comes in like a lion and goes out like a lamb, but in between, another rip-snortin' thriller by Canadian writer Owen Laukkanen will appear. His first series books,
The Professionals
and
Criminal Enterprise
(see reviews
here
and
here
), feature Kirk Stevens, a married, middle-aged Minnesota BCA investigator; and a beautiful, young black FBI hotshot named Carla Windermere. In
Kill Fee
(Putnam, March 20, 2014), they're enjoying a cup of coffee in Saint Paul when they witness the assassination of wealthy Spenser Pyatt. They catch a glimpse of the strangely dead-eyed sniper, and then the chase, which will eventually involve a kill-for-hire social media website (!), is on.
I like Laukkanen's series for several reasons: His protagonists have a great relationship, full of sizzle. The criminals are interesting enough that I sometimes want them to succeed, the plot is complicated, and the suspense requires me to put down the book and pace around, wringing my hands. Laukkanen produces the perfect book to hand your husband when you want him to disappear for hours so you can get something accomplished. Like a nap. You need one, because you stayed up most of the night before reading Laukkanen's book yourself.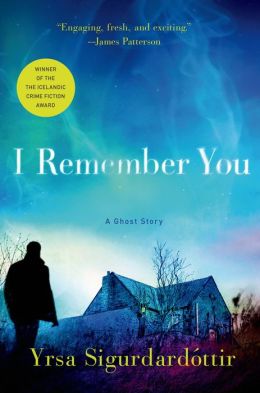 There's creepy, and then there's
deliciously
creepy. The sort of book you're in the mood to read after you catch the moon staring at you through your bedroom window. We know Icelandic writer Yrsa Sigurðardóttir best for her series about Reykjavik lawyer Thóra Gudmundsdottir, but her upcoming book is a standalone that mixes a detective story with a supernatural thriller. It's called
I Remember You: A Ghost Story
(trans. from the Icelandic by Philip Roughton, Minotaur, March 25, 2014). Although advance review copy readers praise the book, what really makes me want to read it is the
Kirkus
review lauding Sigurðardóttir's effective use of smells in building slowly to a shattering climax. Yikes!
Okay, what's the book about? It's a multilayered tale of missing children in two threads that eventually connect: the first thread involves vandalism at an elementary school in Ísafjördur reminiscent of what happened there 60 years earlier after a child vanished. The current case is investigated by a consulting psychiatrist, Freyr, and a police detective, Dagný, who make an unsettling discovery after an apparent suicide. The second thread involves three people who have moved to the abandoned Westfjords village of Hesteyri, where they plan to renovate an old building. Their efforts, and their relations, are increasingly hampered by the appearances of a ghostly boy.
I love books dealing with memory loss, such as
Before I Go to Sleep
by S. J. Watson, Yoko Ogawa's
The Housekeeper and the Professor
, and Philip K. Dick's
Total Recall
and
Paycheck
.
Maud Casey's
The Man Who Walked Away
(Bloomsbury, March 4, 2014) sounds like a doozy. It's based on the real-life story of Albert Dadas, a man whose mental illness forced him to walk constantly, in a trance-like condition, all over Europe in the late-19th century. When he came to a temporary halt, he had only memory fragments of where he had been.
Although Casey imagines Dadas stopping at an unusually humane asylum in Bordeaux, where "the Doctor" employs various strategies to help him,
The Man Who Walked Away
promises more than a clinical case history.
Publishers Weekly
calls it "both unconventional and engaging," and I'm looking forward to reading this exploration of memory and identity.
A book called "masterful" by
Kirkus Reviews
and "unforgettable" by
Booklist
begins (and ends) with this sentence: "The moment Rassoul lifts the axe to bring it down on the old woman's head, the thought of Crime and Punishment flashes into his mind."
Can you believe our luck? Afghan novelist Atiq Rahimi reimagines Dostoevsky's 1866 classic as a darkly comic novel set in war-torn Kabul, Afghanistan, with his upcoming
A Curse on Dostoevsky
(trans. from the French by Polly McLean, Other Press, March 4, 2014). While I'm waiting for it to arrive, a re-reading of
Crime and Punishment
is in order, along with a restocking of the Stoli. I already have a large enough supply of guilt.
Helen Oyeyemi was named one of
Granta
's Best Young British Novelists. Her
Boy, Snow, Bird
(Riverhead Hardcover/Penguin Group (USA), March 6, 2014), a twist on the Snow White fairy tale, set in 1950s and '60s New England, is one of spring's most highly anticipated books.
Twenty-year-old Boy Novak flees her abusive father in New York in 1953 and settles in Flax Hill, a small town in Massachusetts, where she marries widower Arturo Whitman and becomes the stepmother of his incredibly beautiful daughter, Snow. When Boy's own daughter, Bird, is born, her dark skin reveals that the Whitmans have been passing as whites since their move to Massachusetts from the South. Obviously, the different skin colors of Bird and Snow present a problem that must be dealt with. I trust Oyeyemi to come up with a humdinger of a solution and aftermath in this novel, which glitters with mirrors and focuses on appearance and identity.
I'll be back next week to tell you about more terrific spring books. On Monday, Della Streetwise will clue you in on upcoming books that caught her eye.