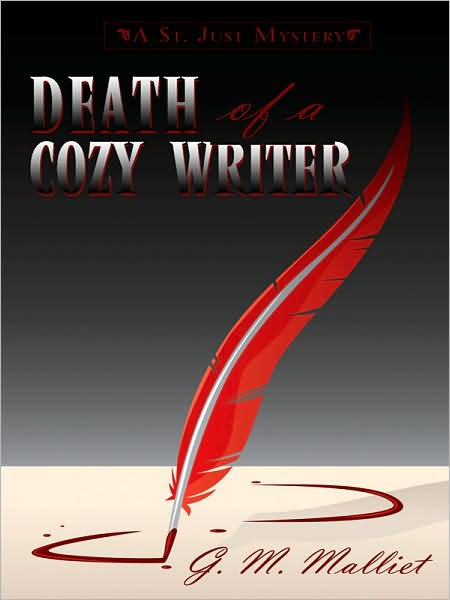 I had fully expected to enjoy G. M. Malliet's first mystery, Death of a Cozy Writer, when it was released a few years ago. It had been introduced to high critical acclaim, won an Agatha for best first novel, and was shortlisted for several other prestigious awards. It had everything for a cozy lover: English manor house, guests trapped by a snowstorm, nasty rich author taunting his greedy children about changes to his will, grand denoument with all of the suspects assembled. Fond memories of Christie's And Then There Were None and The Mousetrap swirling in my head, I promptly read it–and regretted it.

It is a police procedural, but the detectives aren't introduced until the last third of the book, and then quite sketchily. If it is fair play, as the classics usually are, I couldn't spot the clues. Most of the characters are tiresome caricatures of the usual suspects from other cozies, and the style is so archly tongue-in-cheek that I had trouble finishing it. She has written a couple more in that series, neither of which I've bothered to read.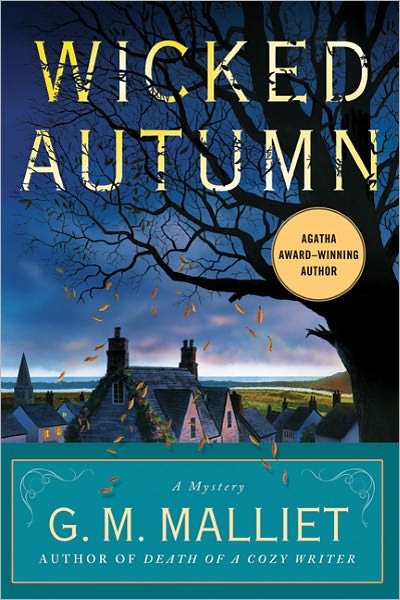 So why, when offered a review copy of Wicked Autumn: A Max Tudor Novel, the author's first book in a new series, did I take it? Maybe it was the comparison one reviewer made to St. Mary Mead, Miss Marple's home town. Or the protagonist, a sexy MI-5 spy turned village vicar (now that's a little different in a cozy). Maybe a good editor had reined in the overblown self-conscious humor? For whatever reason, I'm very glad I did!

As the first in an intended series, quite a bit of the book is devoted to a leisurely set-up so thorough that a careful reader could find her way if dropped suddenly into the center of the village, and could probably recognize many of the characters on the street. No map is included, although
the author has posted a charming
online interactive map of Nether Monkslip
to complete its cozy credentials. The cast of characters is also listed, so we
can probably expect to meet most of them in subsequent books–unless they're killed off first.

Although the lanes are still narrow and some of the buildings may lean a little, Nether Monkslip (what in the world does that mean?) has had a bit of an update since the days of the traditional cozy. Many of the businesses in town do a brisk internet trade in items from antiques to new-age crystals to handmade marzipan candies. Father Max thought he had found an idyllic place to scrub away the memories of his MI-5 service that still haunted him.


Of course every pudding has its lumps, and Nether Monkslip's is wealthy Wanda Batton-Smythe, formidable self-appointed Leader of the Community and head of the Women's Institute. As the book opens, she is busily planning the Harvest Fayre; perfectly sure of how it should be run, running roughshod over any and all other opinions. Are we unbearably surprised when she shows up dead in the midst of the Fayre? The cause of death, which at first seems obvious, turns out to involve a fairly terrible method completely new to me.

This is an enjoyable fair-play spoof on the mysteries of the Golden Age. Occasional flashes of well-placed laugh-out-loud humor have replaced the brittle archness that set my teeth on edge in the earlier book. I was a little concerned with how much of Max's past the author reveals in this first book; will he continue to be as intriguing a figure with his angst out of the bag–at least to the reader? Of course, the burning question of whether Father Max is unmarried from religious conviction or happenstance will probably continue to occupy the villagers for books to come.

I laud the author's attempts to carry the classic cozy into the 21st century and "beef it up" a bit, and will follow her efforts with interest. For my taste, the sub-genre has become a little overpopulated in recent years with coffee, quiche, and quilts; so a young handsome vicar makes a welcome entry into the field.

Note: I received Wicked Autumn: A Max Tudor Novel as a free review copy. Also, portions of the review in this post appear in a book review posted on the book's product pages on Amazon, under my Amazon pen name.