No, not The King, not
that
Elvis. I'm talking about Elvis Cole, Robert Crais's wise-cracking private eye.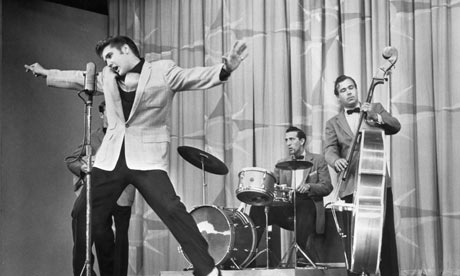 It was like this. After the Maltese Condor talked to you about mysteries set in hellish places last week I thought you deserved some suggestions for great mysteries set in heavenly places. Places like the remote Pacific isle of Kaitai, Venice, Paris and Greece's Mykonos Island. But when I sat down to my computer last night I spotted Crais's
The Monkey's Raincoat
, a book I've been meaning to read for a long time. It has a sticker on it proclaiming it is one of the century's 100 favorite mysteries named by the Independent Mystery Booksellers Association. Hmm. Just a few pages, I told myself and then I'd write my blog. Unh huh. When I closed the book I'd read it all. And instead of heavenly places, you get an unheavenly Los Angeles.
The Monkey's Raincoat
opens, Cole is seated in his office. In between glances at the Pinocchio clock on the wall, he stares across his desk at two women. Janet Simon insists her friend Ellen Lang hire Cole to find her husband Mort. After threatening to leave Ellen for more than a year, Mort, a Hollywood agent, disappeared with their 9-year-old son Perry after picking the boy up at school. It doesn't appear as if Mort planned to leave, because he didn't pack a bag and he has some sort of film project cooking with an old buddy, Hollywood producer Garrett Rice. Ellen is so dependent on Mort that she doesn't even know how to make out a check to pay Cole to find her missing husband and son. She does know, however, that Mort has an actress girlfriend, so armed with the girlfriend's name and some pictures, Cole goes to work on a case that's full of surprises for everybody involved in the investigation.
Face Like a Frying Pan
This is a very fun book to read. The neighborhoods of Los Angeles are wet with rain and the sight of them and the smell of eucalyptus comes right off the pages. Crais gives his Los Angelenos portrait-like descriptions: "Lou Poitras [a North Hollywood cop] has a face like a frying pan and a back as wide as a Coupe de Ville. His arms are so swollen from the weights he pumps they look like fourteen pound hams squeezed into his sleeves. He has a scar breaking the hairline above his left eye where a guy who should've known better got silly and laid a jack handle. It leant character. Poitras was leaning back behind his desk as I walked in, kielbasa fingers laced over his belly. Even reclined, he took up most of the room."
Great characters, location, prose and plotting. Maybe this book is a little slice of heaven after all.
The Monkey's Raincoat
is the first book in the Elvis Cole/Joe Pike series and I'll definitely be reading more Crais.
Elvis, Jesus and Coca-Cola
lined up. It sounds irreverent to say the least. It features a sleuth named Kinky Friedman. I read some reviews of the book elsewhere and one said "This book has a place of honor on my toilet." Another said, "... if you are looking for something to kill a few hours, you could do worse." I don't want you to get the wrong impression because Friedman's books are fun and I think this one sounds fabulous. Friedman can be relied on for some unexpected situations, original lines and laugh-out-loud moments, and that's a gift straight from heaven to a reader. And next week I'll take you to some other places in reading Paradise.