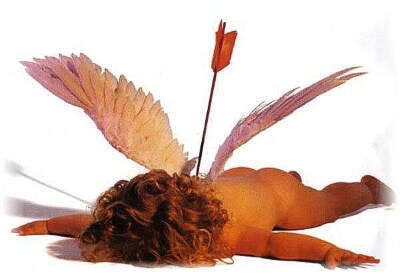 Valentine's Day is Tuesday, February 14th. It's a time for celebrating love with greeting cards, gifts, champagne toasts and kisses. That's tomorrow.
This is today, at Read Me Deadly. It's a time for observing the badification of love in crime fiction. Let's look at some good books involving love that's unrequited, gone missing, gone awry, gone belly up . . . . In other words, love that's gone bad.
Unrequited or obsessional love has inspired many rock 'n' roll songs, and Eric Clapton's "Layla" is one of the best. You might want to play it while we think about books such as John Fowles's
The Collector
, in which a lonely young butterfly collector named Frederick Clegg kidnaps his beloved Miranda Grey and keeps her captive in the hopes that she will come to love him. Or
Lolita
, Vladimir Nabokov's disturbing 1955 masterpiece about Humbert Humbert, a middle-aged man who falls in love with 12-year-old Dolores Haze, and then marries her mother.
Of course, unrequited love doesn't always inspire a crime. It may merely burrow into the heart of a criminal or a sleuth, making his or her life more or less miserable and leading readers to groan in empathy. In David Liss's wonderful historical fiction set in 18th-century London, Benjamin Weaver unrequitedly loves the very beautiful Miriam Lienzo, but he is a Jewish ex-prizefighter, and his ethnicity prevents his entry into higher society. He makes a living finding thieves and debtors for the wealthy. In
A Conspiracy of Paper
, the first book in this literary series, Weaver is hired to find the murderer of a client's father, and his search becomes a Russian nesting doll of financial jiggery-pokery and murderous intrigue.
Keigo Higashino creates a nightmare for his characters when brilliant high-school math teacher Ishigami hankers after his apartment-house neighbor Yasuko Hanaoka in the riveting 2011 book
The Devotion of Suspect X
. When Yasuko kills her cruel ex-husband, Ishigami leaps to help her dispose of the body and to fix an alibi. The body is discovered and identified, and the police are quickly led to Yasuko and Ishigami. A cat-and-mouse game that becomes increasingly complex develops between the police and Ishigami.
Sometimes the unresolved nature of unrequited love makes it haunt a heart forever. Jeffrey Eugenides's
The Virgin Suicides
involves the five young and lovely Lisbon sisters, who committed suicide one after another, and the mesmerizing effect these deaths have on their hometown of Grosse Pointe, Michigan. Hannah Pittard's Nora Lindell is 16 years old when she goes missing in
The Fates Will Find Their Way
and, in a similar way, this event stuns some adolescent boys. Nora's disappearance still preoccupies them 25 years later.
In 1962, Ben Wade was a Choctaw, Alabama, teenager secretly in love with a beautiful classmate, Kelli Troy, who had recently arrived from Maryland. It was the early days of desegregation, and Kelli was outspoken in her support of it. Then Kelli was murdered. In
Breakheart Hill
, by Thomas H. Cook, Wade, now a middle-aged physician, looks back at the days leading up to Kelli's death and its shattering aftermath. His halting narrative that dances around the facts reminds me of Ford Maddox Ford's John Dowell, who slowly teases out the surprising truth of his marriage in
The Good Soldier
.
Sometimes the death of a loved one creates a terrible void. So terrible for Frank Cairns, that he feels compelled to do something criminal about it. In Nicholas Blake's 1938 book,
The Beast Must Die
, Cairns begins with a vow: "I am going to kill a man. I don't know his name. I don't know where he lives, I have no idea what he looks like. But I am going to find him and kill him." This unknown man is the hit-and-run driver who killed his seven-year-old son. The police have run out of leads, so Cairns builds some information and logical leaps into a case against a man whom he befriends in order to better plot his revenge.
The Beast Must Die
is both serious and lighthearted, full of twists and turns, and the fourth Nigel Strangeways book written by Nicholas Blake, the pen name of Cecil Day-Lewis, England's Poet Laureate and father of actor Daniel Day-Lewis.
Edward Elgar, British ecclesiastical composer
Authors sometimes fill death's lonely void with a ghost, which the book's characters don't always appreciate. British fiction writers cannot leave Edward Elgar alone. The last time I saw this British composer, he was taking a fictional trip up the Amazon in James Hamilton-Paterson's
Gerontius
. (That is a stunning book, by the way, and I recommend it.) Now, Phil Rickman puts a dead Elgar to work as a ghost, haunting his beloved Malvern Hills, in
The Remains of an Altar,
the eighth Merrily Watkins book. When does this poor man get to retire? Merrily, Anglican vicar of Ledwardine, has been asked in her role of Deliverance Consultant to the Diocese of Hereford to exorcise the bike-riding Elgar, who is causing road accidents. Proposed development on a Wychehill hillside possibly sacred to the Druids, Merrily's 17-year-old daughter Jane's activism, a new night club, and the ambitions of the church choirmaster are a troublesome stew coming to the boil. Rickman's series is an entertaining blend of historical research, mystery, and horror.
What
does
love got to do with it? Even if singer Tina Turner is less than thrilled with love, P. D. James's Cmdr. Adam Dalgliesh is clear about its role in murder. Early in his career, he learned that all the motives for murder could be covered by the four L's: love, lust, lucre, and loathing. Check out these two traditional books of crime fiction, written with tongue planted firmly in cheek, that have the L's pretty well covered:
Bill Crider's eleventh Dan Rhodes book, the charming
A Romantic Way to Die
, finds Obert College the site of a romance writers' workshop. Townspeople of Clearview, Texas, are thrilled that local-boy-turned-famous-Fabio-dude Terry Don Coslin is back in town. Terry Don's aim is to appear on the cover of every single romance novel published. Given his pecs ("hard enough to strike a match on"), his flowing locks and his handsome face, this is a real possibility. Several local residents are also attending the workshop, including newly-published author, Vernell Lindsey. A well-known New York agent is even scheduling appointments at Obert. It's a cryin' shame when the conference is interrupted by a death, and laid-back Sheriff Rhodes must investigate.
Elizabeth Peters's
Die for Love
, third book in her entertaining Jacqueline Kirby series about a college librarian, is set at a New York City convention for historical romance writers and their fans. The enterprising Kirby wants an escape from Nebraska, so she travels to New York for this convention, where she poses as an author so she can write off the trip on her tax return. When a murder takes place, the always-curious Kirby feels compelled to investigate despite the warnings of a very attractive cop. D'oh!
Listening to the Righteous Brothers always makes me sing in the shower. I'd be curious to know if "You've Lost That Loving Feeling" inspires you in that way, too. Maybe you'll feel inspired to read one of these books about love that's wandered away.
Dick Lochte's hardboiled novel
Sleeping Dog
is teeming with lost love and the just plain lost. The narrative alternates between Serendipity Dahlquist, the teenage granddaughter of a Los Angeles soap star, who prides herself on her worldiness and intelligence, and a tired but dedicated ex-cop turned private detective named Leo Bloodworth, aka "The Bloodhound." Serendipity is referred to Bloodworth when her dog Groucho is stolen, but they have barely met before Bloodworth's smarmy office mate is murdered. The two mismatched sleuths set off on a complicated trail. (Note: there is some material in this book that is painful reading for animal lovers, but I read it with a hand over one eye and the other eye half closed, and I survived.)
Drink to Yesterday
by Manning Coles opens at a coroner's inquest in a small town in Hampshire, England, on July 19, 1924. A well-liked garage proprietor has been found dead in his home. After the jury reaches its verdict, the story looks back at Chappell's School in the spring of 1914, where a pump and some rubber tubing have been sitting in a lab for simply ages, just waiting to be used by some bored school boys to inject air into the gas line that lights their school. During the months that follow, teachers and staff disappear into the war effort, and one of the gas-line pranksters follows as well. The result is a grim, realistic story set behind German lines in 1941, but told in such a graceful way that it is a bittersweet pleasure to read. The spies are casual about their braveness, but they are very brave indeed. The people back home who love them need to be brave, too, because as Tommy Hambledon tells his young recruit, "Once the job has taken hold you'll find that nothing else in life has any kick in it, and apart from the job you're dead. Neither the fields of home nor the arts of peace nor the love of women will suffice." Being a spy can be heart breaking, and we're not talking about James Bond here.
What would crime fiction be without dangerous women who need a man's help? Ask private eye Sam Spade in Dashiell Hammett's
The Maltese Falcon
, insurance salesman Walter Neff in James M. Cain's
Double Indemnity
or Korean-American investigator Allen Choice in Leonard Chang's
Fade to Clear
. In the first Allen Choice book,
Over the Shoulder
,
San Jose Sentinel
reporter Linda Maldonado saw Choice through a horrific sequence of events, including his being framed for murder. The two became lovers, but then Linda called it off. Now, in
Fade to Clear
, the intriguing third book, she tells Choice her nine-year-old niece has been kidnapped by the girl's father, Frank Staunton, who is in the middle of a divorce from Linda's sister. The father and daughter have disappeared. Will Choice help? This is trouble all around for Choice, since Staunton is a real badass, Choice's current girlfriend will not appreciate his involvement in Linda's case, and Linda herself presents a problem. But Choice doesn't have a choice. (Oh come on, you completely saw that coming!) This is no place for a discussion of fate and free will. The point is, for better or worse, Choice doesn't stop thinking in
Fade to Clear
.
Now that we've whetted your appetite for some crime fiction involving love and warned you about the approach of Valentine's Day, you can't say that you don't see it coming TOMORROW. Don't forget your sweetie, family, pets, friends, and the people at work who make it bearable. You can be nice tomorrow. Today, after your Valentine's Day preparations are finished, you can kiss it all off by treating yourself to a nice book about crime.