Yeah, I know that picture on the right shows how to measure a foot for a shoe, but we do something similar when we shop for a gift book. We size up the recipient's reading tastes and find a book to match. Sometimes it isn't easy. Here are some possible fits for those readers on your list:
A fan of crime fiction and music
: Dennis Potter's award-winning
The Singing Detective
is a 1986 BBC TV miniseries starring Janet Suzman, Michael Gambon, and Joanne Whaley. It features mystery writer Philip Marlow, hospitalized with psoriatic arthritis, whose life in flashbacks, fantasies about his ex-wife, mother's suicide, and book characters combine with music for a wonderfully entertaining
box set of three DVDs
.

Books by Ian Rankin, Elmore Leonard, Cynthia Harrod-Eagles, George Pelecanos, and Michael Connelly are famous for the music their series protagonists play in their heads or listen to in the car. For individual books, how about Donna Leon's
Death at La Fenice
, in which Italian cop
Guido Brunetti investigates murder at the opera; Murder Duet: A Musical Case, Batya Gur's fourth book with charming Michael Ohayon, a chief inspector in Jerusalem; or the strangling murder of a violinist half-way through a concert in When the Wind Blows, a traditional British mystery by Cyril Hare.
Not crime fiction, but a lavish coffee-table book with hundreds of pictures: Kevin Reagan's
Alex Steinweiss: The Inventor of the Modern Album Cover
(Taschen, 2011).
A brainiac reader with eclectic tastes
:
The Best of McSweeney's
, edited by Dave Eggers and Jordan Bass, was just published. (You do know about
McSweeney's
, right?) It's what
Publishers Weekly
calls a "stunning snapshot of modern literature": 624 pages of stories, poems, comics and essays by writers such as David Foster Wallace, Dan Chaon, Roddy Doyle, and Nyuol Lueth Tong. A 2013 novel by László Krasznahorkai,
Seiobo There Below
(translated from the Hungarian by Ottillie Muzlet, New Directions), is told in a Fibonacci sequence of stories. It's about rapture—expressed and experienced—through a work of art. (This sounds impossibly boring and high-falutin', but it's a riveting read.) Argentine writer Andrés Neuman's dazzling
Traveler of the Century
(Farrar, Straus and Giroux, 2012) is reminiscent of Borges, Bolaño, Kafka, and Thomas Mann. Its young traveler, a translator of literature named Hans, gets stuck in a debate with an organ-grinder in early-1800s Wandernburg, a town that doesn't follow the usual rules of time and place, near Saxony. He joins a salon of fervent intellectuals and falls in love with Sophie.
Someone who needs a laugh
: The sadly deprived who have yet to read the comic masterpieces of P. G. Wodehouse should be given a book
now
. Suggested gifts are
Thank You, Jeeves
;
Heavy Weather
; or
The Code of the Woosters
. Wodehouse fans will get a kick out of Bertie and Jeeves changing places in Sebastian Faulks's 2013 pastiche,
Jeeves and the Wedding Bells
(St. Martin's Press). A friend recommends Jack Handey's
The Stench of Honolulu
(Grand Central, 2013), a treasure-hunt caper for "something monkey-ish and gold-ish, and laugh-out-loud funny."
People who like dogs
: There's nothing wrong with cats, but I'm a dog person. The cat lovers on my list will receive a clothes brush or a portable vacuum. After seeing Portland, Oregon photographer Carli Davidson's
Shake
(Harper Design, 2013), full of high-speed photos of dogs shaking, you'll never look at your dog the same way again. (For a video, see
here
; if you have a slow computer, turn off the high definition by clicking on the HD icon on the lower right.) Spencer Quinn's
Dog on It
is the first book with private eye Bernie Little and his dog, Chet. For fans of British espionage, there's the Irish wolfhound Rasselas of Michael Gilbert's Calder and Behrens books of short stories. People who like the combo of crime and screwball comedy would enjoy Norbert Davis's 1940s series featuring private-eye Doan, who likes weak-willed women and strong drink, and his fawn-colored Great Dane, Carstairs.
Someone who likes historical fiction or fiction that conjures up a different time and place
: For historical fiction with a touch of the supernatural, there's
The Golem and the Jinni
, by Helene Wecker (Harper, 2013), set in New York City at the turn of the 19th century. The city teems with immigrants, including a golem from a Polish shtetl named Chava, and Ahmad, a jinni from the Syrian desert. Writer Mark Slouka grew up in the small blue-collar town of Brewster, New York, and his 2013 book,
Brewster
(W. W. Norton), is an evocative coming-of-age tale set among four friends in 1968. With this book, you could give other artifacts of 1968, such as a DVD of
The Graduate
or the Beatles'
Magical Mystery Tour
. Ivan Doig is a natural story-teller, and his
The Bartender's Tale
focuses on the relationship between a son and his bartender father. It's set in Montana in 1960, but it flashes back to the Depression. This book could be accompanied by the recipient's favorite booze.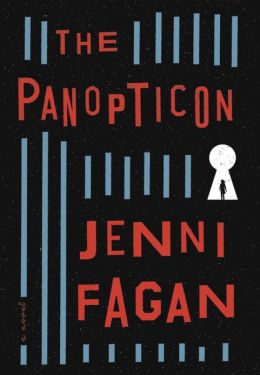 A reader who likes to experiment
: Every six weeks, Powell's, an independent bookstore in Portland, Oregon, mails their
Indiespensable subscribers
a package. Inside is a signed book and goodies such as a hand-made chocolate from a Portland candy shop, a Powell's mug or book bag, or a hamonica. You can purchase an individual book or sign up to receive automatic shipments. My husband signed me up for a holiday gift, and among the books I've received are Donna Tartt's
The Goldfinch
, Alice LaPlante's
Turn of Mind
, and Jeffrey Eugenides
The Marriage Plot
. I can't say enough about the wonderful people at Powell's; they choose excellent books. An Indiespensable book I might not have picked myself, but enjoyed, is Scottish writer Jenni Fagan's debut,
The Panopticon
(Crown/Hogarth, 2013), in which 15-year-old Anais Hendricks is sent to the Panopticon, a house for troubled teens, after she beats up a policewoman. The writing (in dialect) and characters are fascinating. (Note: Even if you don't want to purchase a book, looking at the Indiespensable picks before heading to the library is a terrific way to find books you might otherwise miss.)
P.S. Oh, I am overjoyed! The next Indiespensable shipment on January 22, 2014 is Richard Powers's
Orfeo
(W. W. Norton). I've been looking forward to this book, and Powell's read my mind.
I'll be back later this week, with more book suggestions for your shopping. In the meantime, I hope you're staying warm and full of holiday cheer.