If we didn't have bleak winter nights—the perfect excuse for curling up and reading—a book lover would have to invent them. But once you're comfortable in your chair or trapped by an avalanche of books on your bed, just what will you be reading? I think winter calls for different books from those in summer, when your brain feels exhausted simply sitting in your head. At this time of year—unless you're après-ski or -snow shovel—you might want to do some reading that makes you think. Upcoming books that caught my eye range from a sci-fi thriller set in outer space, to historical fiction featuring the 16th American President, to suspense described as "Dennis Lehane meets
Smilla's Sense of Snow
." Let's take a look.
The Martian
(Random House, February 11, 2014): An astronaut, blown away in a dust storm, is assumed dead and abandoned on Mars with no ability to communicate and only limited supplies. But Mark Watney is a mission engineer, a botanist, and a can-do kind of guy. He also has an appreciation for irony and black humor (man, will that come in handy). While his crew heads for home, and NASA frantically tries to formulate a rescue, Mark is determined to survive. We follow how he goes about it by reading entries in his journal.
It all sounds like "Macgyver in Space," and the book is drawing early raves for its technical accuracy, likable protagonist, and laugh out-loud humor. Just the thing when you're wondering how you'll survive another day at work or cooking for your picky family.
Outside, it's colder than a witch's tit, but you're in your bed, sipping hot tea and eating sugar cookies (you'll wash the sheets tomorrow). Now, what could be more pleasant than reading a book about dystopian America?
Whether it's a zombie-filled New York (Colson Whitehead's
Zone One
), human society after nuclear war (Russell Hoban's
Riddley Walker
), or the unforeseen consequences of genetic modification (Margaret Atwood's trilogy,
Oryx and Crake
,
The Year of the Flood
,
MaddAddam
), there are many versions of a troubled future world. I'm very interested in learning Chang-rae Lee's version in
On Such a Full Sea
(Riverhead/Penguin Group (USA), January 7, 2014). Lee has written several wonderful books about immigration and assimilation (
The Surrendered
and
Native Speaker
), but this time his America is rigidly stratified: the privileged (Charters) live in protected communities, middle-class people live in highly regulated groups and exist to serve the Charters, and then there's the lawless, open counties surrounding these towns. Through such a landscape ventures Fan, a "breath diver" who tends to farmed fish in Baltimore (now B-Mor). Her lover, Reg, has gone missing, and she searches for him.
Black Star Nairobi
(see my review
here
), I perk up when a book is set in the fascinating country of Kenya. Like Ngugi, Yvonne Adhiambo Owuor brings a poet's eyes and ears to corruption, violence, and political turmoil there.
Dust
(Knopf, January 28, 2014) is Owuor's historical fiction debut. It involves the efforts of Odidi Oganda's sister Ajany to reconstruct the last decade of his life and investigate his murder on a Nairobi street. She reviews her family's history from the Mau-Mau movement, through Kenyan independence, and into the present of post-election violence. In so doing, she runs across a young Englishman, Isaiah Bolton, searching Kenya for his father, Hugh, whose books fill the Ogandas' home.
Whether you go through with the wedding or not, you're screwed. That's what we Joyce Carol Oates fans must conclude after one dark and enthralling novel after another: A bridegroom spends his honeymoon throwing himself over Niagara Falls (
The Falls
). A family curse causes the disappearance of a young bride in last year's
The Accursed
. Coming soon is
Carthage
(Ecco, January 1, 2014), in which Brett Kincaid's engagement to Juliet Mayfield is broken when he returns to his Adirondacks village from Iraq with PTSD, and he becomes the prime suspect in the disappearance of Juliet's unhappy 19-year-old sister, Cressida. There's blood on the seat of his car; Kincaid even confesses.
Over a period of seven years, Oates examines each character's role in Cressida's disappearance. She also looks at the claustrophobia of small-town life, the effects of war, and the secrets of a human heart.
(1) I'm in the mood for another great Spanish novel after Javier Marías's stunning
The Infatuations
. (2) Each season, I need at least one big-hunk book to gnaw on.
In the Night of Time
by Antonio Muñoz Molina (translated from the Spanish by Edith Grossman, Houghton Mifflin Harcourt, December 3, 2013) clocks in at 704 pages. (3)
Publishers Weekly
calls it "a
War and Peace
for the Spanish Civil War."
Kirkus Reviews
states, "A simple love story at one level, a broad portrait of a nation in flames at another, and a masterwork through and through."
If that weren't enough to sell me, the beginning did: Spanish architect Ignacio Abel arrives at New York's Penn Station in 1936, having left his wife, Adela, and children behind in war-torn Madrid, to search for American Judith Biely, with whom he's had a torrid affair.
When I have a long, ugly day behind me, I like a glass of Booker's bourbon and a slice of apple pie in front of me. To accompany it, a tale about family, redemption, and vengeance, such as Wiley Cash's sensational debut,
A Land More Kind Than Home
, set in William Faulkner's old territory and populated by characters Faulkner and Flannery O'Connor would have liked.
Cash's second book looks very promising.
This Dark Road to Mercy
(Morrow/HarperCollins, January 28, 2014) is a riff on the theme of how the best of intentions go wrong, centering around failed baseball player (be still my heart!) Wade Chesterfield's decision to finally become a good father to his girls. He signed away his parental rights to Easter and Ruby Quillby long ago, and they're now in foster care. When Wade finds a backpack of money stolen in an armored car robbery, he persuades Easter and Ruby to run away with him. Tracking them down are good guy Brady Weller, an ex-cop and the girls' court-appointed guardian, and very bad guy Robert Pruitt, an ex-con hired by the thug who owns the backpack.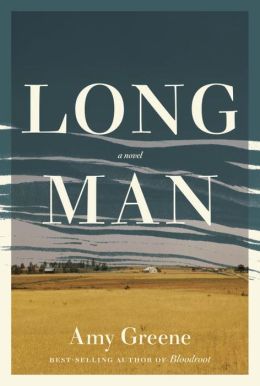 Novels in which children or animals are harmed or in danger make me wary, but I'm going to give Amy Greene's
Long Man
(Knopf, February 25, 2014) a try. Greene was born and raised in the Smoky Mountains, and her gorgeous prose evokes her birthplace. I love hearing unique voices, and
Long Man
—based on a true story—sounds unforgettable.
It takes place over a few days in the summer of 1936. The Tennessee Valley Authority has dammed the East Tennessee river the Cherokees called the Long Man, in order to bring electricity to the Appalachian region. Yuneetah, Tennessee, will be flooded soon, as well as surrounding farms. Most folks have already left. Only Annie Clyde Dodson, determined to stay at her ancestral mountain-top farm so her 3-year-old daughter Gracie will inherit it, and a handful of others—her husband, James; her aunt; the sheriff; a drifter—remain. The deadline looms, and a storm blows in. James, who urges a move to Michigan, and Annie suddenly realize Gracie and their dog, Rusty, have disappeared. With the flood waters rising every hour, a frantic search ensues.
Crissa is a professional thief who learned the business from her mentor and lover, Wayne Boudreaux, who was serving time in a Texas prison last time I heard. Crissa is very careful about lying low in her personal life and working only with people she trusts on jobs that make sense to her.
In
Shoot the Woman First
(Minotaur, December 3, 2013), Crissa teams up with two men, Charlie Glass and Larry Black, to relieve Detroit drug kingpin Marquis Johnson of $500,000. Unfortunately, all does not go well, and Glass and Black are gunned down. Crissa is loyal and honest (yes, there
is
honor among thieves), and she hightails it to Florida to share the loot with Black's family. Hot on her trail are dirty Detroit cop Frank Burke and Johnson's nasty men. I assume Crissa gives these guys good reason to wish they'd shot the woman first.
The Good Lord Bird
, a rambunctious novel about abolitionist John Brown (see my review
here
), I'm hankering for President Abraham Lincoln. Some suggested reading appeared last fall on
The Daily Beast
's
Ultimate Lincoln Reading List
, and come next February 1st, Norton/Liveright will publish Jerome Charyn's novel of historical fiction,
I Am Lincoln
. I am psyched.
No matter what Charyn's subject—ping pong, George Washington and the American Revolution, memories about growing up in the Bronx, film, Emily Dickinson, Joe DiMaggio's life with Marilyn Monroe, the crime fiction series featuring New York cop/commissioner Isaac Seidel—you can count on him for excellent research, an intriguing point of view, and highly imaginative and original writing. In his upcoming book, Charyn uses Lincoln in a first-person narration that begins moments before John Wilkes Booth's bullet ends his life, and then flashes back to his early beginnings in Illinois to create a portrait of one of our country's finest Presidents.
North of Boston
by Elisabeth Elo (Pamela Dorman/Viking, January 27, 2014), and then I'll feel a whole lot better. In the first of a promised series, Elo introduces Pirio Kasparov, Boston heiress to her Russian emigrant father's perfume business. And, one tough cookie.
She proves it the day she and her friend Ned Rizzo are baiting lobster pots in the foggy North Atlantic, and Ned's boat is rammed by a freighter. Ned is presumed killed, but Pirio survives four hours drifting on some wood in freezing water before she's rescued, impressing the U.S. Navy with her ability to withstand hypothermia. Ned's ex-girlfriend, Thomasina, makes Pirio wonder if the collision at sea was deliberate, and Pirio and investigative reporter Russell Parnell hit a trail of clues. Sounds like fun literary suspense to me!
I'll be back later this week to talk to you about more winter books. Tomorrow, tune in to see what Della Streetwise anticipates reading.