Earlier this week, I was reading a feature about the 16 most picturesque villages in the world. Several interested me, including Bilbury, in England's Cotswolds and Niagara-on-the-Lake in Ontario. I'd like to visit those places, but the feature got me to thinking of some of the villages I've enjoyed spending time in while I read some of my favorite village mysteries.
St. Mary Mead
St. Mary Mead is home to Agatha Christie's Miss Jane Marple, though only three of the books (
The Murder At the Vicarage
,
The Body In the Library
and
The Mirror Crack'd
) take place there––and, to be fair, some stories. Still, when you think of Miss Marple, you can't help but think of St. Mary Mead.
I decided to see what Agatha Christie had in mind when she dreamed up St. Mary Mead. It turns out that's a bit of a controversial topic. Some devoted fans were outraged when the Granada television's 2004 production of
The Murder At the Vicarage
showed stationery indicating St. Mary Mead had an Oxfordshire location, which they howled was way too far from the sea. Despite the location on the stationery, this episode was filmed in the village of Hambleden, on the Thames in Buckinghamshire, which has often been used for filming village locations, notably in the
Midsomer Murders
series based on the Caroline Graham books.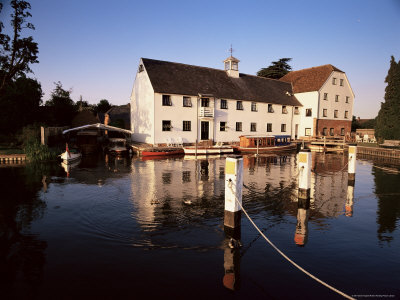 Hambleden Mill
Hampshire, many insist, must be where St. Mary Mead "really" is. There are a lot of location clues in the books. It's supposed to be only 25 miles from London on a rail line that arrives at Paddington Station, on the west side of London, and it's 12 miles from the sea. Fans of Miss Marple suggest that Market Basing, the nearby market town described in the books, could be real-life Basingstoke, and Danemouth, a seaside resort town, could be real-life Bournemouth. There is a village in Hampshire called St. Mary Bourne, but nobody seems to think Christie had it in mind.
Outdoor scenes in the Miss Marple series starring Joan Hickson (my favorite Jane Marple) were filmed in the delightfully-named Nether Wallop, in Hampshire. This name doesn't refer to a whack on the rear end, despite the way it sounds. "Wallop" is apparently derived from old English words meaning valley and stream. "Nether" means further down. I'd definitely like to visit Nether Wallop, no matter how silly the name sounds or what it might mean.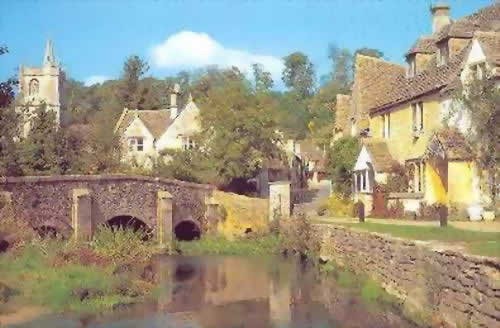 Nether Wallop, Hampshire
Nether Monkslip
Speaking of Nethers, the new Max Tudor series by G. M. Malliett is set in Nether Monkslip, another fictional English village. Periphera talked about the book back in October, including the fact that the author's website includes a nifty interactive map of the village. Check it out:
Interactive Map of Nether Monkslip
. Having a map of the village in a village mystery is such a pleasure!
Bishop's Lacey
When precocious 11-year-old sleuth Flavia de Luce has pushed things a little too far at home at her family's country house, Buckshaw, she hops on her bicycle, Gladys, and heads into the village of Bishop's Lacey to see what kind of trouble she can get into there. Since it's the early 1950s, with rationing still in effect, there are real limits to the appeal of this particular village. Still, the countryside is lovely and there is always something entertaining going on in town, like a touring magic show that everyone turns out to watch. It's an electrifying experience, as you'll learn if you read
The Weed That Strings the Hangman's Bag
. The whole village also turns up at Buckshaw for a Christmas show put on by a visiting film crew in
I Am Half-Sick of Shadows
.
St. Denis, France
These English villages are all well and good, but sometimes you might be in the mood for more sun, more wine and good French food. That's when you should head for Martin Walker's St. Denis in the Dordogne, home of Bruno Courrèges, Chief of Police. It seems like the sun shines constantly, and you can relax at a café table with a glass of Ricard and water, watching the old-timers playing petanque.
St. Denis is a small village of fewer than 3,000 residents, but its main street has its wine shop, boulangerie, fromagerie, charcuterie and just about any -erie you could want to live the good life. The weekly open-air market is where you'll stroll around, picking up delicacies and the freshest foods to make your meal a celebration. Bruno is great at warning the stall-keepers when the EU food inspectors are on the prowl, so you'll be able to get the real home-grown thing without interference by the persnickety hygiene squad.
Three Pines, Québec
The village I'm most curious about is Louise Penny's creation in the Eastern Townships region of Québec province, near the Vermont border. When homicide detective Chief Inspector Armand Gamache of the Québec Sûreté goes there to investigate a murder, he notes that Three Pines doesn't appear on any maps. Most of its residents are Montrealers who found it by accident when they were looking for a place to start a new life––which they expected to find much further away.
And how fortunate Three Pines has been in some of those who found their way there. Myrna, a former psychologist, opens a bookstore. Olivier and Gabri open a B&B and a nearby bistro. Their businesses take their places around the village green with M. Béliveau's depannier (general store) and Sarah's boulangerie. Monks in the nearby countryside provide the rich, runny cheeses and the local farms the fresh produce and meat.
Villagers stroll across the green on a whim for a delicious meal or a drink at the bistro. In the winter, two fireplaces warm the room, and in the summer there's a sunny terrace with cheerful umbrellas where you can enjoy a fresh lemonade, a cold beer or a gin and tonic. So many of Sarah's freshly-baked croissants are eaten in this series that I sometimes want to bang my head in hungry frustration.
Villagers are shopkeepers, innkeepers, painters, poets, woodsmen and cabinetmakers. People with boring jobs seem to do them out of town. Or maybe they don't even live there. Well, wait. There is Billy Williams, who seems to be a jack-of-all-trades. I guess you have to have one of those.
Three Pines is so appealing that I've spent an inordinate amount of time poring over maps trying to figure out what village might be its model. Then I started reading Louise Penny's blog. She lives in a town called Sutton–––in the Eastern Townships. I could drive there in less than five hours. Get a grip, I tell myself. You're one road trip away from being a stalker.
Maybe I could cut the stalking trip short and just stop on the way in a Vermont village, Norwich, to visit another mecca of mine, King Arthur Flour.
At least there I could learn to make my own damn croissants!
Aside from their unnervingly high murder rate, don't these places sound like they should make a feature's list of most appealing fictional villages? Do you have your own favorite villages from mystery reading? Which fictional villages do you wish you could live in––or at least visit?
By the way, not that it really has anything to do with my theme today (other than general TGIF-ness), but I came across this "map" of funny (mostly sexual and scatalogical) place names in Britain and thought you might enjoy it. I wonder if there's a lot of pressure in Giggleswick to be cheerful all the time.