One of the most obvious reading destinations for many is the beach. There is nothing better than a good book, an umbrella, iced cold lemonade and the mesmerizing sound of the surf in the background. Since reading and babysitting don't mix by the water, the experience is particularly nice at those times when you can leave the responsibility of watching little ones getting tossed by the waves to someone else.
A perfect book for this scenario is Andrea Camilleri's
Angelica's Smile
(translated from the Italian by Stephen Sartarelli; Penguin Books, June 24, 2014). It is light enough to allow some wave watching but engrossing enough to keep your mind off sand fleas.
Salvo Montalbano has had his ups and downs with his long time girl friend Livia, and he is faithful to her in his fashion. But he has always had a weakness for lovely, seemingly innocent young girls who tend to bring out his protective instincts.
Enter the young and beautiful Angelica, who has the air of a medieval maiden, and Montalbano is smitten. Angelica is one victim of a rash of burglaries that so far has Montalbano perplexed. They seem to be the work of an elusive, mysterious Mr. Z, who begins to taunt Montalbano with menacing letters. Mail threats quickly turn to murder, and now the detective has to snap out of his doldrums to find and unmask a killer.
Camilleri's books are just long enough to read over several hours while basking in the sun. With sunscreen on, of course.
Maybe you feel like a lazy afternoon reading in the garden or in a "bee-loud glade" as W. B. Yeats would say. What could be more appropriate for your reading pleasure than a quaint English village mystery?
How about this title by Mike Ripley:
Margery Allingham's Albert Campion Returns in Mr Campion's Farewell Completed by Mike Ripley
(Severn House, July 1, 2014)? It turns out this is even more complicated than the common story of an author being commissioned to continue a dead author's sleuthing series. In her writing life, Margery Allingham sometimes collaborated with her husband, Philip ("Pip") Youngman Carter. This was particularly true when she first began the Mr. Campion series. After her death, Youngman Carter finished her manuscript of
The Cargo of Eagles
, then wrote two more Campion novels on his own. This Mike Ripley book returns the favor by completing the manuscript Youngman Carter left unfinished at his own death in 1969.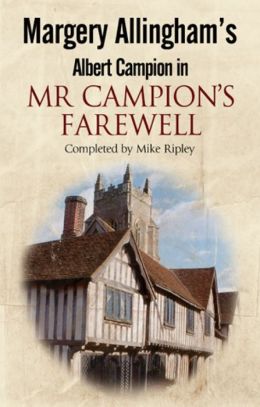 The Old World village of Lindsay Carfax may be picturesque, but you couldn't call it quaint. Unlike other villages, it isn't run by the parish council, the housing authorities, or even the local cops. The real bosses are the Carders, who take their name from the act of carding wool, which was intrinsic to the manufacture of woolens back in the day of do-it-yourself. These are wise guys of a sort, part of a syndicate that controls the town with their own rules.
Margery Allingham's Golden Age detective Albert Campion comes to visit Carfax because he has a niece who lives there. But he can soon see that things are not what they seem in the idyllic-appearing village. At first, there is the incident of a missing schoolteacher, then there is deliberate vandalism of Campion's car, and then the game is afoot.
If you are a fan of Allingham's, you will recognize several of your favorite characters, from Luke to Campion's former manservant, Lugg, as well as his wife, Lady Amanda Fitton and more. There is plenty of quintessential British atmosphere in the story; the plot is crisp, the dialogue dazzling and the climax is thrilling. It's a perfect read while lazing in a hammock in the gardens.
New England is a favorite vacation destination for people in this part of the country, but if getting to the reaches of Maine is beyond any daydreams, then find yourself a spot under a shady tree and pretend you are in the North Woods alongside Mike Bowditch. Mike has left the Maine Warden Service and is working as a fishing guide in the North Woods. He is trying to recover from a family tragedy and he likes the calm and quiet of the of the forests and lakes in the area.
In
The Bone Orchard
(Minotaur, July 15, 2014), written by Paul Doiron, Bowditch feels compelled to come to the aid of his mentor, Sgt. Kathy Frost, who has just been an unwitting accomplice to a an apparent case of "suicide by cop." Kathy Frost is forced to kill a troubled war veteran and then finds herself the target of a government inquiry. Adding to this, she has to face the outrage from the dead soldier's platoon mates.
Soldiers will be soldiers and, before long, Kathy is in the crosshairs of a sniper's rifle––and the shot is dead on.
As Kathy hovers on the brink of death, it seems to be up to Mike Bowditch to join the search for the shooter. He needs to find out if there are motives other than the obvious, and so he has to backtrack into Kathy's life. Going back in time gives Mike himself an opportunity to confront the choices he has made in his own life, and maybe even find some romance in the future.
Lying back and listening to the leaves rustling in the breeze while enjoying some vicarious Maine is a great way to while away some summer hours.
Before the flies start biting and the heat turns into a monster, a little fishing is a perfect pastime. Well, maybe reading while some one else fishes is the way to go. Victoria Houston's latest entry in her Loon Lake mystery series, featuring Police Chief Llewellyn (Lew) Ferris and retired dentist Dr. Paul (Doc) Osborne, is
Dead Lil' Hustler
(Tyrus Books, June 18, 2014).
Most of Houston's books are named after fly fishing lures, but the actual lures in the series are the well-drawn likable characters, plots that are far from common or garden variety, and finally, the aroma of fish just pulled from the water and cooked to perfection.
Loon Lake, in Northern Wisconsin, is a draw for nature lovers, hunters and fishermen throughout the year, but in mid-July the population swells with vacationers of all sorts. Police Chief Lew Ferris has her hands full, because she is involved in a murder investigation of a grad student, as well as an investigation into the finding of some skeletal remains that appear to be those of a missing bank executive. Making matters complicated is the fact that the scene of both possible crimes is an area in the Nicolet National Forest where wolves congregate.
What is making Paul Osborne nervous is the antics of a different sort of wolf; one that is putting the moves on Lew by teaching her the Japanese art of tenkara fly-fishing. Not the kind of sweet talk that would impress most women, but Lew is not most women.
I have to warn you that the easy pace and the interesting plots make the series a bit addictive. Before you know it you will be using some Wisconsinisms like
razzbonya
or
jabone
when you are referring to some nincompoop as if you were a North Woods native yourself. It is a nice way to insult someone without them being aware of it.
2 A.M. at the Cat's Pajamas
(Crown, August 5, 2014), by Marie-Helene Bertino, will take you there to a time right before Christmas in the lives of three people who are suffering the slings and arrows of outrageous fortune.
The first is nine-year-old Madeleine Altimari, a lonely child struggling to get along after the death of her mother. She has no friends and that is primarily because she is a jerk whose main talent appears to be swearing. Deep inside herself, she believes that what she is really good at is singing. When the role of singing at the school Christmas concert is snatched away from her at the last minute, she makes plans to explore the Philly streets to find the legendary Cat's Pajamas jazz club where she plans to sing on stage to vindicate herself.
Madeleine's schoolteacher, Sarina Greene, feels for the girl but she herself is lonely and longing for a second chance at love. There has been a chance encounter with an old flame that has put a little excitement into Sarina's life .
The Cat's Pajamas club itself is in dire straits due to onerous fines recently levied on it, and the owner, Lorca, has this one night to recoup his losses.
All these tender and sorrowful stories take place on the same day, and the lives of the three participants in the drama become intertwined in a lovely way.
The story is much like jazz itself. There are singular riffs, repetitions and reversals sometimes sounding like cacophony, but at other times notes coming together in a lively rhythm but with a melody that is often made up by the musicians as they play.
I found that the most interesting character of all was the city itself:
"The city awakens. Crust on its windshields and hungry. Snorting plumes of frustration in the harbor. Scratching its traffic on the expressway. Bone cold and grouchy, from the toes of its stadiums to the strands of its El."
With crisp prose like this, the novel will engross you and take you away for a while through the many city streets of Philly's fascinating byways that are well worth visiting.