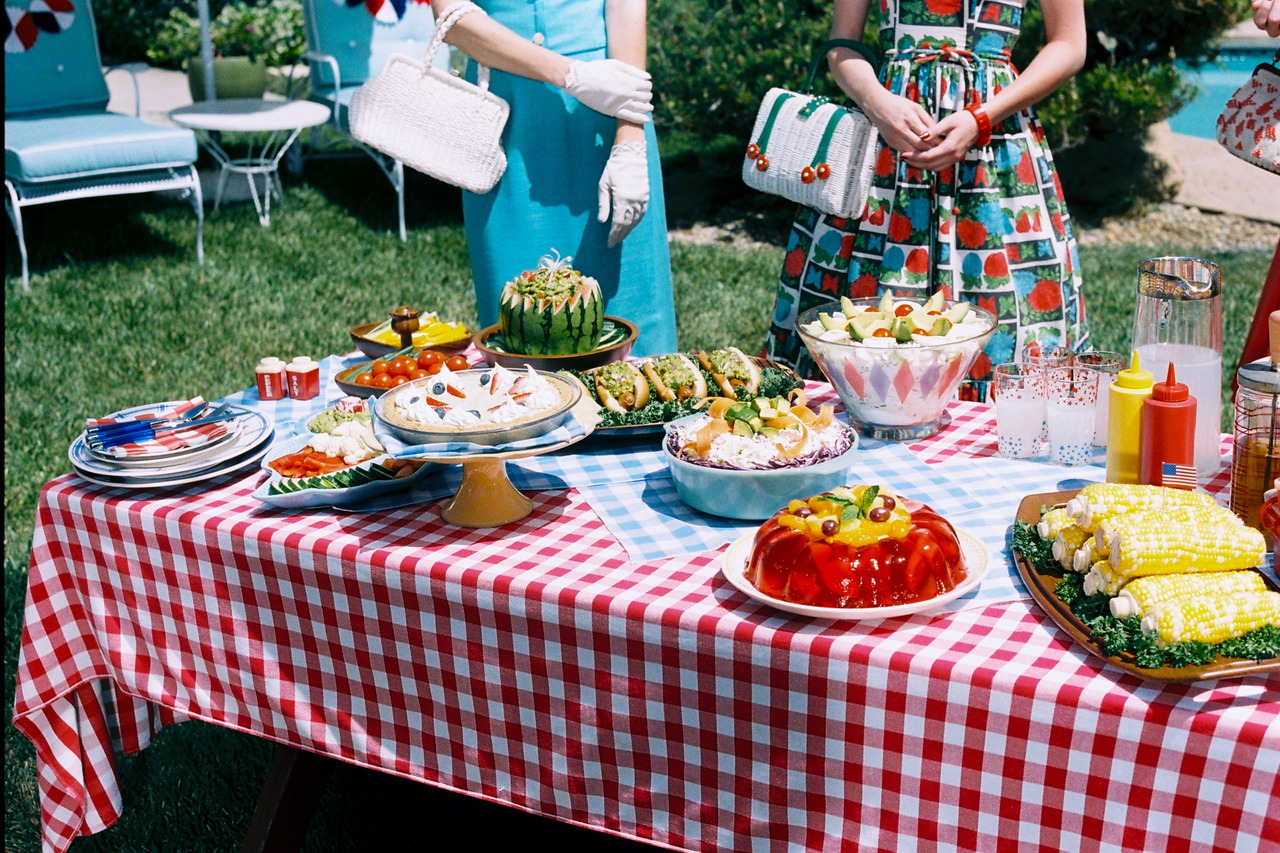 If Georgette's first set of previewed books made her think of ice cream flavors, my third set, with its mix of thrillers, domestic dramas, epistolary novels, and a wide variety of quest tales, makes me think of a potluck cookout. As you go down the red-checked tablecloth-covered table, you load up with a collection of colors, textures and tastes that may clash, but end up on your plate anyway.
Angelmaker
and
The Gone-Away World
, Nick Harkaway will always be a main dish at the cookout for me; the double burger with the works. And I'll be first in line to read
Tigerman
(Knopf, July 29, 2014), even though the publisher's book description doesn't sound very much like the inspired lunacy of the other two books. I was so puzzled by it that I had to go find reviews of the book, which was published a few months ago in the UK. Now that I've read the reviews, I get it; this is a real Harkaway tale.
The Scotsman
review says, essentially, that
Tigerman
is a comic book in which the superhero's subdued alter ego is protagonist Sergeant Lester Ferris, worn out by his tours of duty in Afghanistan and other trouble spots. Along with representatives of the other western allies, Ferris is sent to act as consul to the island of Mancreu. Long a pirate isle, it's now a powder keg with a wide variety of restless natives. A powder keg with the fuse lit, because scientists say that an underground volcano will soon blow up the island––and maybe destroy the planet.
Ferris informally adopts a street urchin who calls himself Robin, after Batman's sidekick in the comic books he's addicted to. Ferris becomes a superhero, Tigerman, to Robin and the community when he totally kicks ass against a gang that attacks and kills the local café owner. But now, as conditions become increasingly anarchic on Mancreu, Ferris has to stick with the role, which includes finding out what's behind the deadly attack on the café, where Robin comes from, and whether there is anything to the rumors that the boats offshore are home to a gang of international cutthroats involved in human trafficking, drugs and mercenary activities. This being a Harkaway book, there will naturally be operatic levels of action! adventure! and emotion!
Replay
(translated from the French by Kate Bignold and Lakshmi Ramakrishnan Iyer; Europa Editions/Penguin Group (USA), June 3, 2014). I will resist assigning him anything along the lines of Franco-American SpaghettiOs or French's Mustard for the cookout, but a hot dog with plenty of mustard does always go well with thrillers, I think. Levy's protagonist is Andrew Stilman, a muckraking journalist for the
New York Times
. One day, while jogging along the Hudson, he is stabbed in the back. The next thing he knows, he wakes up two months earlier, knowing he was killed by the stabbing and has the next two months to solve––and prevent––his own murder.
Stilman has his work cut out for him. There have been so many of his exposés, so many targets who might want their revenge, from Argentine war criminals to Chinese child traffickers. Or it could be somebody a lot closer to home, like the wife to whom he had just confessed a serious indiscretion, or the resentfully envious cokehead of a co-worker.
Publishers Weekly
calls it a page turner that is as much about the big issues Stilman covers as it is about the thriller plot, but cautions that the ending may disappoint.
Levy's been a best-selling writer in France, but he hasn't made it big in the US yet, despite the fact that his
If Only It Were True
was adapted for the screen in the Reese Witherspoon romance
Just Like Heaven
.
Replay
seems perfectly designed for summer beach reading, so maybe this will be his US breakthrough.
fromage
and
charcuterie
to the party. Bonnard is the protagonist of Nicholas Barreau's
One Evening in Paris
(St. Martin's, July 1, 2014). I don't normally read romance novels, but throw in a Paris location and reviewers saying that it's also a love letter to the movies, and I'm in.
Shy Alain had thought of himself as living on the periphery of events, and had to content himself with living vicariously through the artistic masterpieces that he showed at his cinema. That is, until he begins a romance with the woman in the red coat who was in the audience every Wednesday night. Then, one night as he is closing up, a famous director and his muse appear and tell him that they want to use the cinema as the shooting location of their next film collaboration.
This Hollywood attention suddenly makes Alain and his cinema the focal points of the public's gaze. But when this spotlight is turned on, Alain's new love disappears. Alain leaves the periphery of events and living vicariously, and sets out to find her––and become the lead actor of his life.
Three to Kill
,
Fatale
and
The Prone Gunman
. The first and third of those were also published in graphic novel form under the titles
West Coast Blues
and
Like a Sniper Lining Up His Shot
.
In just a few weeks, though,
The Mad and the Bad
(translated from the French by Donald Nicholson-Smith, New York Review of Books Classics, July 15, 2014) will hit the streets. The publisher's book description implies more than it tells, but the picture I get is that the fabulously rich and famous Michel Hartog might just be a big-time psychopath. He hires Julie out of an insane asylum to care for Peter, his nephew, who is now an orphan due to the accidental (?) death of Hartog's brother.
Hartog then hires Thompson, a hit man with stomach problems, to take out both Julie and Peter. The targets manage to escape Thompson, and all three then head for the mountain estate where Michel is holed up. Anarchical violence ensues.
Manchette saw good noir as social criticism told, anecdotally, through the form of the crime novel. It's true you can see politico-social messages in Manchette's books, but most of the time you're too busy reading breathlessly, trying to keep up with the fast pace and wild action. I'm not even much of a noir reader, but I wouldn't consider missing one of Manchette's.
I Love You More
, by Jennifer Murphy (Doubleday, June 17, 2014). Doesn't that sound sweet? Like the s'mores at the end of the cookout? Well, maybe if you stuck the treat straight into the flames and didn't pull it out until it was blackened and smoking. Twelve-year-old Picasso Lane is just one of the narrators of this domestic murder mystery that sounds like it might achieve a Robert Barnard level of inspired nastiness. At the start, her father, Oliver, has been murdered at the Lanes' beach house and Picasso's mother, Diana, is the prime suspect.
The spouse is always the prime suspect, right? Absolutely, and especially when you find out that Oliver had three of them. This is something Picasso suspected for a while, based on her eavesdropping on Oliver's phone calls, seeing what looks like a family portrait of Oliver with a different woman and kids, and catching sight of a female visitor at the house who was accessorized like Diana. When the two other wives show themselves, you'd expect the three women to be at each others' throats, but they seem to find it beneficial to provide cover for each other, at least for awhile.
Investigating police Detective Kyle Kennedy has his turn at the narration, along with each of the wives, and a portrait of the charming, but conniving and maybe even sociopathic Oliver emerges. Those of us who read a lot of mysteries are used to falsehood, red herrings and misdirection being inherent in the plot, but I'm excited about the entertainment value of a book that promises so many lying liars and the lies they tell.
The Travel Writer
(Random House, June 3, 2014), I have to see it as the sliced ham at the cookout table. Jacob Smalls is a travel writer––he refuses to debase the term "journalist" for a profession that is all about snagging freebies––who jumps on a plane to La Paz, Bolivia, when his old girlfriend, Pilar Rojas, asks for his help. Pilar runs PR for a luxury resort in Bolivia and has a major challenge on her hands when an American woman, Hilary Pearson, disappears from the resort.
Pilar's proposal is that in return for the resort's plush accommodations, gourmet food and hot-and-cold running alcoholic beverages, Jacob will do some damage control by writing a puff piece for the resort. While he's there, he'll also try to find Hilary. Jacob lives in a cramped studio apartment in Queens, so naturally he jumps at the offer.
As soon as he lands in Bolivia, he gains all kinds of unwanted attention, from a political gang that might have had something to do with Hilary's disappearance, and the nebbishy Kenny, a co-worker of Hilary's, who firmly believes (with no evidence) that he and Hilary are soul mates. With Kenny firmly attached to his side, Jacob invest
igates. One of my favorite authors, Christopher Fowler, who writes the Peculiar Crimes Unit series, says: "Travel doesn't just broaden the mind; it can also get you killed. Sassy, cynical Jacob Smalls is an ideal guide for journeying into unknown territories."


Dear Committee Members
(Doubleday, August 19, 2014), you might want to avoid whatever dish Professor Jason Fitger contributes. What with his attitude, the sandwiches would be dried out, the cream would be curdled, the wine skunked and who knows what might be in the tea.
In his younger days, Fitger made a big splash as a novelist, but he turned off friends, colleagues and lovers when he used what they had thought of as their private lives as inspiration for his fiction. Now, he is a tenured professor at a small midwestern university whose students are more likely to end up asking if you want fries with that than writing for a living. Fitger is bitter about the lowly status of his department compared to more career-oriented departments, like economics, and despairing about his prospects of future successful publication, but he still manages to have a bit of a soft spot for some of his students.
Here's the kicker.
Dear Committee Members
is an epistolary novel, in which Fitger reveals his thoughts about his students, himself, the university, life and work in a series of recommendation letters he writes for his students applying for various jobs and positions. The publisher's book description says: "Finally a novel that puts the 'pissed' back into 'epistolary.'" That seems like a groaner of a tag line to me. I'm more attracted by
Kirkus Reviews
' summing-up: "Truth is stranger than fiction in this acid satire of the academic doldrums."
In addition to being a successful writer with two prior adult novels and five young adult books (including the well-known
The Unbearable Book Club For Unsinkable Girls
), Julie Schumacher is a professor of English and Creative Writing at the University of Minnesota. She estimates she writes at least 100 letters of recommendation every year. I hope her subjects don't see themselves too clearly in
Dear Committee Members
.
A very (
very
) different book about a writer is Boris Fishman's
A Replacement Life
(Harper, June 3, 2014). First things first. There is a lot of food in this book, which is set mostly in Brooklyn, New York's Jewish community of immigrants who came to the US in the mass exodus from the Soviet Union in the late 1980s and 1990s. Invite these people to the cookout and you'll get a lot of food on the table, though you might not recognize all of it.
When I first read the description of
A Replacement Life
, I thought: Are you kidding? A book about a writer helping Russian Jews falsely claim Holocaust restitution funds? Considering that we still have plenty of anti-Semites and Holocaust deniers around, it just seemed like breathtaking––maybe even offensive––chutzpah to write this.
But while this scheme is what moves the plot along, it's secondary to the real subject, which is about Slava Gelman's complicated love for his grandmother, who has just died, and his now-widowed grandfather. Slava has always wanted to be a writer, but he's not getting anywhere in his job at
Century
magazine. He uses his best writing to tell his grandmother's story through the affidavits he invents.
Like the well-known writer Gary Shteyngart, Boris Fishman was himself part of that flood of Soviet Jews who found a home in the United States. Fishman was born in Minsk and came here in 1988. This is an immigrant-experience book like no other I've ever read, in particular the dizzying richness of its language. Only someone for whom English is a second language can revel in it the way Fishman does.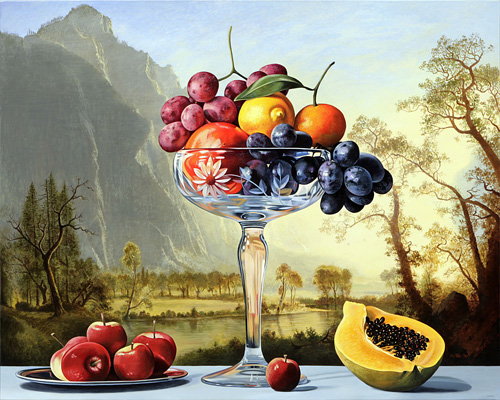 Away's cover was based on Sherrie Wolf's Fruit Bowl Still Life
Back in 2007, I fell in love with the lushly transporting novel,
Away
, by Amy Bloom. The gorgeous cover art showed a background of a canyon in what appeared to be the American West, and the foreground a bowl of apples, plums and pears. Ever since, I've associated Amy Bloom with the mature, perfumed juiciness of perfectly ripe fruit.
Her new novel,
Lucky Us
(Random House, July 29, 2014)––also with eye-catching cover art––promises to be another engrossing, unusual tale of characters you've never seen the likes of before.
The story begins:
My father's wife died. My mother said we should drive down to his place and see what might be in it for us.
That's 12-year-old Eva talking in 1939, shortly before she meets Iris, the half-sister she never knew she had. Eva finds herself dumped with her father and Iris, and within a couple of years she and Iris will head west together, so that Iris can pursue her dream of Hollywood fame. As in
Away
, though, this won't be just a journey from east to west. It will be a much longer and meandering trip, over a 10-year period, involving a colorful array of characters and events, and an exploration of what family really means.
The quest for family is also the theme of Tom Rachman's
The Rise & Fall of Great Powers
(The Dial Press, June 10, 2014); in this case the quest of bibliophile Tooly Zylberberg. Since Tooly's journey moves among Bangkok, New York City and Wales, I'm suggesting that a takeout carton of Pad Kee Mao on the cookout table comes closest to making sense in connection with this book.
In each slice of Tooly's life, she is cared for––sort of––by various people, including the flighty Sarah, the charming conman Venn, the uptight Paul and the bibliophile and self-proclaimed slob, Humphrey. In 2011, when Tooly gets a call about Humphrey, she decides to return to New York and get answers about all of these characters and what her proper place is in their universes––and theirs in hers.
Each trip back to 1988 and 1999 gives the reader more insights into Tooly's life and helps inform her current quest. This makes the book sound so purposeful, though, as if it's a directed and determined quest, when it feels much more leisurely and rambling than that; almost picaresque. And it's filled with conversations and debates about history, politics and society.
I don't associate a book by filmmaker John Waters (
Hairspray
,
Serial Mom
,
Pink Flamingoes
) with any particular dish at a potluck cookout. Instead, I see a plate that is the opposite of the one held by the kid who can't stand for his foods to touch. Waters would start with some fried chicken and a couple of Maryland crab cakes, then layer on some three-bean salad, tuna noodle casserole, a little bit of every dish that all the other guests avoid and then, on top, a big glistening mound of lime-green Jell-O––ah, what the heck, stick a deviled egg on top of that, sprinkle with M&Ms and you're good to go.
In
Carsick: John Waters Hitchhikes Across America
(Farrar, Straus and Giroux, June 3, 2014), well, I guess the subtitle tells you what happens. Just the idea of that pale man with the pencil mustache sticking out his thumb to get from his Baltimore home to San Francisco (which used to be known as Baghdad by the Bay, back when Baghdad meant "exotic," not "war zone") makes me giggle, if a little nervously. Before he hits the road, he imagines Best Case Scenarios (like, everybody will be crazy and happy and share pot and hot sex with him) and Worst Case Scenarios (like, everyone will be hostile and homophobic and he'll get beaten up and jailed).
Once he gets on his way, he finds the real thing very different from anything he'd imagined. He's surprised by the friendliness and kindness of his many automotive hosts, including a farmer, a minister's wife, a rock band and, most surprising of all, a straight-arrow Republican city councilman. I'm used to reading crime fiction, where a road trip like this would end with a shallow grave in the desert, but I'll perfectly willing to give up murder and mayhem for a ride-along with the Pope of Trash.
Note
: Thanks to the publishers and Amazon's Vine program for providing advance reviewing copies of
The Rise & Fall of Great Powers
and
A Replacement Life
. Versions of my comments about those books may appear on Amazon and other reviewing sites under my usernames there.