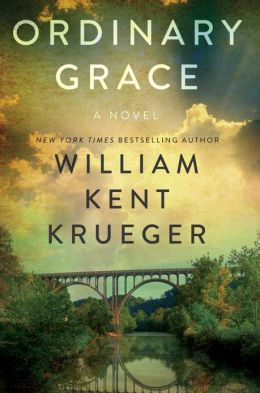 Earlier this week, Della called William Kent Krueger's
Ordinary Grace
a book that just felt like an Edgar Best Novel winner, and she was right. Krueger got the prize last night at the festivities in Manhattan. Now he can add that to the Dilys Award the book already won this season. The Dilys is given by the Independent Mystery Booksellers Association.
By the way, based on Della's post, I picked up another nominee, Matt Haig's
The Humans
for my husband. He gives it two big thumbs-up and recommends it to sci-fi readers. (Though why it was nominated for a mystery book prize is itself a mystery, he says.)
The Edgar winner for Best First Novel by an American was,
ta-da
, Jason Matthews for
Red Sparrow
. Georgette and I win that bet, but I have to admit I chose it because it was the only one of the nominees I'd read––and I liked its recipes. Odd, to have recipes in a serious espionage novel, but what do I care as long as the food is good? Try the soubise this fall, I recommend it. For a full review of
Red Sparrow
, click
here
.
The panel also presented the Mary Higgins Clark award to Jenny Milchman's
Cover of Snow
, a page-turner of a suspense novel set in a frigid Adirondacks winter. When Nora Hamilton's policeman husband is found dead, an apparent suicide, she is suspicious. Her quest for answers forces her to question everyone and everything she thought she knew about her life. You'll find a review of the book
here
.
Congratulations to William Kent Krueger, Jason Matthews, Jenny Milchman and the rest of the Edgar winners and nominees!
The Edgars aren't the only big mystery book prizes given out this week. Malice Domestic honors traditional mysteries annually with its Agatha Award. On Saturday night in bustling Bethesda, Maryland, it will award its prizes. The full list of nominees can be found
here
, but its big three award category nominees are:
Best Contemporary Novel
Julia Spencer-Fleming:
Through the Evil Days
(Minotaur)
G. M. Malliet:
Pagan Spring
(Minotaur)
Louise Penny:
How the Light Gets In
(Minotaur)
Barbara Ross:
Clammed Up
(Kensington Books)
Hank Phillippi Ryan:
The Wrong Girl
(Forge Books)
(That's a scary herd of Minotaurs in one room.
Look out for the china!
)
Best Historical Novel
Rhys Bowen:
Heirs and Graces
(Berkley)
Kaye George:
Death in the Time of Ice
(Untreed Reads Publishing)
J. J. Murphy:
A Friendly Game of Murder
(Signet)
Victoria Thompson:
Murder in Chelsea
(Berkley)
Charles Todd:
A Question of Honor
(William Morrow)
Best First Novel
Leslie Budewitz:
Death Al Dente
(Berkley)
Shelly Costa:
You Cannoli Die Once
(Pocket Books)
Kendel Lynn:
Board Stiff
(Henery Press)
Liz Mugavero:
Kneading to Die
(Kensington)\
LynDee Walker:
Front Page Fatality
(Henery Press)
I'm placing my Agatha bets on Louise Penny and Rhys Bowen in the two main categories. I have an aversion to cute titles, and ones with puns in them practically make me break out in hives. On that basis, then, the process of elimination leaves me choosing
Front Page Fatality
to put my money on in the Best First Novel category.
Any more bets on the Agathas? Will you be reading
Ordinary Grace
,
Red Sparrow
and
Cover of Snow
now that they've won Edgars?