Our regular guest blogger,
Lady Jane Digby's Ghost
Readers looking at this Summer Preview 2014 series can take a trip around the world without leaving their favorite chairs . . . or their beach blankets! There have been plenty of interesting books to fill those long summer days.
Andrew Brown has a thriller/mystery called
Coldsleep Lullaby
publishing this month (Minotaur, June 17, 2014). Set in Brown's native South Africa, the book features Detective Eberard Februarie, who investigates the murder of a young woman in the western Cape town of Stellenbosch. Like many policemen in fiction, Februarie is battling his own demons, while looking for the demons of the dead. This book was published two years ago overseas, and is just now making its US debut. It received good reviews across the pond, and I've already ordered the international edition.
In
Never Look Back
(Minotaur, June 10, 2014), British writer Clare Donoghue goes where many before her have ventured: a serial killer at work in London. Her lead character, Mike Lockyer, is head of the homicide department of the South London Police Department, and he and an assistant are time-pressed to find the killer before more young women are murdered. This is Donoghue's first novel, and when she submitted it as a manuscript (under the title
The Watcher
) to the (British) Crime Writers' Association in 2011, it was long-listed for its Debut Dagger award.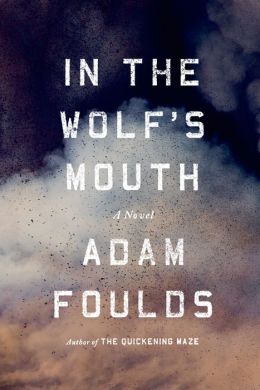 I'm sometimes a bit wary of the praise heaped on some British writers; in many cases, the hosannas don't match the reality of the writing's quality. I often wonder why a book has won or been short-listed for the Man Booker or Orange prizes after I read the novels. And so it seems with the work of critically-acclaimed author Adam Foulds. His previous work has been both questioned
and
praised for their readability and substance, but his new historical novel,
In the Wolf's Mouth
(Farrar, Straus & Giroux, June 3, 2014) seems worth taking a look at. Set in World War II Italy and Sicily, the novel looks at both the Allied invasion of Italy in 1943, and the lethal influence of the Mafia on Sicily. Could be quite good, I'm thinking . . . .
By the way, the funniest novel about British writing I've ever read is Irish writer Ruth Dudley Edwards's
Carnage on the Committee
. Published in 2004, Dudley Edwards (one of the least politically correct writers I've ever come across) hysterically satirizes the work of a Man Booker-like committee. Her protagonists, Robert Amiss and Lady "Jack" Troutbeck, are two of my favorite characters in modern fiction. As for Dudley Edwards, when she's good she's gold; when she's bad, watch out!
Set closer to home are three new novels by American authors. Robin Black's
Life Drawing
(Random House, July 15, 2014) seems less a mystery than a suspenseful examination of a marriage and the harm outside influences can have on it. Alafair Burke's new novel in her Ellie Hatcher series,
All Day and a Night
(Harper, June 10, 2014), follows Hatcher, an NYPD detective, as she is asked to reopen a previously settled murder case. New evidence––and a new victim––may exonerate the jailed murderer. And, finally, M. P. Cooley's new novel,
Ice Shear
(William Morrow, July 22, 2014), looks at murder and police investigation in a small town in New York state. The protagonist, former FBI agent June Lyons, has returned to her hometown and becomes involved in the murder investigation––and the subsequent political fallout.
So there you have it; six new mysteries and one golden oldie. Along with the books highlighted by the other
Read Me Deadly
mavens, these will give you a good summer of reading, wherever you choose to read!