Our friend and regular guest blogger,
Lady Jane Digby's Ghost
Summer is the time of the blockbuster film releases, and it's the same for books. I mean, who wants to lug
War and Peace
to the beach or the pool, when you can take the new Jacqueline Winspear,
The Care and Management of Lies
(Harper, July 1, 2014) with you? But you should know that Winspear has deviated from her Maisie Dobbs series with this latest, which is a standalone. In
The Care and Management of Lies
, also set in the Great War, Winspear looks at the women left to keep the home fires burning for their soldiers in France and Flanders.
Charles Todd, that mother/son team of writers, also has a new book coming out in the Bess Crawford series. In
An Unwilling Accomplice
(William Morrow, August 12, 2014), Bess continues her nursing/crime-solving career in France.
It's summer again, and so time for another in Daniel Silva's Gabriel Allon series. This one, called
The Heist
(Harper, July 15, 2014), stars art restorer/spy/killer/lover Allon, along with his achingly beautiful wife, Chiara, and, probably, his foxhole characters/aides in Israeli intelligence. The publisher has been sparse with info about the plot of this book––though I know it involves a Caravaggio and spying . . . and a heist.
One summer novel I'm looking forward to reading is Andrea Maria Schenkel's
The Murder Farm
(Quercus, June 13, 2014). Set in Bavaria, it is the fictionalized account of the murder of a whole family in a farm setting. It sounds a bit like Truman Capote's
In Cold Blood
(but nothing can be
tha
t good), with the author looking at the case from many different angles. It's received mixed reviews, but it sounds interesting, so I'm game.
Author James R. Benn is returning, just as summer comes to an end, with another book in his Billy Boyle series.
The Rest Is Silence
(Soho Crime, September 2, 2014) features Boston cop-turned-World-War-II-soldier/sleuth Billy on another mission for his "Uncle Ike," a certain general. Billy has turned up all over the European Theater in the previous books in the series. Benn is turning into quite a good writer, and Billy and his wartime buddies are fun to follow. The reader may also learn a thing or two about the war, as Benn has written about little-touched-upon topics in his previous books.
Norwegian author Karin Fossum is releasing a standalone novel (not in her Inspector Sejer series) in August, called
I Can See in the Dark
(Houghton Mifflin Harcourt, August 12, 2014). It's about a man accused of a crime, who knows he's innocent of
that
crime, but he
is
guilty of another crime the police don't seem to know about. So, how does a guilty/innocent man defend himself? It's an intriguing idea, and I'm looking forward to seeing what Fossum does with it.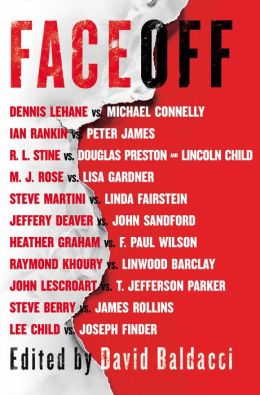 Also coming out in June is an interesting book titled
FaceOff
(Simon & Schuster, June 3, 2014). Twenty-two popular authors have paired up to write stories contrasting their characters. An example––and most interesting to me––is John Rebus versus Roy Grace in "The Nick of Time," by Ian Rankin and Peter James. The other match-ups also look interesting. It'll be fun to read a book of short stories by these master writers and see how their characters face off!
And, finally, I'd like to recommend a book that I enjoyed very much. It's a graphic novel by New Yorker cartoonist Roz Chast, called
Can't We Talk About Something More Pleasant: A Memoir
(Bloomsbury USA, May 6, 2014). The book recounts the last few years of her aging parents' lives and, while it sounds rather gloomy, it really isn't. Chast has insights about the aging process and how both she––an only child––and her parents coped with aging and death. I know it isn't a mystery or thriller, but I thought it might be of interest to some of the readers here.