This is my definition of "nightmare."
My ideas about the ideal summer don't match those of our boys. They've been breathlessly poring over roller coaster websites that rank the world's roller coasters according to height, speed, length, inversions, steepness and public opinion polls. Or, in other words, how close these rides come to a few minutes of pure hell.
One that comes very close is the world's tallest and second-fastest roller coaster, Kingda Ka, at Six Flags Great Adventure in Jackson, New Jersey. A hydraulic launch mechanism rockets the train to an unbelievable 128 mph (206 km/h) in 3.5 seconds. The train climbs and zooooms down the 456-foot main top hat tower (look at that sucker, it's on the right in the picture below). If riding Kingda Ka isn't enough to get the blood thrashing in your veins, you can also step onto the brand-new drop tower ride, Zumanjaro: Drop of Doom (my dream job = naming amusement park thrill rides), at 415 ft (126 m) the world's tallest. Then you essentially free-fall three times to the tune of 90 mph (140 km/h). I don't know if the ticket price includes an ambulance ride home afterward.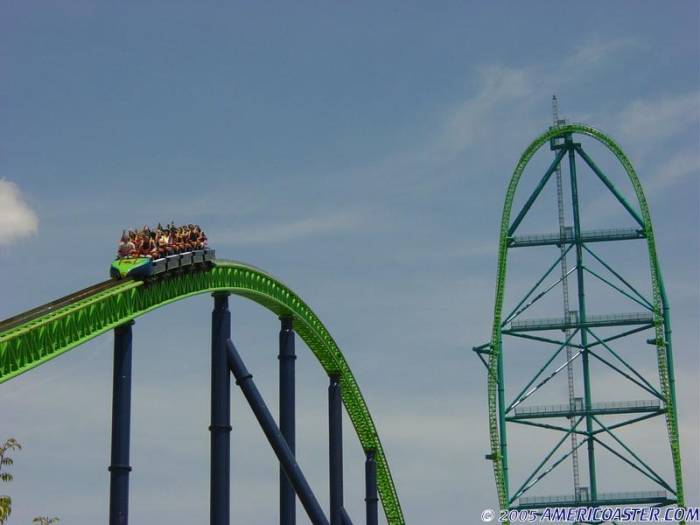 This amusement park is where my boys' hearts are set on going this summer. My husband is agreeable, but the world may not have enough money to pay me to ride Kingda Ka. I tend to divide the world into the sane, who don't go on rides like this, and the insane, who do. We'll see. In the meantime, I'll seek my warm-weather thrills on the written page.
Now, Elizabeth Little's
Dear Daughter
(Viking Adult, July 31, 2014) is the kind of book I'm looking for in a "summer-weight" thriller. Its protagonist/narrator is Janie Jenkins, a former "It Girl," though it sounds like there's a brain under that it-ness and her voice is snarky and smart in addition to weary. Janie is 27 and fresh out of prison, where she spent 10 years for the murder of her philanthropist mother. Based on snatches of conversation she overheard the night her mother was killed, Janie goes undercover to small-town South Dakota to ferret out the truth. We're all familiar with OJ Simpson's search for "the real killer" but Janie's may be sincere. She isn't sure. (Note to self: Janie may be a tad untrustworthy.) Blurbs from Kate Atkinson and Tana French ("This is an all-nighter . . . The best debut mystery I've read in a long time.") and the author's expertise in disappearing languages intrigue me. I've put this on my list.
I've read a few Dave Gurney series books by John Verdon. My gut is slightly quivering, wondering if I'm going to read another. Yes, I am: No. 4 in the series,
Peter Pan Must Die
(Crown, July 1, 2014). Gurney is a former top NYPD homicide investigator, now a PI. His old partner, Jack Hardwick, is working on an appeal for Kay Spalter, already convicted of shooting her politician husband, Carl, as he delivered the eulogy at his mother's funeral. Hardwick asks Gurney for help in investigating the prosecution's case. The Mafia had reason to want Carl Spalter dead, and no doubt others did too. Gurney is an engaging sleuth and these books are good warm-ups for riding a world-class roller coaster like Kingda Ka.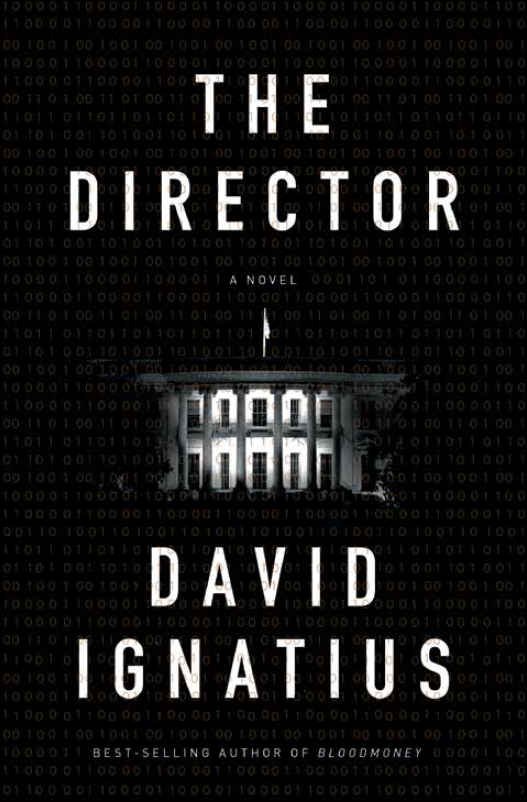 Did you read Rainbow Rowell's
Eleanor & Park
(St. Martin's Griffin, 2013)? It's a book about two misfits who find true love and it's so fresh and witty it's impossible not to cry while reading it. It's one of those books, like John Green's
The Fault in Our Stars
, written for teens but done so well that adults also enjoy it. Rowell's 2014 book for adults looks at a mature, battered love that needs a rebooting. In
Landline
(St. Martin's Press, July 8, 2014), TV writer Georgie McCool cancels the upcoming family Christmas trip when she's offered the chance of her own pilot. Fed up with the workaholic Georgie, husband Neal takes their children, Noomi and Alice, to Nebraska without her. Lo and behold, when Georgie tries to call Neal, she doesn't get the present-day Neal on the line. She gets the young Neal, the cartoonist Neal from college. As the clock ticks down to Christmas for Georgie, I'd like to listen in on their phone conversations.
David Ignatius writes a twice-weekly foreign affairs column for the
Washington Post
and his expertise in the field of intelligence makes his best-selling spy thrillers feel authentic. His upcoming book,
The Director
(W. W. Norton, June 2, 2014), is a standalone book of espionage inspired by leaker Edward Snowden. The CIA's conscientious new director, Graham Weber, is barely on the job before he takes on an operation involving whistleblowers and cyberterrorism. I always enjoy Ignatius when he writes about the culture and history of the CIA, and I'm looking forward to a detailed delving into hacker technologies and motivations.
Andrew Lewis Conn's
O, Africa!: A Novel
(Hogarth/Random House, June 10, 2014) is a book with some of the same themes of Michael Chabon's
The Amazing Adventures of Kavalier and Clay
: how art can transform both creator and audience. In this case, twin brothers Micah and Izzy Grand, Jewish-American sons of immigrants, have made their name making silent slapstick movies in the 1920s. Micah is the mercurial director/producer, while Izzy is the quiet man behind the camera. Other characters include some real-life people. The brothers decide to go to Africa to make a movie advancing civil rights. This comes about when talking movies appear and Micah gets into trouble for gambling and carrying on with a black woman. The brothers' association with the Malwiki people in Africa changes them unexpectedly. This is reported to be less a hilarious story than a very ambitious and moving story, populated by fully formed but less than completely likable characters.
Hey, fellow dystopia lovers, focus your eyeballs here. Edan Lepucki was born and raised in Los Angeles, and I expect she puts her knowledge of that city to good use in her first novel,
California
(Little, Brown and Co., July 8, 2014). Los Angeles is in ruins. Cal and Frida, whose perspectives appear in alternating chapters, have put that world behind them and moved into the wilderness. It's safe there, but hard. When Frida discovers she's pregnant, they venture out, looking for a suitable group of other survivors to join. These vestiges of civilization aren't what I'd call utopias, and Cal and Frida must decide whom and what to trust. I'm not sure they can even trust each other. Onto the TBR list this one goes.
Read this first line of the
Kirkus
review and then tell me you don't want to read Lauren Owen's novel,
The Quick
(Random House, June 17, 2014): "An elegantly written gothic epic that begins with children isolated in a lonely manor house; takes a spin through the velvet-draped salons of late-Victorian literary London; then settles in to the bloody business of an outbreak of evil magic." Well, then. It's 1893 when shy orphan James Norbury comes down from Oxford to lodge and write poetry in London. When he vanishes, his resolute sister, Charlotte, leaves Yorkshire to find him. Her efforts lead her to the shadowy Aegolius Club, where some of England's richest and most powerful men hobnob. This is a 544-page, "extraordinarily polished" first novel that should be read without reading spoilers.
The sisters of L. Alison Heller's
The Never Never Sisters
(New American Library Trade, June 3, 2014) are Paige Reinhardt and her older sister, Sloane. Paige, a marriage counselor, hasn't seen Sloane since she left rehab 20 years ago. Now Sloane returns to the family she left in Manhattan. Accompanying her is Giovanni, her fiancé, and the little dog, Bandito. It seems all would be well were it not for the moodiness of Dave, Paige's attorney husband, who has been suspended from his law firm for reasons that aren't clear. Determined to find out, Paige hires Giovanni's best friend, Percy. Reviewers love the book's witty dialogue.
Herman Koch's
The Dinner
(translated from the Dutch by Sam Garrett; Hogarth/Random House, 2013) was one of last year's most-talked-about novels. One of its major themes is how thinly the veneer of civilization covers human nastiness. Koch has a very dark sense of humor and a talent for deviousness, and I have high hopes for his upcoming
Summer House with Swimming Pool
(translated from the Dutch by Sam Garrett; Hogarth, June 3, 2014). Dr. Marc Schlosser's prescribing habits lead to a booming practice with famous patients. Then high-profile actor Ralph Meier dies under Marc's hands. Meier's wife Judith wants answers and Marc, our questionably reliable narrator, looks back at the previous summer when he, his wife and their young daughters stayed with the Meiers family at their summer house on the Mediterranean. Also there were Judith's mother and film director Stanley Forbes and his girlfriend. What happened there reached fingers into the future. Whether they killed Ralph Meier is a question we must read the book to answer.
I liked the imaginative virtual world, the Carnivia, created by British writer Jonathan Holt in his crime fiction trilogy's first book,
The Abomination
(Harper/HarperCollins, 2013). Now Kat Tapo, a captain in the Venetian Carabiniere, and Second Lieutenant Holly Boland, US Army intelligence analyst, are back in
The Abduction
(Harper, June 3, 2014). The daughter of a US army officer is kidnapped from the base in Venice. It's not a matter of a simple ransom when dark Italian secrets from the War intrude and Kat and Holly join forces with Daniele Barbo, webmaster and creator of Carnivia, to find her.
These books should provide plenty of entertainment and thrills and I don't have to be strapped into my chair to read them. We'll see you again tomorrow, folks.