For many Americans, the image of our hardy pioneer forebears struggling to make the wilderness productive and living their simple, but rewarding, lives is deeply embedded in our national psyche. In most respects, the Amish still embody those sturdy values of faith, honesty, hard work, and care for their neighbors. Author Linda Castillo's series featuring Chief of Police Kate Burkholder opens this hidden world to readers in a sensitive and often sympathetic manner.
The Dead Will Tell: A Kate Burkholder Novel
by Linda Castillo (Book 6) (Minotaur, July 8, 2014)
Dale Michaels had been receiving threatening letters, culminating in a request for a meeting at the old burned-out Hochstetler farm. "I know what you did," proclaimed the first. Dale's body is found by his daughter in his own barn. He'd been shot and hanged. Stuffed deep into his mouth is one of the faceless Amish peg dolls with "Hochstetler" carved in the bottom. Several similar murders follow. The only known surviving Hochstetler is Billy, who was 14 the night his father was shot, his mother kidnapped, and his four siblings burned to death in the fire that subsequently swept through the farmhouse. Billy had hidden the younger children in a cellar while he ran to get the help that arrived too late. Today, Billy, who was later adopted by the Yoders, runs an apple orchard with the help of his wife and children. The case was never solved, and despite monumental efforts by the police, the body of Billy's mother, Wanetta, was never found. While Billy is the obvious suspect, his Amish wife swears that he was at home the night Dale was killed.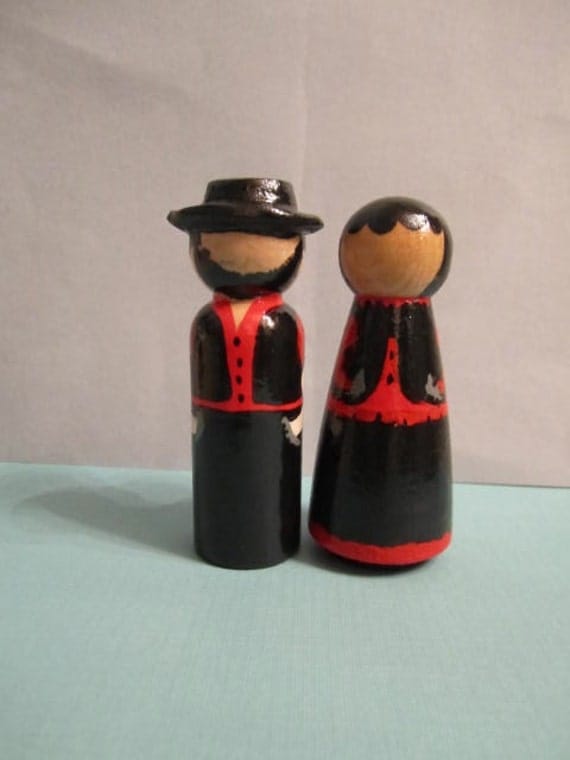 Amish Peg Dolls
Kate Burkholder was raised Amish, and while she is shunned for having defected to "the English" (the Amish name for anyone outside of their community), her ability to speak to members in their modified high German language is an asset in her police work. When she is approached by a terrified town council member who has also been receiving threatening notes, she realizes that she may first have to solve that old Hochstetler case to find the perpetrator of the current series of brutal murders. Several people have reported seeing an Amish woman walking along the roads at night. Some think it is the ghost of Wanetta, seeking her revenge. But Wanetta, if still alive, would be a very old woman now. The solution offers a rather unusual twist on the adage that old sins cast long shadows.
In the Blood
by Lisa Unger (Touchstone, January 7, 2014; paperback edition by Pocket Books, July 22, 2014) (Non-series)
Lana Granger, the first-person narrator of Lisa Unger's stand-alone psychological thriller, is a liar. But then, so are most of the other major characters in this creepy, well-written thriller. At age 11, Lana came home one day to find her father standing over her murdered mother. He forced Lana to help him bury the body and lie to the police. Despite his efforts, he was tried for murder, and is currently on death row, all appeals having finally failed.
Lana is in graduate school studying psychology, with her trust fund running low. At the suggestion of her mentor, she accepts a job as part-time nanny to 11-year-old Luke, a troubled child. From the beginning Luke, a near genius, is manipulative and controlling. Lana, who was a brilliant and difficult child herself, feels a certain sympathy with both the boy and his harried mother, Rachel, so she falls in with his obscure and somewhat creepy games. The boy's father is not in evidence and is never mentioned.
The story is interspersed with the diary entries of an unnamed woman struggling to cope with her brilliant but defective "high maintenance" child. Then, Lana's roommate, Rebecca, disappears, the second of Lana's friends to do so within a few months. A brooding sense of twisted lives infuses this book almost from the beginning. It kept me second guessing myself throughout, with a surprise that pulled it all together at the end. Are psychopaths born or made? Can they ever be a functioning part of society, or are they just too dangerous? Read this book and decide for yourself. This was the first thriller I've read by Lisa Unger, but it certainly won't be the last!
Both Kate and Lana have borne witness to––and unwillingly participated in––terrible crimes in their earlier lives that led to their completely reinventing themselves as people. The insanity in Castillo's book, imposed by horrific outside events, feels almost clean in comparison to the (perhaps?) genetic evil that infuses Unger's. Both are terrific summer reads.
The Giveaway:
Through the courtesy of Minotaur Books/St. Martin's Press and Pocket Books/Simon & Schuster, we have a package consisting of a hardcover copy of Linda Castillo's
The Dead Will Tell
and a mass-market paperback copy of Lisa Unger's
In the Blood
to send to one lucky reader in the U.S. or Canada. If interested, email us at materialwitnesses@gmail.com by next Friday, July 11. One reader will be randomly selected to have the chance to read and compare these two chilling and remarkable books. We'd love to hear what you think of them!
Happy Independence Day. Long may it wave!