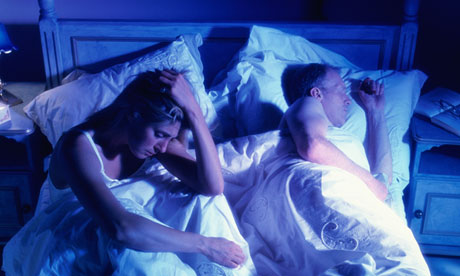 Let's say you didn't choose to go to bed with a murderer. You went to bed to sleep. You lie there and lie there but sleep has overpowered everyone but you: the clerk at the new Holiday Inn across town, your neighbors across the street, your loved one and animals dispersed across the bed. Don't panic. I have a prescription for you. It won't put you to sleep, but it will make you glad you're awake.
now
is the time. Crackers on a plate are best because it's the sound of rummaging in the cracker box that brings a sleeper to crabby consciousness. (I'm assuming you eat with a minimum of lip smacking, grinding noises, and moaning.) If reading requires too much concentration in your zonked-out-but-can't-sleep state, choose one of these movies. Accompany with popcorn. (If your DVD player is in the bedroom, keep the sound down and don't pelt any sleeper next to you with popcorn. This is to ensure that your viewing pleasure isn't interrupted by the eruption of Mt. St. Awakened from a Pleasant Dream.) Ta da. Happiness.
James Ellroy,
L.A. Confidential
, 1990. Ellroy has a bleak view of the world, and the book is wonderful noir, but not for everybody. The plot is complex; however, it boils down to seriously troubled or flawed cops in 1950s Los Angeles, who bust heads while solving crimes or committing them themselves. Kim Basinger won an Oscar for her role in the 1997 movie. It doesn't try to cover the whole book, but it does a great job of translating it from paper to the screen. Also stars Kevin Spacey, Russell Crowe, Guy Pearce, James Cromwell, and Danny DeVito.
Get Shorty
, 1990. Loan shark Chili Palmer travels from Florida to Hollywood in order to collect a bad debt. Once he gets there, he discovers he likes it and wants a piece of the action. Not everyone is pleased. Made into a movie with John Travolta (as Chili Palmer), Gene Hackman (as B-movie maker Harry Zimm), Danny DeVito, Rene Russo, and Dennis Farina in 1995. Fun book; fun movie.
Night of the Hunter
, 1953. Noir. A man disguised as a preacher tracks down an executed man's widow. Her young son discovers why. The "preacher" is an incredibly evil man and one of mystery fiction's best villains. He's played by Robert Mitchum, scary as hell, in a movie directed by Charles Laughton and also starring Shelley Winters. An unforgettable book and movie, too.
The Executioners
, 1958 (also published as
Cape Fear
, 1962). Rapist Max Cady blames small-town lawyer Sam Bowden for his imprisonment. Now Cady is out and in Bowden's town, making veiled threats against Bowden and following his 14-year-old daughter around. Bowden knows it's only a matter of time until an explosion will happen. Made into a movie
Cape Fear
in 1961 with Gregory Peck (Sam Bowden), Robert Mitchum (Max Cady), and Polly Bergen. Martin Scorsese directed the 1991 remake of
Cape Fear
with Robert De Niro (Max Cady), Nick Nolte (Sam Bowden), and Jessica Lange. The movies are interesting to compare in that both are very suspenseful, but the interpretations of the Max Cady and Sam Bowden characters by Peck/Mitchum and De Niro/Nolte are very different. I like both versions.
Peck and Mitchum are diametrically opposed; Peck is an upright man, while Mitchum is a relentless man intent on sadistic revenge. Nolte and De Niro are more complex characters. Watching the less-than-completely ethical Nolte and the disturbing-but-wronged De Niro, you know De Niro must be stopped, but you'd still like to see justice done. Mitchum and De Niro are particularly interesting to compare. De Niro is a maniac while Mitchum is implacable. It isn't often that you can read a book and then watch two directors' interpretations of it and compare top actors occupying the same roles. Don't miss your chance to do it with
Cape Fear
.
Out of Sight
, 1996. Bank robber Jack Foley breaks out of a Florida prison one night and runs into U.S. Marshall Karen Sisco, who has just arrived. Foley's accomplice, Buddy Bragg, hops into the car while Foley climbs into the trunk with their hostage, Sisco. After years in prison, how does Foley share a trunk with a beautiful woman and not fall in love, even if she is a U.S. marshall? Made into an entertaining movie with George Clooney and Jennifer Lopez.
If you're in the mood for another Leonard book/movie combo, try his novel
Rum Punch
, in which airline hostess Jackie Burke is caught bringing money into the country for gunrunner Ordell Robbie. The cops bring pressure on her to set him up, but this is a Leonard plot so things don't go as originally planned. Leonard's
Rum Punch
was used by Quentin Tarantino as the basis for his movie
Jackie Brown
, starring Pam Grier, Robert Forster, Robert De Niro, and Samuel L. Jackson.
Double Indemnity
, 1943. A classic hard-boiled story in which an evil, greedy woman talks a he-should-know-better-but-he's-no-longer-thinking-with-his-brain insurance agent into committing fraud and murder. Raymond Chandler worked on the screenplay, and Billy Wilder directed the 1944 movie starring a hard-as-nails Barbara Stanwyck, the basset hound-like Fred MacMurray, and Edward G. Robinson, who plays MacMurray's boss. A great movie made from a terrific book.
The Rainbird Pattern
, 1972. There are two plot threads, one involving a series of elaborate kidnappings and another involving a psychic (and her lover), working for an elderly woman who wishes to reunite her family. Eventually the threads connect. This book inspired Alfred Hitchcock's mischievous last film,
Family Plot
, made in 1976. William Devane/Karen Black are the sophisticated baddies, and Bruce Dern/Barbara Harris, the disorganized goodies; they all look like they're having fun.
The Big Sleep
, 1939. The corrupting influence of money! White-knight private eye Philip Marlowe is hired by old General Sternwood to investigate why book dealer Arthur Geiger has an IOU signed by his daughter Carmen, who is not a goody two shoes. This is Chandler's first book. William Faulkner worked on the screenplay, and the 1946 movie stars Humphrey Bogart, Lauren Bacall, Peter Lorre, Sydney Greenstreet, and Elisha Cook, Jr. The plot has some holes, but with these actors, who cares? In 1978, a remake was made with James Stewart, Sarah Miles, and Oliver Reed. Strangely, the setting is no longer Chandler's 1930s Los Angeles, but 1970s London. Do I need to tell you it's not as good as the 1946 classic?
Farewell, My Lovely
, 1940. Moose Malloy's girlfriend Velma, a cute redhead, disappeared after he went to prison. Now Malloy is out and insists that a reluctant Marlowe look for her. The characters and settings in this book are so vividly done you'll ache after reading.
Farewell, My Lovely
was made into a movie several times: The 1944 movie
Murder, My Sweet
stars Dick Powell as a decent Marlowe and Mike Mazurki as Malloy. Robert Mitchum, who looks like he's been around the block a few times here (I love that man!), plays Marlowe and Jack O'Halloran plays Malloy in the 1975 full-color remake,
Farewell, My Lovely
.
Rex Stout's Nero Wolfe could have been talking about Chandler when he said that a writer he admired rode words bareback. Nobody in mystery fiction used words like Chandler. If you haven't bothered to read him yet, you have a tremendous treat in store. Keep a couple of his books by your bed (
The Long Goodbye
,
The Little Sister
,
The Lady in the Lake
), and if you can't sleep, be happy that you have the chance to read one.
The Day of the Jackal
, 1971. French dissidents bungle an attempt on Charles de Gaulle's life so they hire a professional assassin code named "the Jackal" to do the deed. This is a race between the Jackal and Commissaire Claude Lebel, France's best detective, who has been assigned to find and stop him, without a speck of help from de Gaulle, an extremely brave and haughty leader who sees no need to alter his schedule in the slightest way, or others in power who would like to see Lebel fail. It was made into a movie in 1973. Michael Caine wanted the role, but director Fred Zinnemann wanted an unknown actor, so Edward Fox stars as the Jackal.
Hopscotch
, 1975.
Hopscotch
won an Edgar for Best Novel. It is the story of a CIA agent who is so bored with retirement that he decides to do something about his boredom; he'll force his former CIA colleagues and Russian counterparts to hunt him down and eliminate him. Garfield wrote the screenplay for the movie, but rather than a suspenseful story like his book, the 1980 movie is a comic spy spoof with Walter Matthau and Glenda Jackson.
Dashiell Hammett,
The Maltese Falcon
, 1929. The search for a legendary statuette leads to betrayal and murder. Read the book and then watch the 1941 John Huston movie, which stars Humphrey Bogart as private detective Sam Spade along with Mary Astor, Sydney Greenstreet, and Peter Lorre. Both book and movie are classics and unforgettable.
Need more recommendations for a book by Hammett? Put those sleepless hours to good use reading his
The Glass Key
, involving political corruption, loyalty, double-dealing, and a love triangle in an anonymous city in New York or his
Red Harvest
, in which a private operator takes on a corrupt town.
The List of Adrian Messenger
, 1959. Ten names appear on a list, and it's not one composed by Santa Claus. The names' owners are murdered. Find out why and we'll know by whom. In the 1963 movie based on the book, Anthony Ruthven Gethryn (George C. Scott) is asked to investigate the murders. This is the movie in which some big-name Hollywood actors appear in disguise, and you're supposed to see if you recognize them. At the end, they reveal themselves. Fun.
Build My Gallows High
, 1946. A man's mysterious past unfortunately catches up with him. Mainwaring also wrote the screenplay for the 1947 movie based on his book,
Out of the Past
, starring Robert Mitchum, Jane Greer, and Kirk Douglas. This is my husband's favorite noir film and is considered by many to be one of the best noir movies ever made. I love the book and the movie.
Anatomy of a Murder
, 1958. THE classic courtroom drama written by a former Michigan state supreme court justice. An ex-DA defends a soldier accused of killing the man who raped his wife. In 1959, the book was made into a gripping movie directed by Otto Preminger and starring James Stewart as the defense attorney, George C. Scott as the prosecutor, Ben Gazzara as the defendant, and Lee Remick as the wife. The judge was played by a Boston lawyer named Joseph Welch, who had figured as a good guy in the Sen. Joseph McCarthy hearings.
The Thin Man
, 1934. A charming book about the dapper ex-detective Nick Charles and his excitement-loving wife, Nora. They're in New York on vacation over the holidays when they become involved in a disappearance and murder. William Powell and Myrna Loy star with the dog Asta (schnauzer in the novel, but a wire-haired fox terrier on the screen) in the not-to-be-missed movie series:
The Thin Man
,
After The Thin Man
,
Another Thin Man
,
Shadow of the Thin Man
,
Song of the Thin Man
, and
The Thin Man Goes Home
. You'll want a martini while watching one of these movies.
The Grifters
, 1963. Oh man, con man Roy Dillon, his scheming mom Lilly, and his main squeeze Moira Langtry have dysfunctional relationships in this excellent but depressing noir book about the ability to control one's fate.
The Grifters
is a good movie, too; the acting is really something. Anjelica Huston, John Cusack, Annette Bening, and Pat Hingle star. Donald E. Westlake wrote the script.
Thompson is a powerful writer whose noir comes in handy for those times you're annoyed with your overly optimistic sister or you want confirmation that the world is a bleak place. He's not the most pessimistic writer in mysterydom (if anybody can beat David Goodis in that department, I want to hear about it), so you'll be able to face the world when the cruel sun comes up and it's time to stop reading. You might even be able to smile after you've had a cup of coffee.
Chinatown
, isn't based on a particular book by Raymond Chandler, but it is regarded as that director's homage to Chandler. J. J. Gittes (Jack Nicholson) is a private eye, Noah Cross (John Huston) is a robber baron, and Faye Dunaway is Cross's daughter in 1930s Los Angeles. Stir in corruption of the political and moral kind, and you have a wonderful movie experience.