Fate is my friend. She likes to help when I have trouble making a decision. Go out with Joe or stay home and work on my taxes? I toss a coin. If it's heads (Joe), and I'm chagrined it's not tails (taxes), I stay home and work on my taxes. If I'm thrilled it's heads, I go out with Joe. See, fate is my friend!
Fate also helps with my reading, but this time she doesn't appear in the guise of a coin. She appears as a fortune cookie fortune. I save my fortunes in a zip-lock bag and keep the bag in a drawer of my desk. This makes it very handy for those times when I'm restless with the desire, no, the
need
to read, but unable to settle on a particular book. Out comes the bag. I close my eyes and pick a fortune at random. Indecision evaporates; I'm ruled by fate. The book must match my fortune.
I'd like to tell you about some books fate found for me.
Fortune: "You could prosper in the field of wacky inventions"
I saw "wacky," and my mind was all over Florida. Tim Dorsey. Carl Hiaasen. C
raig Rice wrote a fantastic screwball series with John J. Malone, the "little lawyer," set in Chicago, and an even more farcical series with photographers Bingo Riggs and Handsome Kusak.
Janet Evanovich's Stephanie Plum gets wild. Joan Hess's Maggody series takes a few loops on its way around the block. But before I started thinking about single books or had a chance to leave the U.S., I saw the word "inventions," and that
meant William Marshall's Sci Fi, a book in his Yellowthread Street series set in the fictional Hong Bay district of Hong Kong.
If Yellowthread isn't the most unusual police procedural series in mysterydom, I'd like to hear what is. Marshall is a one-man band of off-the-wall humor; writing full of italics, capitalizations, and word repetitions; and plots you won't believe. As
The Washington Post Book World
says, "Marshall has the rare gift of juggling scary suspense with wild humor and making them both work." We'll explore this series later, but for now, look at
Sci Fi
. Here's how it begins:
"The Martians had landed.
"And, with them, the Venusians, the Saturnians, the Moon-People, Gill-Man, the entire complement of Star Wars extra-terrestrials, Chest-burster, Batman, Superman, Spiderman, The Hulk, The Alien, The Contagion, and, for the joy of antique and nostalgic older souls, several variations of Oriental Bela Lugosi, Lon Chaney, Boris Karloff and--particularly popular among the more diminutive--Peter Lorre and The incredible Shrinking Man.
"The second day of the All-Asia Science Fiction and Horror Movie Congress was in full swing in Hong Bay and so far there had been so many outside invasions of the place by sea and by land that if Paul Revere had been resurrected to take on the task of announcing them to the Colonials he would have retired from the scene with terminal laryngitis after the first fifteen aircraft-fuls."
This is not great literature, but it is great fun. I never miss the chance fate hands me to visit Marshall's exotic world. If you have an appreciation for the off-beat and the wild, I invite you to join me there. This series is not for everyone, but it is for me. And maybe for you, too.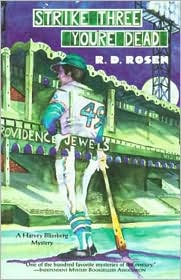 The fortune: "Don't let unexpected situations 'throw' you"
My eyes raced to that word "throw," and my heart did a cha cha cha. I deeply love baseball, and now I had an excuse to indulge a passion. Up to bat came Harvey Blissberg, narrator of Richard Rosen's
Strike Three, You're Dead
. Blissberg's lead-off words: "It's when you're going good that they throw at your head." He was center fielder for the Boston Red Sox, but now he's been traded to a not-so-stellar expansion team, the Providence Jewels. Blissberg is not a happy man, but he's a good man and a team player, so when his closest friend on the Jewels, star reliever Rudy Furth, is found murdered in the locker room whirlpool, Blissberg wants to know why. With the help of his beautiful TV sportscaster girlfriend and his brother, he fields an investigation.
Vikram Chandra's
928-page Sacred Games
You don't have to be a baseball fan to appreciate
Strike Three, You're Dead
, although that makes the read more special and gives you an edge in the detection. Rosen is a skilled writer, and his tale moves with the effortlessness of an All Star third baseman. Artful plotting, good characterization, and knowledgeable sports writing. The Independent Mystery Booksellers Association selected it as one of their 100 Favorite Mysteries of the Century. You can go into extra innings with the rest of the Harvey Blissberg series, in which he's retired from baseball to become a private eye. All in all, this series is a solid hit.
Ruth Rendell's A Judgement in Stone
Fortune: "Life is a game of complex strategies"
I gazed at the books on my shelf. I'm saving a book recommended by a friend,
The Shadow of the Shadow
by Paco Ignacio Taibo II, for a vacation. It's a book involving four friends who meet nightly in 1922 at a Mexico City hotel bar to play dominos. Have you read it?
Another game, chess, has plenty of complex strategies, but I'd already read Joanne Harris's
Gentlemen and Players
and Arturo Pérez-Reverte's
The Flanders Panel
, and I didn't want to read them again.
Cameron McCabe's The Face on the Cutting-Room Floor
I eventually picked two books to match this fortune. The first is Ignacio Padilla's
Shadow Without a Name
, a complicated and compelling book involving identity and Nazi history. A 1916 chess game on a train traveling to the Austro-Hungarian Empire's Eastern Front determines the fate of two men. The winner will assume the identity of Viktor Kretzschmar, a railway pointsman on the Munich-Salzburg line; the loser, Thadeus Dreyer, a newly conscripted soldier bound for the Front. Life will become an extremely complex game for these men. I want to talk more about this interesting book at another time.
The second is an old friend whom I hadn't seen in years, Michael Gilbert's
Mr. Calder & Mr. Behrens
, a 1982 collection of short stories told in an inimitable clipped yet dramatic way. Calder and Behrens are top British espionage agents who have been working together so long they can anticipate each other's moves. They are now working undercover for the Joint Services Standing Committee, ready to be whisked anywhere their special skills are needed. When they're not putting England's enemies in check, they are merely old friends and neighbors who play chess in Calder's study with the Persian wolfhound Rasselas at their feet. (Gilbert was famous for his love of dogs, and Rasselas, a skilled operative himself, is a terrific character.)
Charlotte Jay's Beat Not the Bones
I could go on, telling you about the books I matched to my fortunes, but I'm going to stop now because I'm curious. I'd love to hear which book you'd choose, if fate handed you a fortune. (I've listed some fortunes below.) I bet you'd like to hear what your fellow blog readers would choose, too. You can answer either here with a comment, or better yet, let's take this discussion to our 3rd Degree page.
Remember, the idea is to choose a book you
haven't
read, but might like to read, to match the fortune. That's the purpose of this fortune cookie quotation procedure, to help you select a book when you can't decide what to read. Make your book match the fortune based on any book criteria you want: title, topic, characters, cover, page length, what you know about the author, what you've heard about the book. You can pick a book you've read to match the fortune only if you love the book and would actually like to read it again.
Here are some fortunes that need a matching book:
Agatha Christie's Death Comes at the End
"Wise men learn more from fools than fools from the wise."
"A cheerful greeting is on its way."
"Don't look back, always look ahead."
"Your most memorable dream will come true."
"In youth and beauty, wisdom is rare."
"You will take a pleasant journey to a faraway place."
"Enjoy the spotlight."
"Many opportunities are open to you, seek them out."
Okay. What fortune did fate hand you, what book did you select, and why?
One more question.
If you don't use fortunes to help you when you can't decide what to read, how do you finally decide?